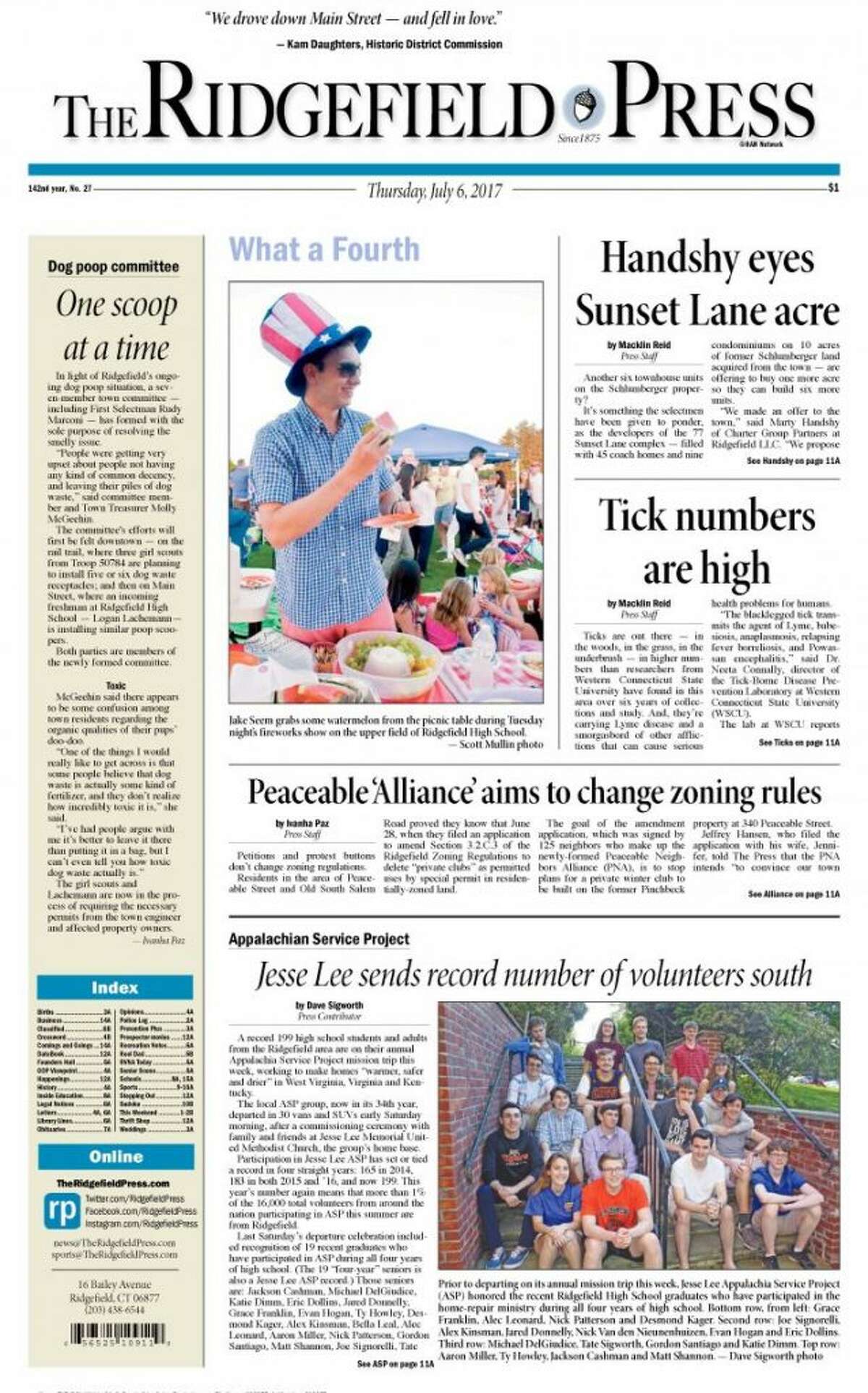 Here's a look at some of the headlines in this week's Ridgefield Press:
St. Mary's church building will remain as Ridgefielders have long know it — for the near future, anyway. Leaders have put aside plans to expand the church. And yes, plans for a new 750-seat building are already in the trash, too.
The town's emergency radio system has officially gone digital. A five-year process will be finished by the end of the month with all departments on the same system.
Not quite on the same level of police and fire: The town's newly-formed dog poop committee is already making strides looking to rid the downtown area of bad odors — and lazy owners!
That's not the only committee that has its hands full this summer. The former Schlumberger property is back in the headlines this week as the selectmen are considering a one-acre purchase from the group that's developing 77 Sunset Lane. It could almost entirely balance out the ledger from when the town spent $7 million on the land five years ago.
It's not the only story in The Press this week about town expenditures. A $950,000 project to repair the leaky walls at the rec center could involve multiple contractors. It could also save the town some money if bided out step by step; rather than one lump sum.
You'd think there'd a be a summer slowdown following the Fourth of July but that's simply not the case: Politics are back in the news this week as the local Republican and Democratic leaders begin to caucus for November's municipal elections.
Tick researchers have found an abundance of the critters out in the woods this spring — a six-year record high, to be brutally honest. And what they're carrying, you don't want!
Speaking of not wanting something, Peaceable Street and Old South Salem Road neighbors have banded together to fight a winter club in their neighborhood. Petitions and buttons were the beginning; now, they're aiming to alter the town's zoning regulations. Will the planning commission bend the rules or stand firm? Tune in later this summer.
The Ridgefield Press is on Facebook — become one of more than 4,901 friends and get news updates at Facebook.com/RidgefieldPress
More than 18,087 people have signed up for Ridgefield Press news bulletins via Twitter. You can, too, by stopping by twitter.com/RidgefieldPress
Don't forget to sign up for Press alerts on our latest social media platform: Instagram. Go to www.instagram.com/ridgefieldpress/ or search @ridgefieldpress on the app.