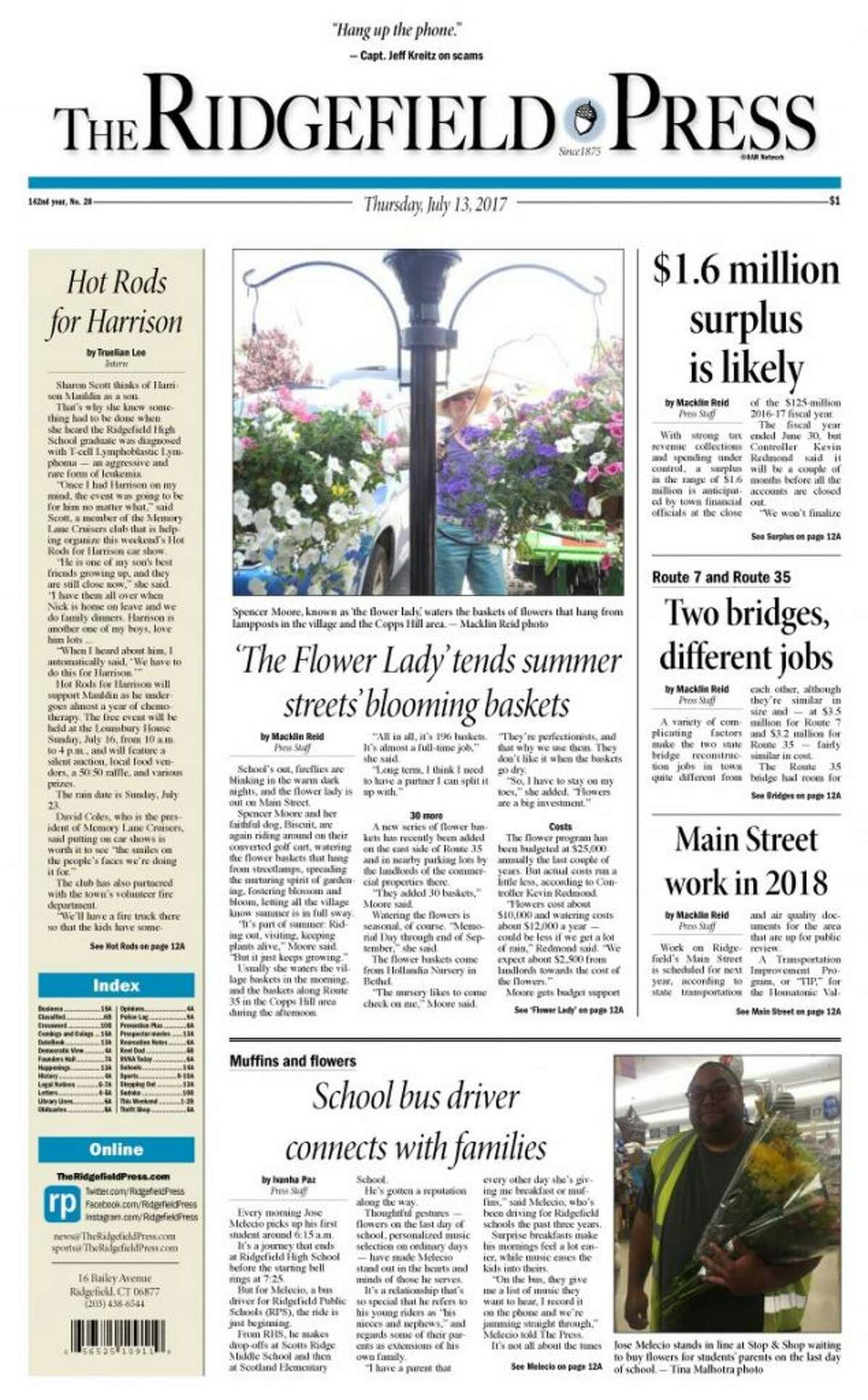 Here's a look at some of the headlines in this week's Ridgefield Press:
The Rotary Club of Ridgefield stole the week with a pair of big checks — one going to the Ridgefield Symphony Orchestra and another going to the Norwalk River Valley Trail. Those stories appear on page 2 and page 9, respectively.
It wasn't the only good news featured in the inside pages: A pair of local musicians took to the streets Monday to play some Stevie Wonder and other R&B tracks. Their mission? Just have fun and bring the soft sounds of summer to Ridgefield. Good enough for us!
On the front page, Ridgefield bus driver Jose Melecio talks about everything from breakfast foods to music to flowers. As the saying goes: Anything for the kids.
He's not the only bus driver drawing headlines: Sharon Scott is helping organize a car show this weekend for Harrison Mauldin — her son's friend who was recently diagnosed with leukemia. Scott, a member of Memory Lane Cruisers, can't wait to see Mauldin's familiar face Sunday and present him donation money that will go towards treatment.
Harrison and Jose aren't the only ones being featured on the front page: Spencer Moore — better known as the 'flower lady' — has been sprucing up the baskets in the village and the Copps Hill area. Say hello to her if you see her around town with her four-legged friend, Biscuit.
Oh, you want some actual hard news? How about the budget dilemma in Hartford? What impact will it have on Ridgefield? First Selectmen Rudy Marconi gives his thoughts.
Speaking of budgets, the 2016-17 books are closed and will result in a surplus for the town. That's good news, folks.
In the editorial section, the proposed winter club on Peaceable Street gets a lot of attention — and a cartoon.
In sports, Ridgefield closes in on a district title. That would only seem fitting considering the successful sports year the town's athletes — and their fans — have enjoyed. Let the good times roll!
The Ridgefield Press is on Facebook — become one of more than 4,914 friends and get news updates at Facebook.com/RidgefieldPress
More than 18,149 people have signed up for Ridgefield Press news bulletins via Twitter. You can, too, by stopping by twitter.com/RidgefieldPress
Don't forget to sign up for Press alerts on our latest social media platform: Instagram. Go to www.instagram.com/ridgefieldpress/ or search @ridgefieldpress on the app.