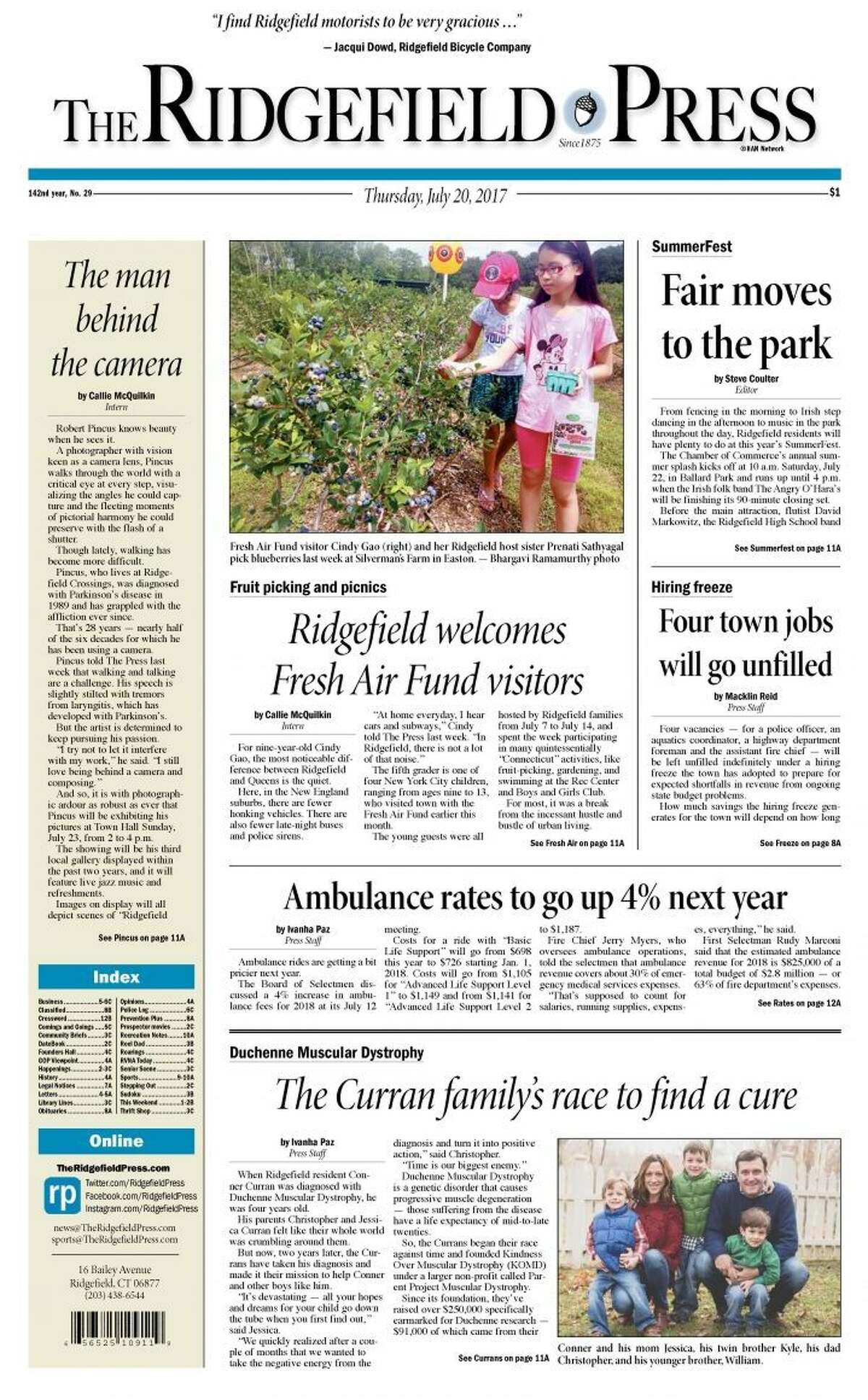 Here's a look at some of the headlines in this week's Ridgefield Press:
It's caucus time in Ridgefield: Republicans and Democrats search for volunteers to run for a bevy of open seats this fall. The party begins tonight — Thursday, July 20 — for the GOP nominees, and will continue next Monday for the Democratic candidates.
Speaking of politics, the ugliness in Hartford has had a ripple effect on Ridgefield where new employees won't be hired for four vacant positions until the state budget is resolved.
Looking for some cheery news? Ridgefield has a microbrewery. Need to read that again? Ridgefield has a microbrewery. Yep, Nod Hill Brewery will open its doors in October and have six beers on tap.
SummerFest is Saturday in Ballard Park. While there's plenty of music to be heard, attendees are reminded to stretch their legs and do some sidewalk shopping.
Ridgefield resident Conner Curran and his family are looking for a cure for Duchenne Muscular Dystrophy. The Press recently sat down with the Currans to explore their options.
The Chamber of Commerce's Young Entrepreneur Academy launched Wednesday morning at West Conn. Next up is an information session for students who want to start their own business — go get it kids!
Despite the summer slowness in town, there was a whopping dozen letters to the editors this week. The proposed one-acre land sale to Marty Handsy has left everyone with an opinion.
Plenty of features this week including one on photographer Robert Pincus and another on a group of girls who are headed to Senegal to build a school.
In sports, Theo Brunner is closing in on a medal at the World Series of Beach Volleyball.
The Ridgefield Press is on Facebook — become one of more than 4,928 friends and get news updates at Facebook.com/RidgefieldPress
More than 18,255 people have signed up for Ridgefield Press news bulletins via Twitter. You can, too, by stopping by twitter.com/RidgefieldPress
Don't forget to sign up for Press alerts on our latest social media platform: Instagram. Go to www.instagram.com/ridgefieldpress/ or search @ridgefieldpress on the app.