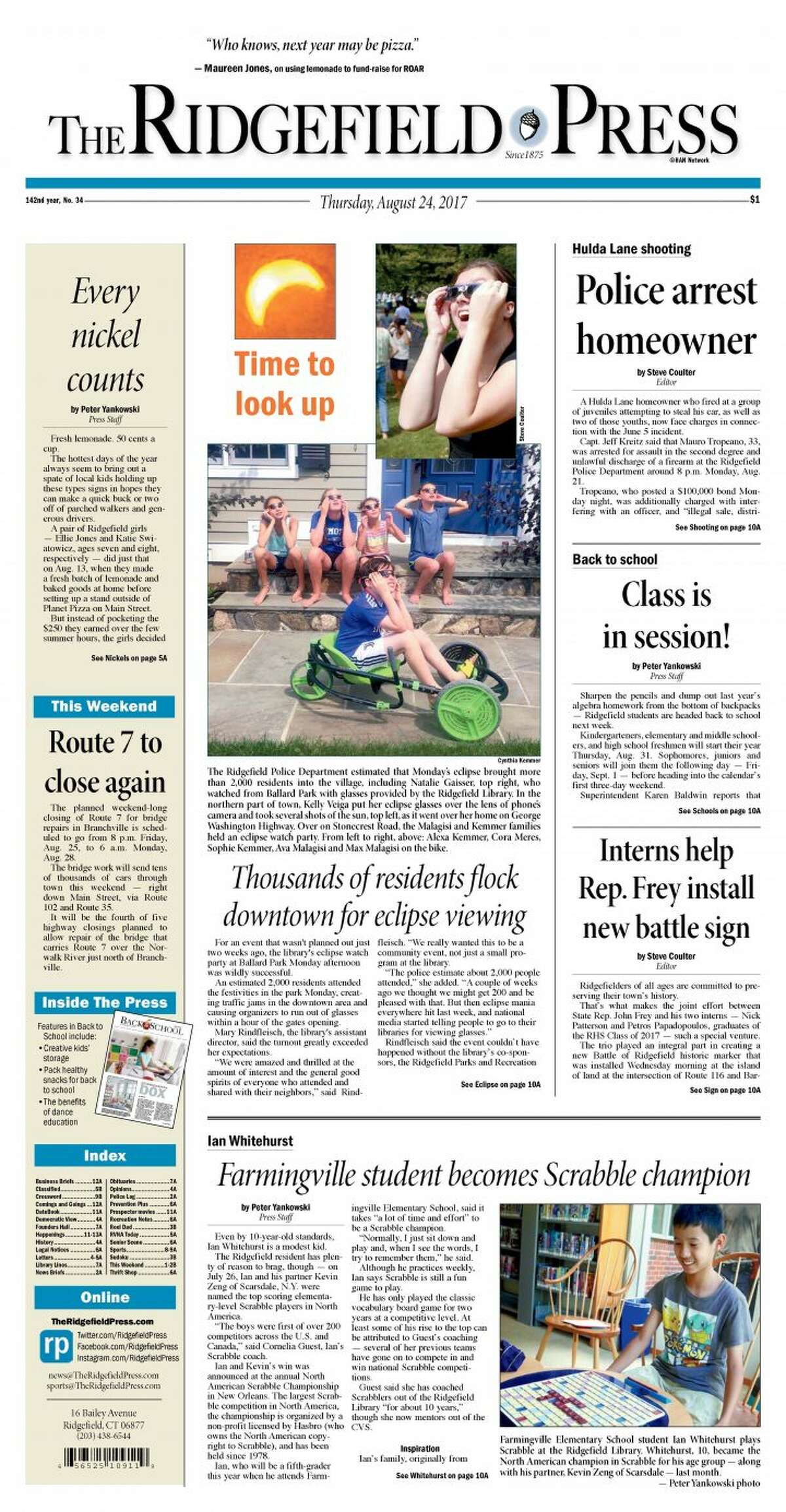 Here's a look at some of the headlines in this week's Ridgefield Press:
Did you hear there were multiple bear sightings over the weekend? The Press reports on what not to do when you see one. Hint: Stay indoors and do very little.
OK, if we're being honest, the bear was small potatoes compared to Monday's turnout for the solar eclipse. Ballard Park had at least 1,500 people attend the library's watch party, while another 500 or so watched elsewhere in the downtown area.
It's Thursday so that must mean the solar eclipse is #oldnews by now. Want something more up to date? How about the shooting on Hulda Lane? The police finally made several arrests this week, including the homeowner who fired multiple shots.
While those were the big headlines from the week, The Press printed several features, including one about a missing battle sign on Barlow Mountain Road. State Rep. John Frey implored two senior interns to uncover the secrets behind the missing post earlier this spring. On Wednesday, a new marker was installed at the island.
In the editorial section, Press editor Steve Coulter thanks his six interns from this summer. You might have seen their bylines here and there.
In sports, a baseball cultural event at Governor's Park last week was massively successful as kids from Japan, the Bronx and Ridgefield all united on the diamond.
The Ridgefield Press is on Facebook — become one of more than 5,006 friends and get news updates at Facebook.com/RidgefieldPress
More than 18,417 people have signed up for Ridgefield Press news bulletins via Twitter. You can, too, by stopping by twitter.com/RidgefieldPress
Don't forget to sign up for Press alerts on our latest social media platform: Instagram. Go to www.instagram.com/ridgefieldpress/ or search @ridgefieldpress on the app.