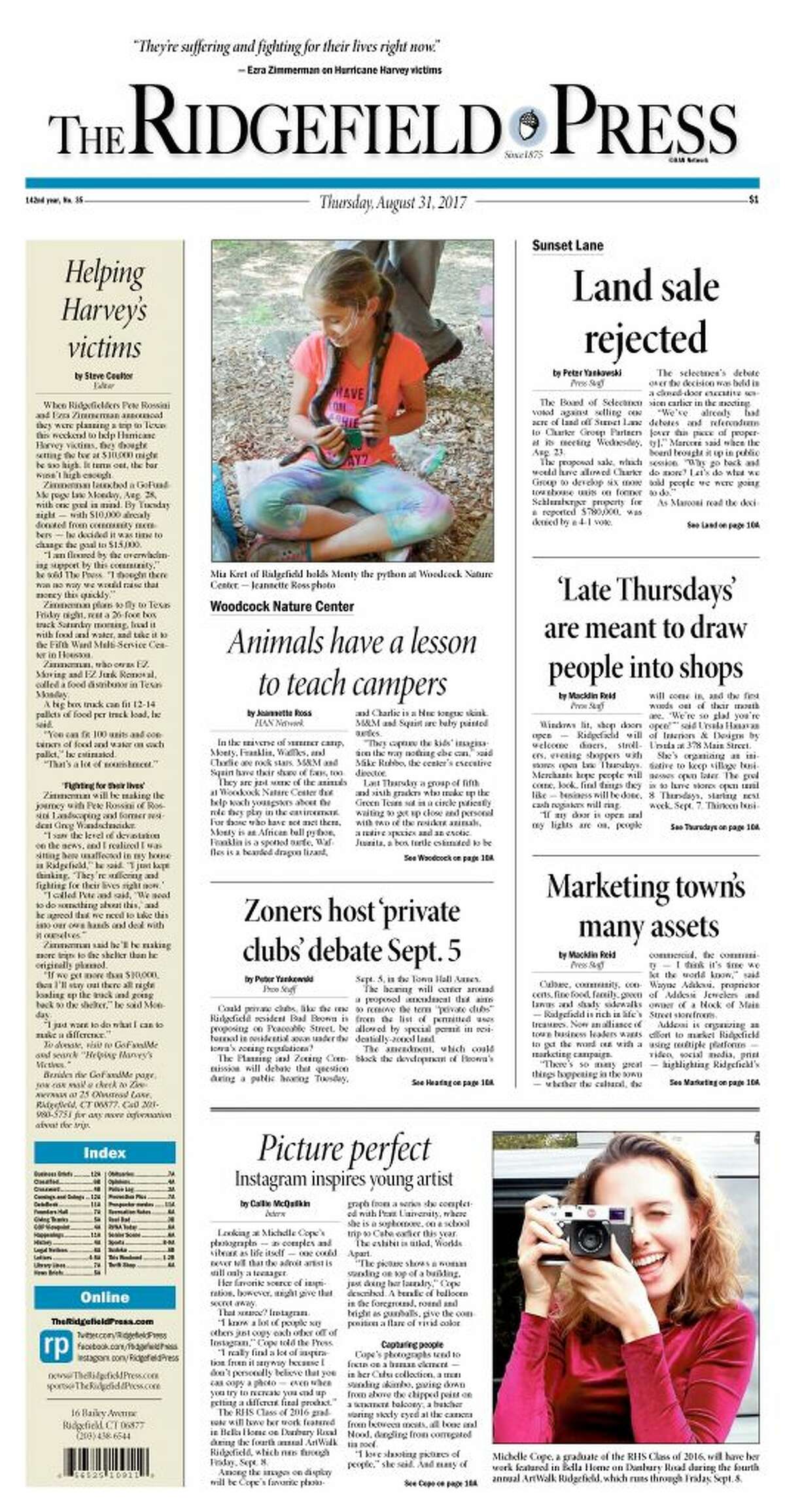 Here's a look at some of the headlines in this week's Ridgefield Press:
The shooting on Hulda Lane that took place on the morning of June 5 continues to make headlines. This week, it was revealed in an arrest warrant application that the homeowner fired three shots at a gang of car robbers but lied to police about firing his weapon. Video footage shows the teens did not posses weapons, and that the homeowner removed items from his car before police arrived. He was arrested on drug and weapons charges last week
Hurricane Harvey made local headlines (twice) this week. First on Monday afternoon when a group of girls were highlighted for raising money at a bake sale over the weekend. A few hours later, two local business owners declared they were flying to Texas to deliver food to a shelter. The effort has already raised $11,000 — and counting.
There was no shortage of hard news heading into Labor Day weekend: The selectmen rejected a land sale worth $780,000 last week, downtown business owners are extending their hours until 8 Thursdays, starting Sept. 21, and the town has initiated a "rebrand" of sorts with a new marketing campaign being spearheaded by Main Street merchant Wayne Addessi.
That's not the only news: The proposed Ridgefield Winter Club over at Peaceable Street is making headlines again. That's because the Planning and Zoning Commission is hosting a public hearing from an amendment that would remove the term "private clubs" from special permit regulations.
A pair of features to look out for this week — one on Michelle Cope, who's work is being featured during this year's ArtWalk, and another on Phoebe Schecter, who spent her summer coaching with the Buffalo Bills.
The Ridgefield Press is on Facebook — become one of more than 5,021 friends and get news updates at Facebook.com/RidgefieldPress
More than 18,420 people have signed up for Ridgefield Press news bulletins via Twitter. You can, too, by stopping by twitter.com/RidgefieldPress
Don't forget to sign up for Press alerts on our latest social media platform: Instagram. Go to www.instagram.com/ridgefieldpress/ or search @ridgefieldpress on the app.