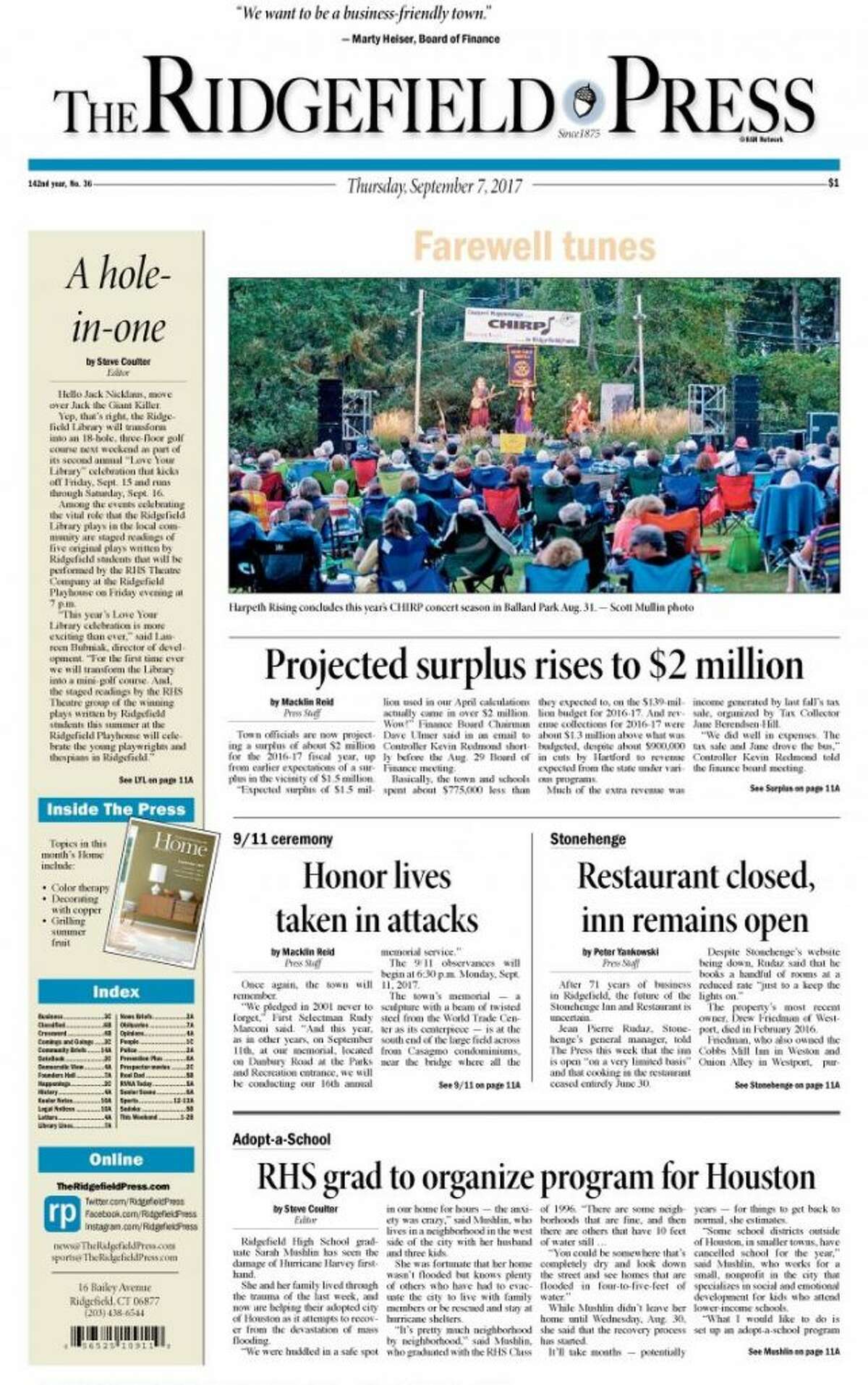 Here's a look at some of the headlines in this week's Ridgefield Press:
First-floor retail incentives drew a mixed reaction from the Board of Finance last week.
The board was happy to hear about a higher surplus than originally projected.
Elsewhere in town, the cops arrested a Ridgefield resident who reportedly damaged the Westmoreland pool area over the weekend.
Looking ahead to next weekend, the annual LYL (Love Your Library) will transform Ridgefield Library into a golf course.
Speaking of the golf course, they're getting a new snack shack.
Snackers beware: The new brewery on Route 7 might be getting a food truck for its patrons.
In other business news, DeLuca Hardware closed its doors last week in Georgetown.
The Press introduces a new reporter to its readers this week. You've hopefully gotten used to seeing his byline already.
This week's paper includes an entire section of Ridgefielders who gave back following the devastation from Hurricane Harvey last week. On the front is the story of a Ridgefield High grad who would like to create an adopt-a-school program down in Houston.
In the editorial section, The Press discusses suicide awareness, the Democratic Town Committee introduces its candidates, and two letter writers oppose a proposed bed and breakfast in town.
In sports, field hockey and soccer get previews. Ditto for football, who takes on Darien this weekend.
The Ridgefield Press is on Facebook — become one of more than 5,035 friends and get news updates at Facebook.com/RidgefieldPress
More than 18,495 people have signed up for Ridgefield Press news bulletins via Twitter. You can, too, by stopping by twitter.com/RidgefieldPress
Don't forget to sign up for Press alerts on our latest social media platform: Instagram. Go to www.instagram.com/ridgefieldpress/ or search @ridgefieldpress on the app.