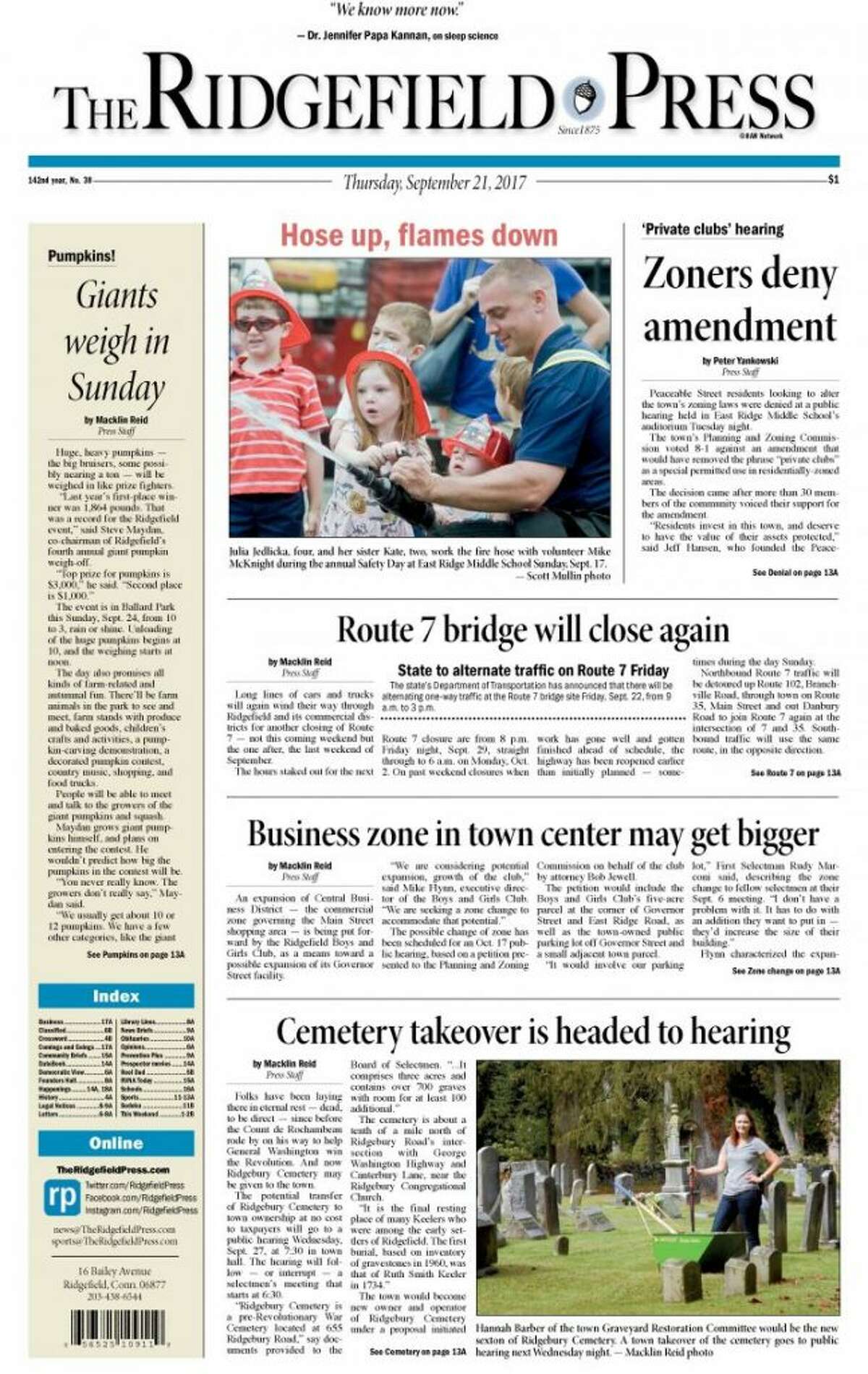 Here's a look at some of the headlines in this week's Ridgefield Press:
Halloween window decorating will return to the village in October but before it does, there will be a giant pumpkin weigh-off in Ballard Park Sunday. 'Tis the season!
The selectmen will talk about the town taking over graveyard restoration duties at a public hearing next Wednesday.
Speaking of hearings, the Planning and Zoning Commission met Tuesday night at East Ridge and heard from 33 residents who were almost all in favor of removing the phrase "private clubs" from the town's special permit regulations in residentially-zoned areas. Their arguments must have fallen on deaf ears though, as the commission voted 8-1 against the proposed amendment.
In the editorial section, endorsement letters are back in vogue — as our letters about the proposed bed and breakfast on Circle Drive.
The state budget might be coming together before the Oct. 1 deadline. Rep. John Frey and Sen. Toni Boucher spoke to The Press this week about what's been happening in Hartford.
In sports, the girls soccer and volleyball teams collected wins over the past week, as did the football team that won 49-0 last Friday against Stamford.
The Ridgefield Press is on Facebook — become one of more than 5,076 friends and get news updates at Facebook.com/RidgefieldPress
More than 18,543 people have signed up for Ridgefield Press news bulletins via Twitter. You can, too, by stopping by twitter.com/RidgefieldPress
Don't forget to sign up for Press alerts on our latest social media platform: Instagram. Go to www.instagram.com/ridgefieldpress/ or search @ridgefieldpress on the app.