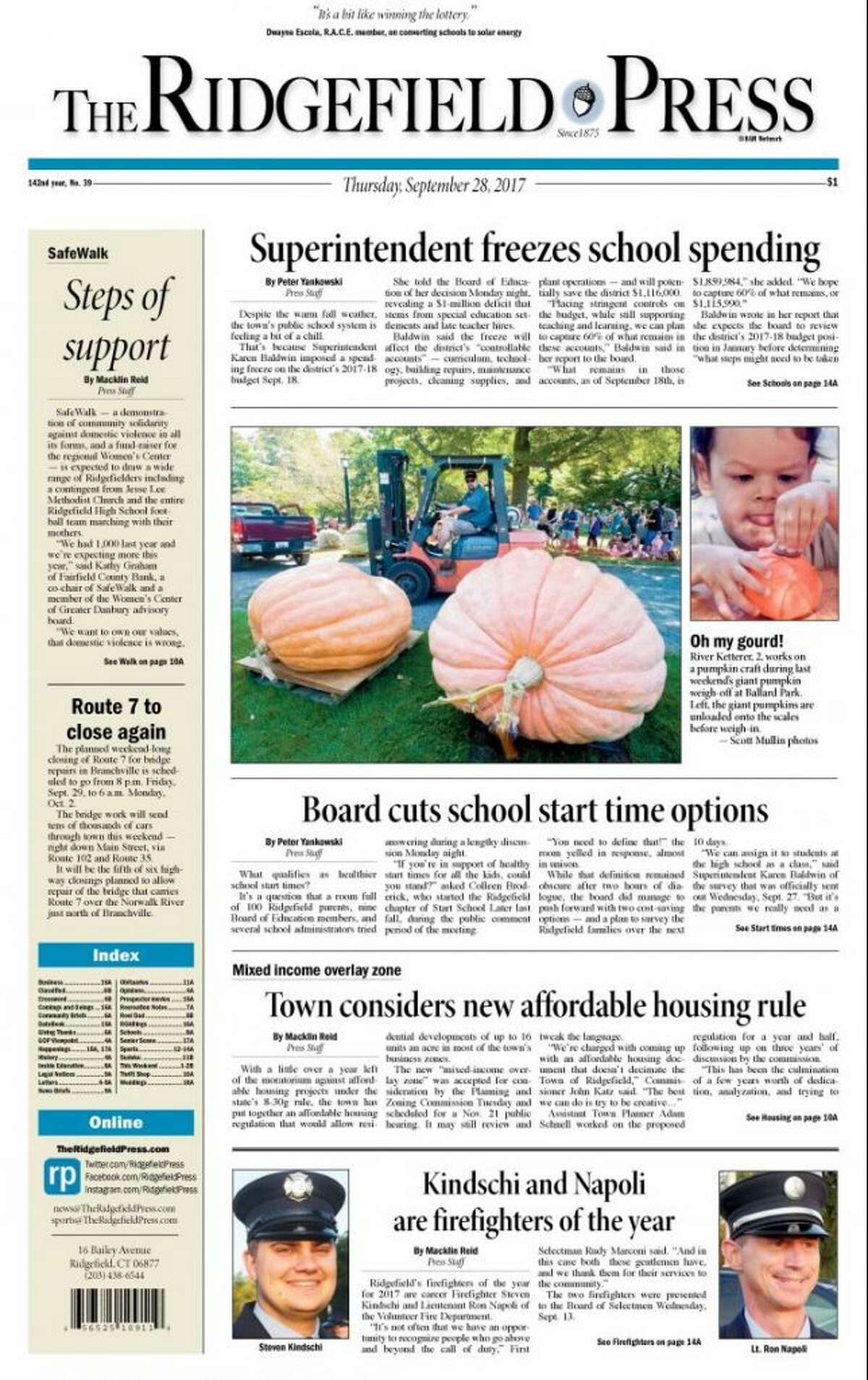 Here's a look at some of the headlines in this week's Ridgefield Press:
It must be Election season because the League of Women Voters is holding a forum for candidates next week at the library.
Also, The Press has begun to receive letters for support — don't forget to write us who you think should be elected!
They are far from the only letters we've received this past week. Editorial topics on page 4 (and 5) include: the proposed bed and breakfast Drive, the expansion of the town's central business district, Donald Trump and freedom of speech, and why Ridgefield is the best keep secret around.
In sports, the boys soccer team is riding a five-game win streak, while the girls team remains unbeaten through seven games.
The football team is also winning, too. And they're winning big. A pair of routs over the last week have the cumulative scoreboard reading: Tigers 95, Opponents 8.
It's not all politics, opinions, and sports though: It was another busy week in Ridgefield as the school board sent out a survey to parents regarding start times. Also, in that same meeting, board members were told the budget has been frozen. Fun times!
Inside the paper, former residents call on others to support hurricane relief funds for the Caribbean which has been devastated by Maria and Irma.
The Ridgefield Press is on Facebook — become one of more than 5,099 friends and get news updates at Facebook.com/RidgefieldPress
More than 18,625 people have signed up for Ridgefield Press news bulletins via Twitter. You can, too, by stopping by twitter.com/RidgefieldPress
Don't forget to sign up for Press alerts on our latest social media platform: Instagram. Go to www.instagram.com/ridgefieldpress/ or search @ridgefieldpress on the app.