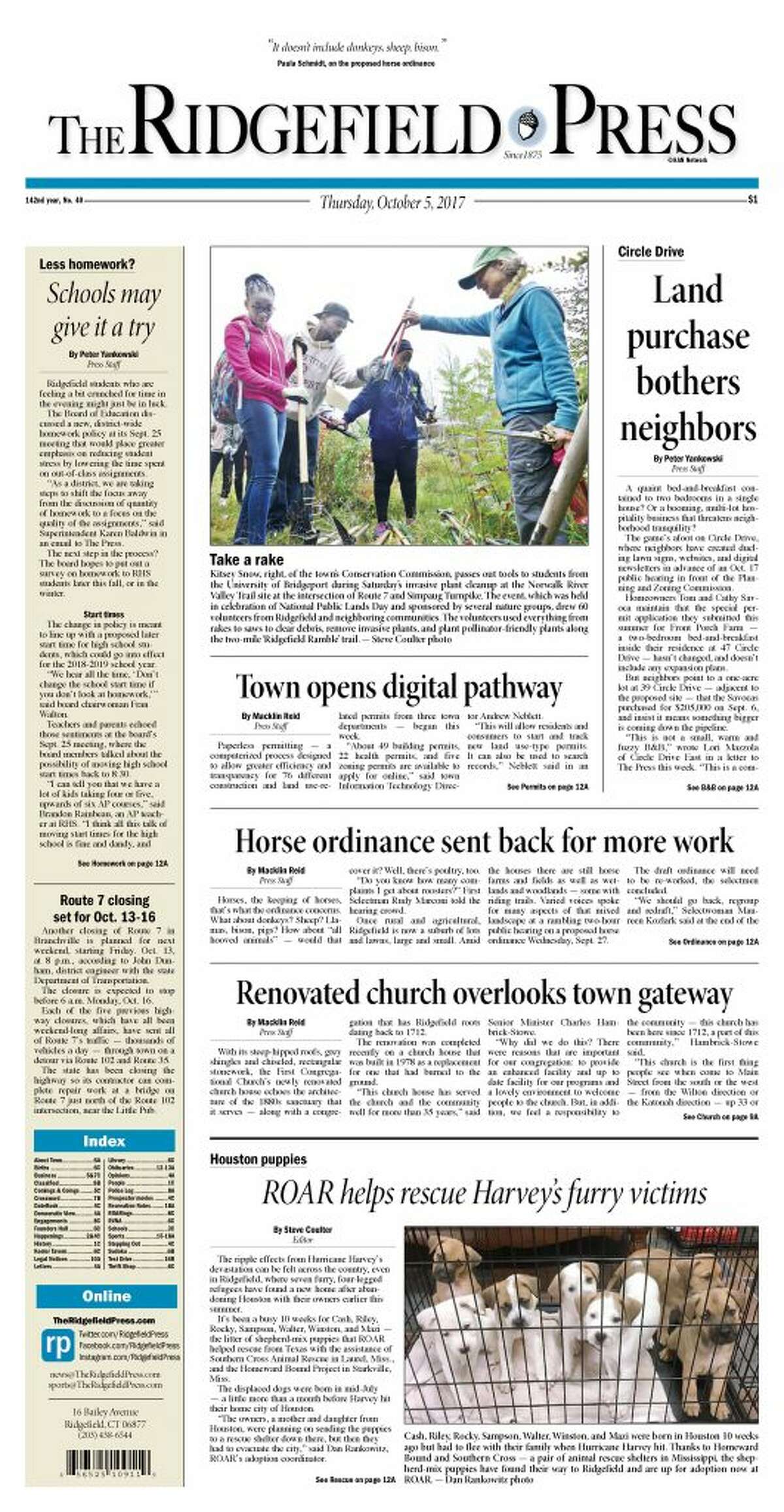 Here's a look at some of the headlines in this week's Ridgefield Press:
Bras and diapers — two undergarments that don't usually generate human interest stories — make headlines this week. A pair of East Ridge Middle School students collected diapers for hurricane victims, and a local business is collecting donating bras for Breast Cancer Awareness month — both good causes.
Speaking of good causes, there's a Stuff a Bus event Saturday for victims in Puerto Rico.
That's not the only event coming up this month: There's the annual Fury Scurry run for ROAR at the end of the month, Fall in Love with Ridgefield downtown next weekend, and the annual scarecrow decorating contest next week.
Of course, there's stuff going on in town that's more serious, too. For example, there's a hearing for the proposed bed and breakfast on Circle Drive on Oct. 17. And there's a meeting about school start times Oct. 16. Oh, and there's a meeting about Ridgebury Cemetery on Oct. 11. How does The Press keep track of them all? Good question!
Looking ahead to events taking place later this month, the Old Timers Association will recognize nine next weekend. The Press shares two features this week that highlights four of the honorees. You've probably seen the others in recent issues.
Still not satisfied with what's happening in town? There's an anti-bullying dinner taking place Oct. 21 at the rec center and there's a shredding day taking place that same day behind Starbucks.
In sports, volleyball and girls soccer remain undefeated while Murph recaps the 41st annual Half Marathon.
The Ridgefield Press is on Facebook — become one of more than 5,115 friends and get news updates at Facebook.com/RidgefieldPress
More than 18,650 people have signed up for Ridgefield Press news bulletins via Twitter. You can, too, by stopping by twitter.com/RidgefieldPress
Don't forget to sign up for Press alerts on our latest social media platform: Instagram. Go to www.instagram.com/ridgefieldpress/ or search @ridgefieldpress on the app.