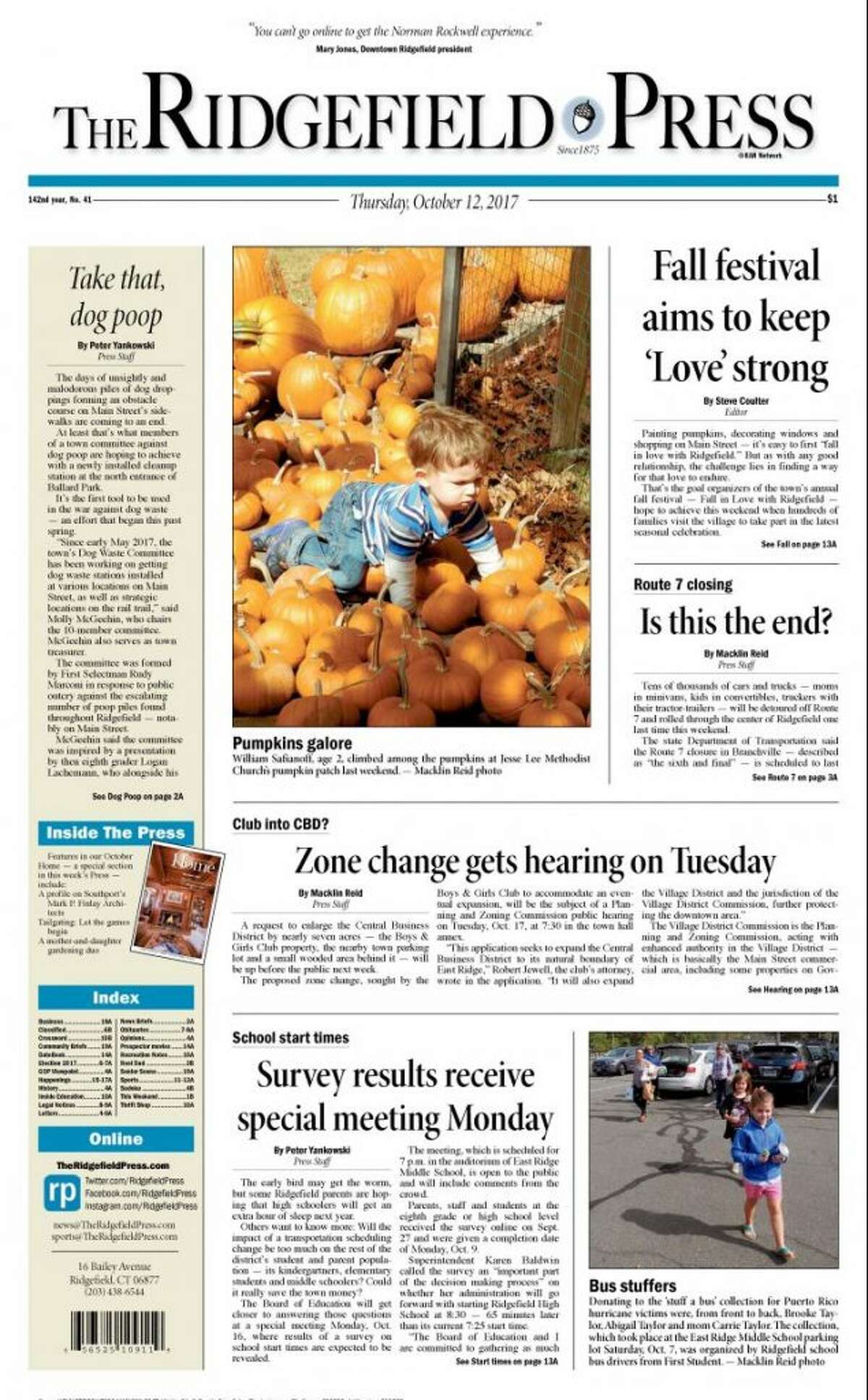 Here's a look at some of the headlines in this week's Ridgefield Press:
The town has reached a settlement with Dr. henry Seemann, the former owner of the Snd Trp restaurant at the Ridgefield Golf Course. He was asking for $15,000 last summer, and the town thought he could end up getting more.
It's time to once again Fall in Love with Ridgefield this weekend. The Main Street merchants, downtown nonprofits and many others are looking to create a special, autumn-themed festival for families and friends. The list of activities include: a haunted hay ride, pumpkin painting and window decorating.
This will be the final weekend of Route 7 traffic being re-routed through the village. The end is in sight, folks!
Three major hearings are next week: Monday's Boarding of Education special meeting at East Ridge will cover school start times and Tuesday's zoning meeting will address the controversial bed and breakfast on Circle Drive AND the expansion of the town's central business district to accommodate plans for the Boys and Girls Club.
Traffic, start times, dog poop — three stories that Press readers have become all too familiar with in 2017. Well, at least one of those is going away soon — or at least that's what dog waste committee members are hoping.
On the editorial page, The Press editor writes about Trump and football, letter writers condemn the NFL players taking a knee, and the history column reflects on a fire that happened in 1992.
In sports, girls soccer picks up a pair of key wins as the football team notches a late comeback to beat Staples.
The Ridgefield Press is on Facebook — become one of more than 5,136 friends and get news updates at Facebook.com/RidgefieldPress
More than 18,676 people have signed up for Ridgefield Press news bulletins via Twitter. You can, too, by stopping by twitter.com/RidgefieldPress
Don't forget to sign up for Press alerts on our latest social media platform: Instagram. Go to www.instagram.com/ridgefieldpress/ or search @ridgefieldpress on the app.