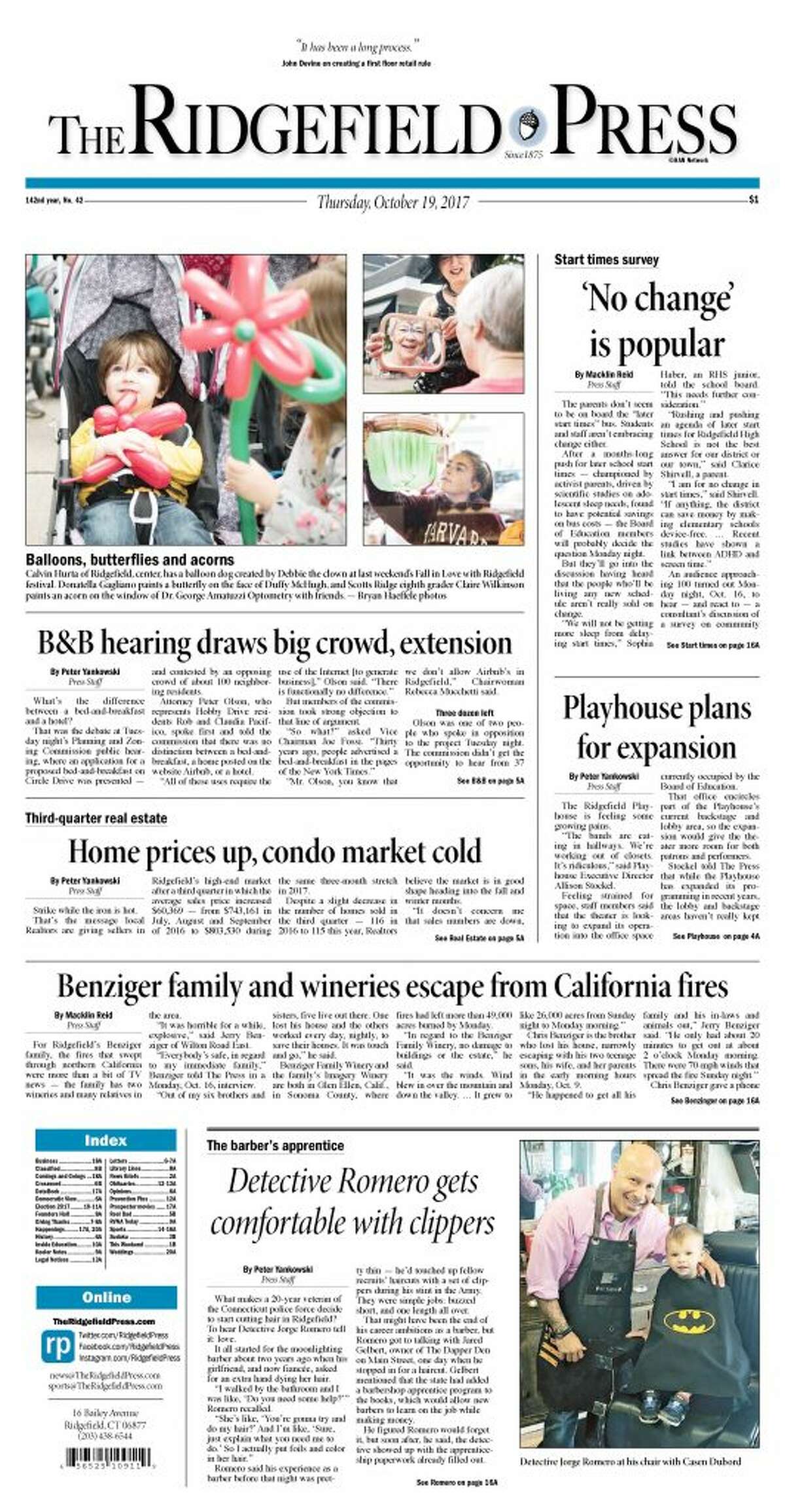 Here's a look at some of the headlines in this week's Ridgefield Press:
State police arrested a Waterbury man Monday night after he led a trooper on a highway chase down I-84 — it turns out that the car he was driving was reported stolen in Ridgefield on Sept. 12.
Tuesday night's zoning hearings didn't lack fireworks — or people. First, the proposed bed and breakfast on Circle Drive drew a big crowd (and left three dozen people on the list to speak at the next hearing). Then, the proposed expansion of the Central Business District pitted a local attorney against a planning commissioner. A lot of battles being fought these days.
Speaking of fights, the parents looking to start the high school later are in for an uphill battle after a district-wide survey found out that people like the schedule just the way it is. The finance board has some thoughts on the matter, too — as do several Press letter writer this week!
Besides the standard controversial issues — start times, zoning applications, The Press reports on expansion plans going on at the Playhouse, a Ridgefield family with a connection to the California fires, and a police detective who is learning how to cut hair.
It's week two of the paper's 2017 election coverage. Turn to pages 10 and 11 to hear from candidates for the town zoning and police commissions.
In sports, the football team — fresh off a comeback victory of its own two weeks ago — lost a heartbreaker to St. Joseph last week. The Cadets rallied from 25 points to stun the Tigers. Yikes.
Boys soccer didn't fare any better this week with a tie to Staples and a loss to Darien.
In the happenings section, the ARTique returns next month, the Halloween Walk is set for next weekend and Tret Fure will take the stage at St. Stephen's on Nov. 5.
The Ridgefield Press is on Facebook — become one of more than 5,148 friends and get news updates at Facebook.com/RidgefieldPress
More than 18,713 people have signed up for Ridgefield Press news bulletins via Twitter. You can, too, by stopping by twitter.com/RidgefieldPress
Don't forget to sign up for Press alerts on our latest social media platform: Instagram. Go to www.instagram.com/ridgefieldpress/ or search @ridgefieldpress on the app.