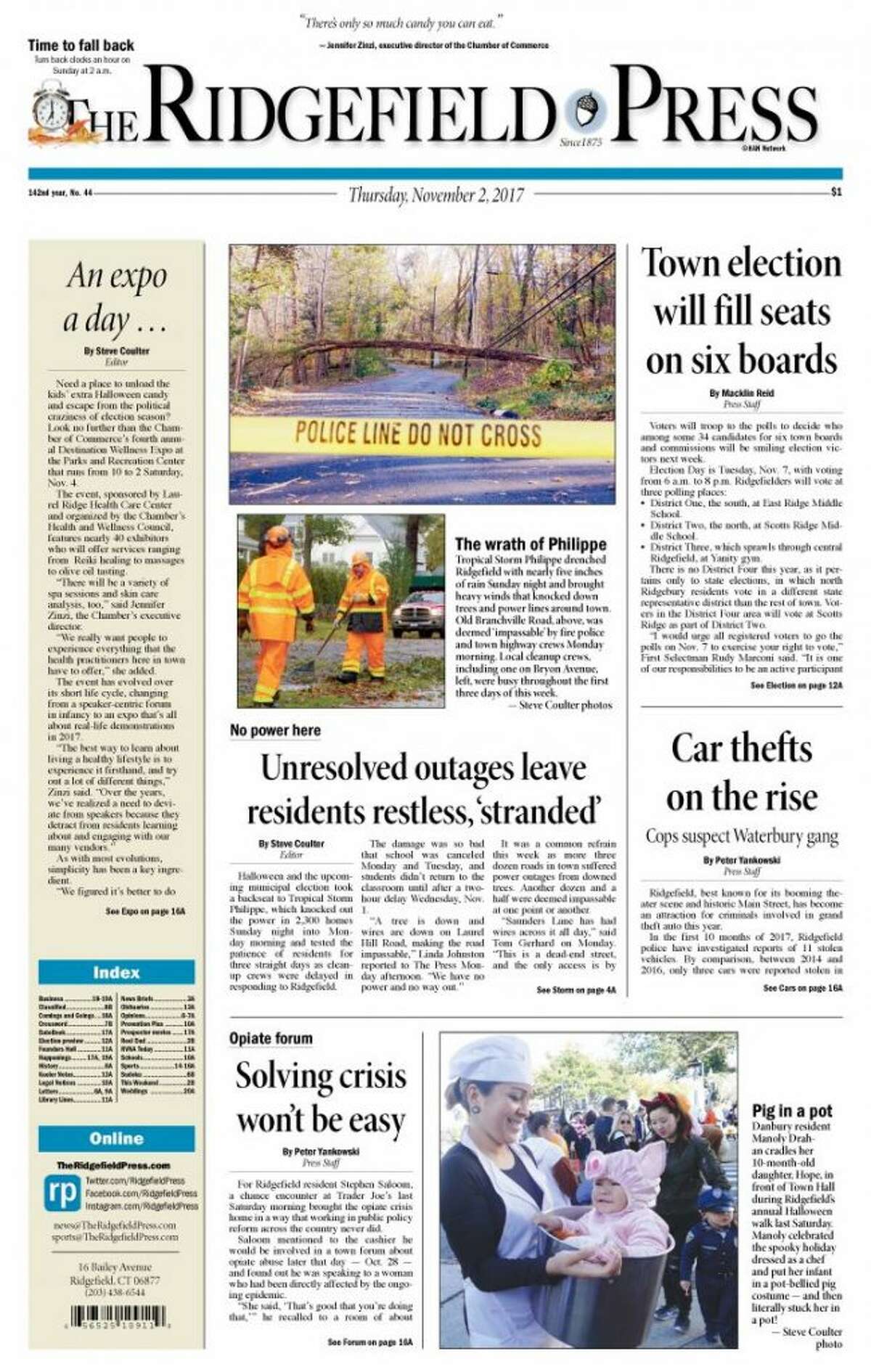 Here's a look at some of the headlines from this week's Ridgefield Press:
Halloween and Election Day are two staples of the fall season but both holidays took a back seat to Tropical Storm Philippe this week. Cleanup crews were in town for the first three days this week and school was cancelled Monday and Tuesday. And that wasn't even the worst part: 2,000-plus homes were without power at some point during the storm and a dozen and a half roads were blocked off from fallen trees and wires. The storm tested everyone's patience.
Accidents also made headlines this week: First, there was a four-car accident on Route 7 Monday, and then there was a one-car on Nutmeg Ridge Tuesday night involving a 17-year-old Ridgefielder who was trapped underneath his car after he tried stopping it from going down a hill.
Naturally, the upcoming municipal election did takeover this week's paper. Voters can read The Press' Election Day advance to find out where to vote — and for who. There's also a sample ballot inside — and instructions on how to watch HAN's election night show.
Speaking of the election, the Democratic Town Committee sponsored a forum about opiate addiction Saturday. The Press attended and heard personal accounts from three residents, all of whom have been impacted by the ongoing epidemic in Fairfield County and beyond.
It's not the only story that had a scope beyond the friendly confines of Fairfield County: Stolen cars have tripled this year from the previous three years combined, and Ridgefield police believe it has something to do with a group based out of Waterbury.
Looking for something fun to do this weekend? How about checking out the fourth annual Health and Wellness Expo at the rec center? The Chamber of Commerce promises the event will have something for everyone: from yogis to tea drinkers.
In sports, Ridgefield prepares for the postseason. FCIAC playoffs started late last week and continued yesterday. After the conference games are played, most of Ridgefield teams will advance to state tournaments. Will any take home a state championship this year? You'll have to check out next week's Press
The Ridgefield Press is on Facebook — become one of more than 5,181 friends and get news updates at Facebook.com/RidgefieldPress
More than 18,797 people have signed up for Ridgefield Press news bulletins via Twitter. You can, too, by stopping by twitter.com/RidgefieldPress
Don't forget to sign up for Press alerts on our latest social media platform: Instagram. Go to www.instagram.com/ridgefieldpress/ or search @ridgefieldpress on the app.