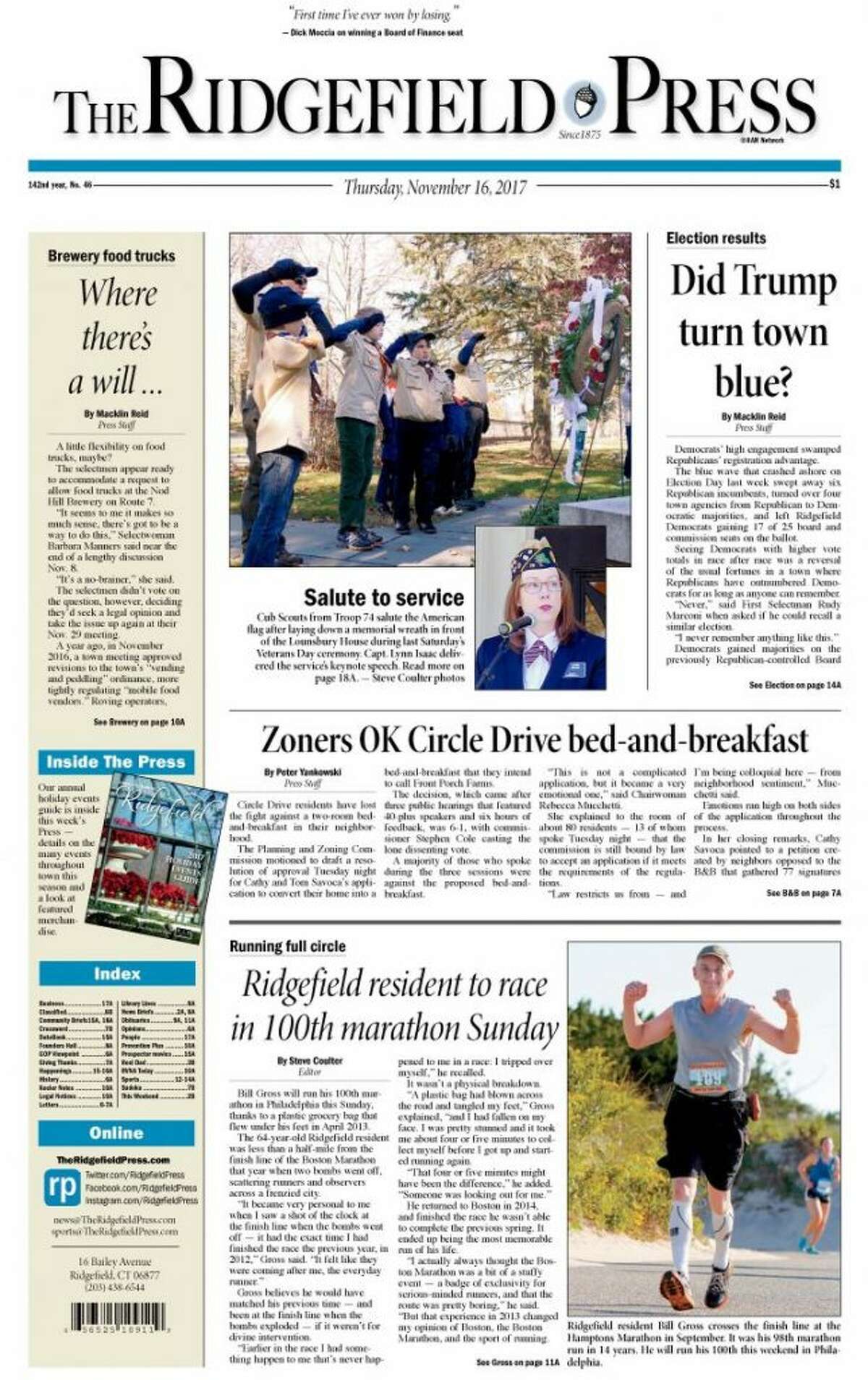 Here's a look at some of the headlines from this week's Ridgefield Press:
Ridgefield's new brewery wants to have some food trucks to feed its hungry drinkers. The selectmen seem inclined to accept the idea but a rule they created in 2016 might make it a bit of a challenge.
Speaking of challenges: The Planning and Zoning Commission has approved a bed-and-breakfast on Circle Drive after hearing public comments from 40 residents over the course of three hearings. The final step of the process will take place next Tuesday, Nov. 21, for those looking to keep the protest alive.
Yes, Election Day has come and gone but this year's results were anything but straightforward. Who won what seat? What caused Ridgefield to turn blue? Where do the affected boards go from here? It's all in this week's newspaper (on the front page, again).
You've read about the brewery, the bed-and-breakfast, and the election before, but what's new on this week's front page is resident Bill Gross who will run his 100th marathon this weekend in the City of Brotherly Love.
Inside this week's Press is the annual holiday guide. Read up on the Holiday House Tour, the flipping of the switch that ignites the lights on Main Street, and the annual Holiday Stroll.
The Ridgefield Police Department made headlines this week — and not for making an arrest. A recent study found that cops in town stop Latino drivers 2.5 times more during the day than they do at night. Is it a sign of racial profiling? Maj. Stephen Brown says he plans to look into the results.
Ridgefield's latest rendition of the Charter Revision Commission has been finalized. The nine-member board had its first meeting last night. It will be tasked with looking over the rules that govern the town. Expect changes this time next year.
The Ridgefield Press is on Facebook — become one of more than 5,206 friends and get news updates at Facebook.com/RidgefieldPress
More than 18,870 people have signed up for Ridgefield Press news bulletins via Twitter. You can, too, by stopping by twitter.com/RidgefieldPress
Don't forget to sign up for Press alerts on our latest social media platform: Instagram. Go to www.instagram.com/ridgefieldpress/ or search @ridgefieldpress on the app.