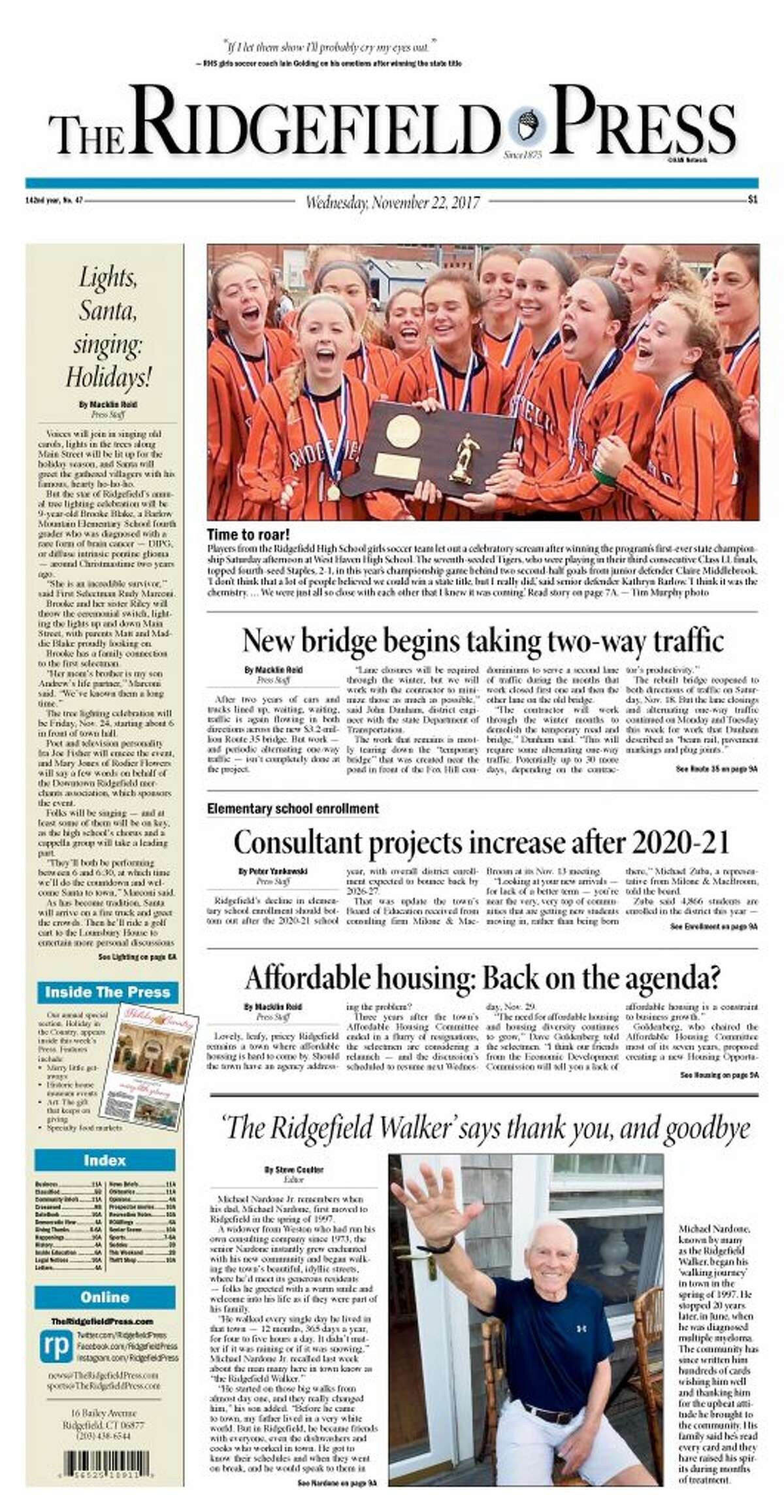 Here's a look at some of the headlines from this week's Ridgefield Press:
The Ridgefield High School girls soccer team won the program's first-ever state title on Saturday, and the Tigers are pictured front and center on this week's page one. Let it roar girls!
The Ridgefield Walker, known by many on Main Street for his jovial conversations and interactions over the last two decades, extended a thank you to residents this week for the support they've shown him over the last four months.
First comes Thanksgiving, then comes the annual tree lighting ceremony on Main Street. The tradition will take place Friday night in front of Town Hall. Nine year old Brooke Blake will be this year's honoree.
The Route 35 bridge has caused headaches for Ridgefield drivers for two years now but things are looking up: On Saturday, the state unveiled the newly-repaired bridge that will hopefully reduce the awful alternating one-way traffic at the site. We're not in the clear yet though: the state predicts work on the site to last through next spring. Oh no!
Marty Heiser reflects on 24 years on the Board of Finance on page 3. He was beaten in this year's election but looks forward to having some more free time.
In the editorial section, letter writers voice their displeasure with a recently-approved bed and breakfast on Circle Drive.
In news briefs, the cops report three more stolen cars.
In happenings, The Press previews the Tiger Hollow holiday house tour set to take place next Friday, Dec. 1.
In sports, girls swimming finishes fourth at the state championship meet.
The Ridgefield Press is on Facebook — become one of more than 5,213 friends and get news updates at Facebook.com/RidgefieldPress
More than 18,900 people have signed up for Ridgefield Press news bulletins via Twitter. You can, too, by stopping by twitter.com/RidgefieldPress
Don't forget to sign up for Press alerts on our latest social media platform: Instagram. Go to www.instagram.com/ridgefieldpress/ or search @ridgefieldpress on the app.