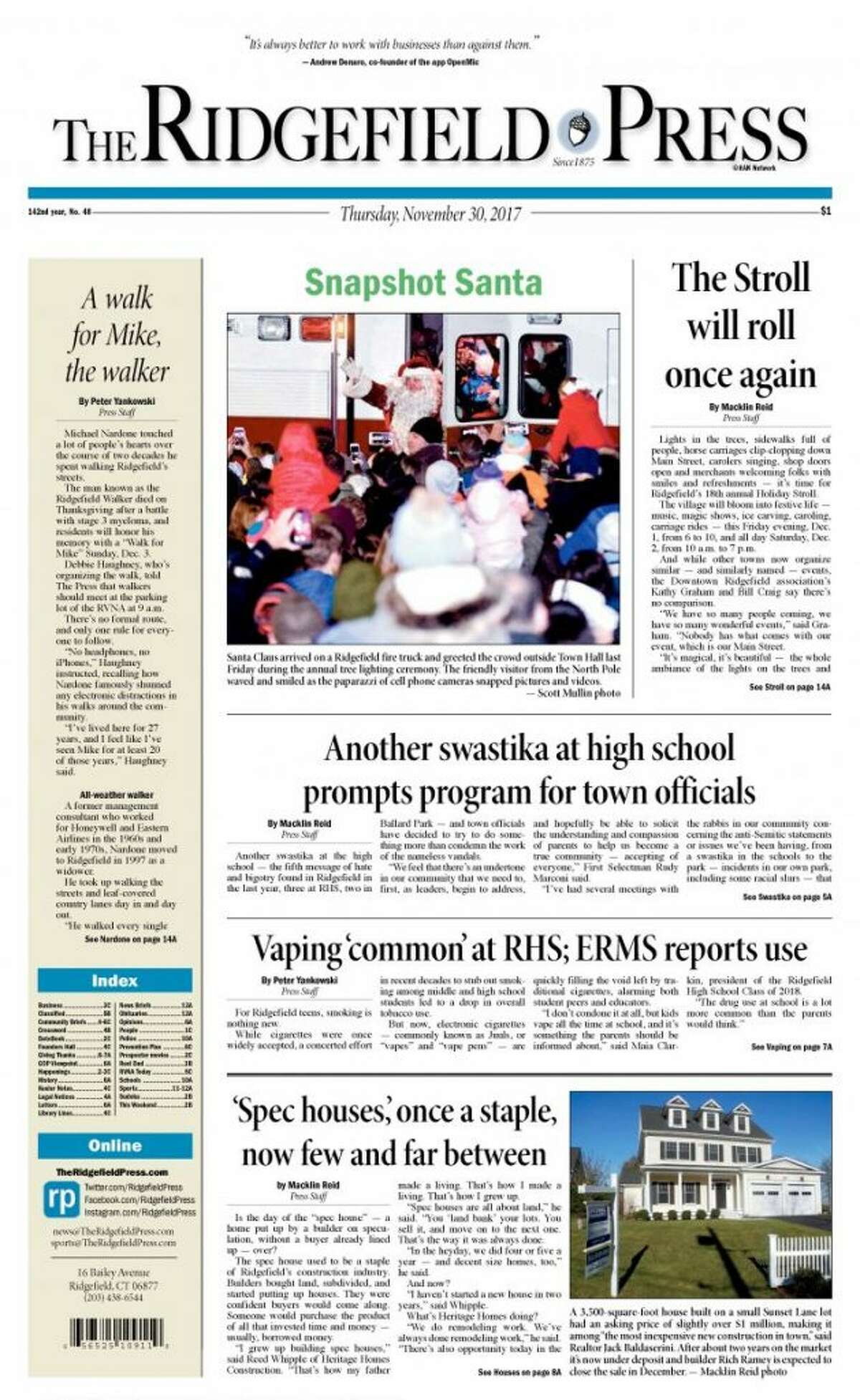 Here's a look at some of the headlines from this week's Ridgefield Press:
Electronic cigarettes have replaced traditional tobacco smoking at Ridgefield schools, and administrators have began taking notice. East Ridge Middle School has reported several incidents and the high school has admitted that students have been smoking in the bathroom. Some students (and parents) say smoking is prevalent in the classrooms and in the cafeteria, too.
Vaping isn't the only issue going at RHS. Another Swastika — the third in 2017 — was uncovered last week before Thanksgiving break, triggering community leaders to host a program next Tuesday.
Want something a bit lighter? The Holiday Stroll returns this Friday and Saturday. In addition to ice sculptures, breakfast with Santa, and horse and carriage rides, The Downtown Ridgefield extravaganza will feature magic tricks, ROAR puppies, and real-life toy soldiers. Oh, and plenty of singing!
Digging has begun at Steve Zemo's property at Old Quarry Road, where a $3.2-million land sale closed earlier this month. The new tenant? Georgia-based Formation Development Group, who will be building an assisted living community on the site that was part of the Schlumberger sale in 2011.
Michael Nardone, better known as The Ridgefield Walker, passed away on Thanksgiving. The community will remember him with a walk Sunday, Dec. 3.
He wasn't the only celebrity who was lost last week. Television icon — and former Ridgefielder — David Cassidy died on Nov. 21 in Florida. Former Press editor Jack Sanders pays tribute on page 10 of this week's paper.
The police department pulled over a drunk driver Friday night — and the driver proceeded to back into one of the cops' cruisers, twice! The damage was minimal, according to Capt. Jeff Kreitz, and won't cost much to repair.
In sports, Murph gives out his end-of-season awards for the fall sports teams. Hint: The girls soccer team got some recognition.
The football team finished 7-3 on the year with a 41-0 blowout against rival Danbury. The Tigers missed the state playoffs this year but surely made a statement in their final game!
The Ridgefield Press is on Facebook — become one of more than 5,222 friends and get news updates at Facebook.com/RidgefieldPress
More than 18,944 people have signed up for Ridgefield Press news bulletins via Twitter. You can, too, by stopping by twitter.com/RidgefieldPress
Don't forget to sign up for Press alerts on our latest social media platform: Instagram. Go to www.instagram.com/ridgefieldpress/ or search @ridgefieldpress on the app.