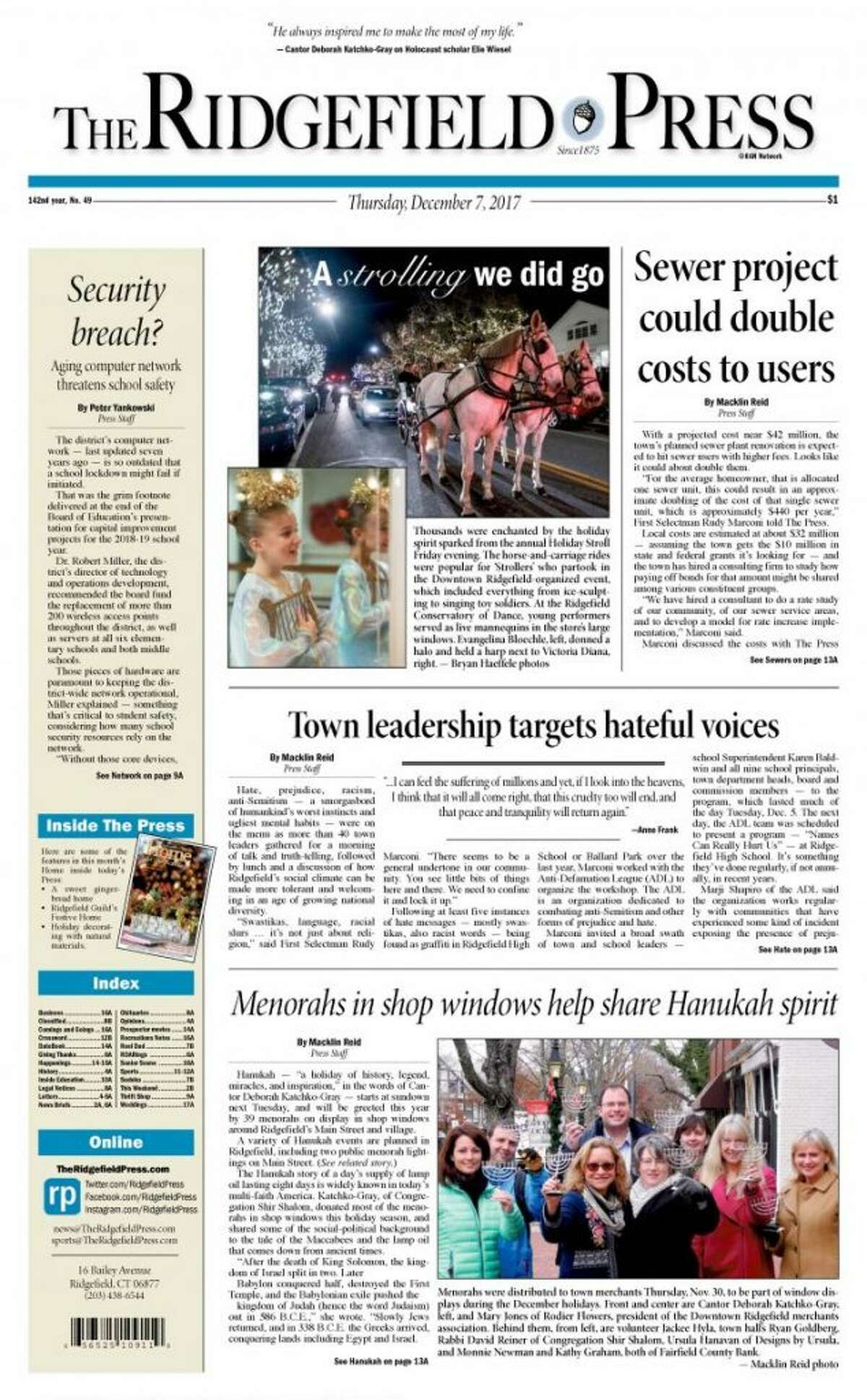 Here's a look at some of the headlines from this week's Ridgefield Press:
The Holiday Stroll sparkled with a magnificent winter light last Friday and Saturday. The Press captured the horse and carriage rides — and more in its page one spread this week.
Bet you didn't think Election Day 2017 would still be making headlines a month later on Dec. 7, but The Press proved that logic wrong this week with a trio of stories pertaining to the election windfall from last month. As a result of the crazy municipal voting process here in Ridgefield, the Zoning Board of Appeals finally has a new member, the school board has new two officers, and, next week, the educators will add a ninth member — the final step to completing this election season. See ya next year, folks!
Talk about familiar headlines: Another car was stolen last week on Barrack Hill Road. It is the 15th vehicle to be lifted from a Ridgefield driveway in 2017 — 13 more than last year.
Bailey Avenue was under siege — by water — Tuesday afternoon when a service line ruptured. Crews worked for 12 straight hours and had to return Wednesday to finish off the work, which included breaking off asphalt, digging an eight feet hole, repairing the severed line, and patching everything back together.
On the front page, the upcoming Hanukah celebrations get a feature spot. There's a larger listing of events on page 13, too.
Unfortunately, this holiday season has been marred by the recent racist imagery found at the high school and at Ballard Park. About 40 town officials gathered Tuesday to talk about the ongoing issue, and how to solve it to make Ridgefield a town of tolerance. Hate will not win, First Selectman Rudy Marconi assured the crowd.
Tuesday was a busy day in the newsroom: There was a car accident on the train tracks on the Redding-Ridgefield border late Tuesday night. First responders were at the scene for several hours. Only one man was hurt, and suffered just minor injuries.
In the editorial section, The Press discusses the history of cars vs. trains and how plans to revitalize Branchville can help minimize the safety risk.
In sports, the girls basketball and girls hockey teams get a winter season preview, and a young golfer meets Rickie Fowler down in Florida.
In happenings, its time for St. Stephen's Blue Christmas — and plenty of Nutcracker performances.
The Ridgefield Press is on Facebook — become one of more than 5,234 friends and get news updates at Facebook.com/RidgefieldPress
More than 18,977 people have signed up for Ridgefield Press news bulletins via Twitter. You can, too, by stopping by twitter.com/RidgefieldPress
Don't forget to sign up for Press alerts on our latest social media platform: Instagram. Go to www.instagram.com/ridgefieldpress/ or search @ridgefieldpress on the app.