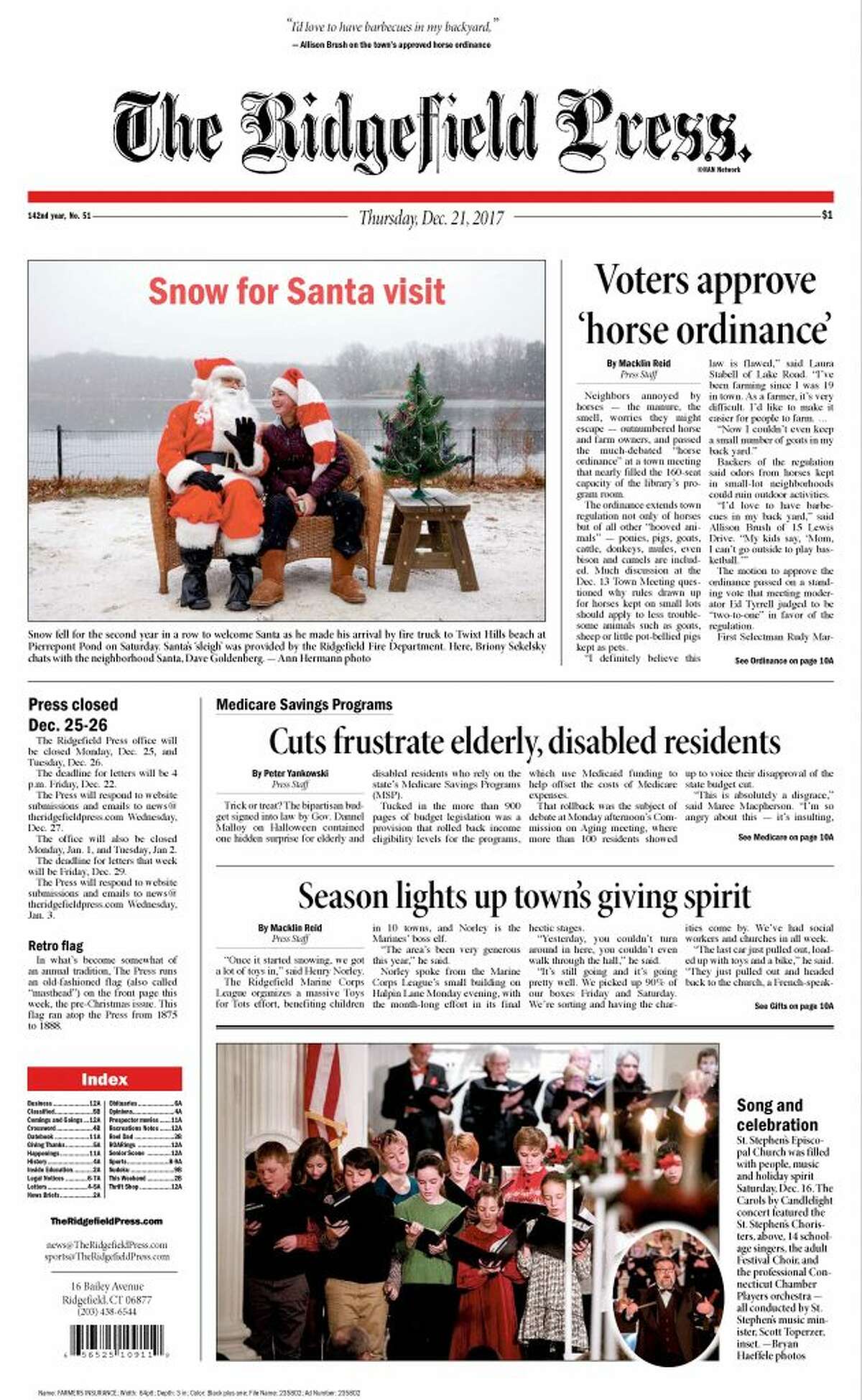 Here's a look at some of the headlines from this week's Ridgefield Press
Does The Press look any different this week? That's the old-fashioned flag (also called "masthead") on the front page this week, the pre-Christmas issue. This flag ran atop The Press from 1875 to 1888.
Speaking of Christmas, there's a front page story this week that highlights all the good deeds Ridgefielders have been up to this month, including donating to the annual Toys for Tots drive and to the town's Social Services Department.
Water main breaks and multi-vehicle accidents anchor the paper's News Briefs section (on page 2) for the fourth time in six weeks. The accident closed down Route 7 Friday, and the water main break closed down part of Prospect Street Monday morning.
Going blue to better serve you — that's the Ridgefield Police Department's motto heading into 2018. In the new year, officers will wear blue uniforms. Take a look of the new digs on page 7!
In the sports section, the boys basketball team lost its opening game Monday night against Byram Hills (N.Y.). Despite the result, Coach Andrew McClellan saw a lot of positives from his squad that won the FCIAC championship last season.
Want hard news? We got you covered! Check out the stories about medicare, horses, and revaluation in this week's paper.
The Ridgefield Press is on Facebook — become one of more than 5,241 friends and get news updates at Facebook.com/RidgefieldPress
More than 19,017 people have signed up for Ridgefield Press news bulletins via Twitter. You can, too, by stopping by twitter.com/RidgefieldPress
Don't forget to sign up for Press alerts on our latest social media platform: Instagram. Go to www.instagram.com/ridgefieldpress/ or search @ridgefieldpress on the app.