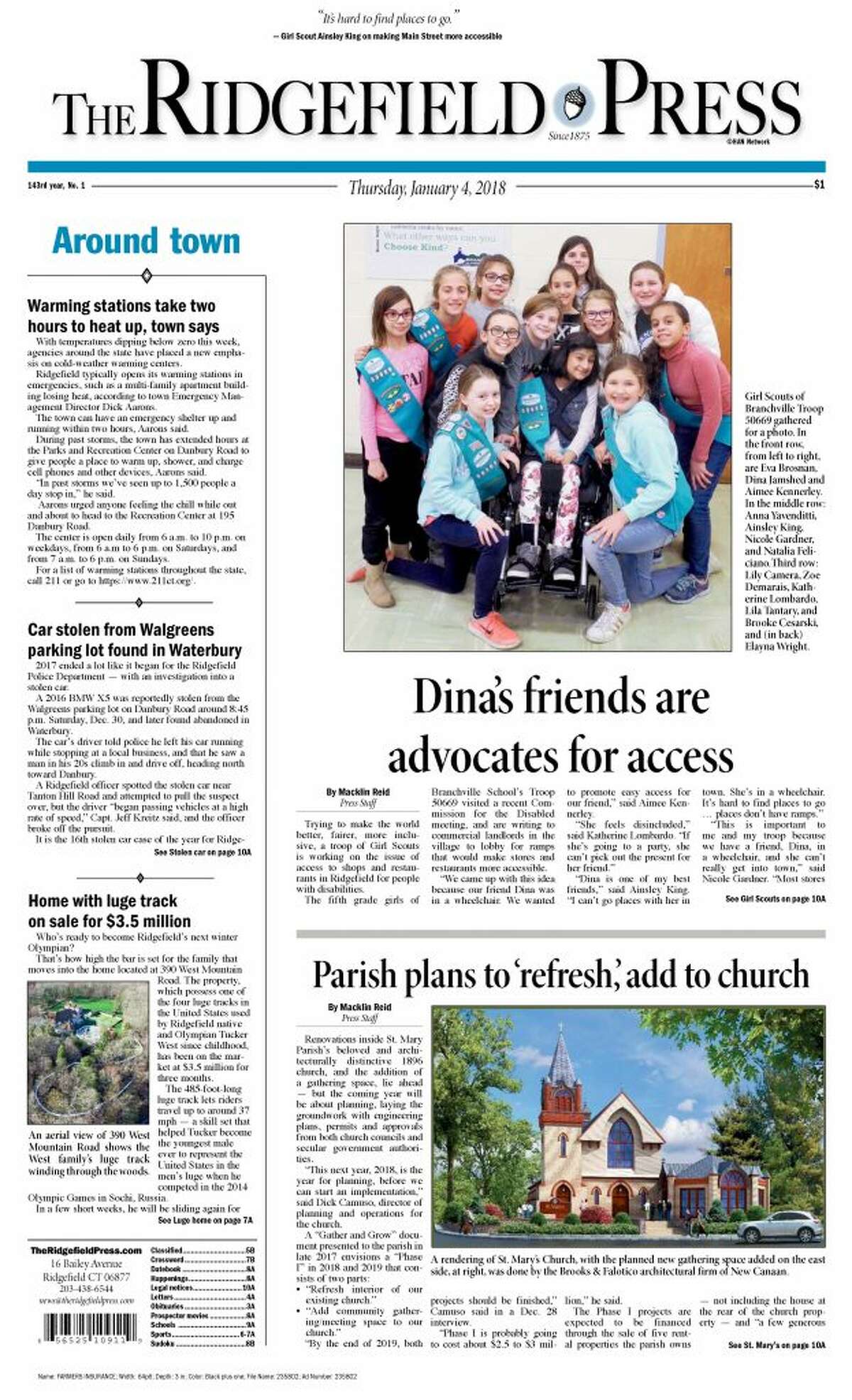 Here's a look at some of the headlines from this week's Ridgefield Press:
Dina Jamshed and the rest of Girl Scouts Troop 50669 is looking to make Ridgefield more accessible, specifically on Main Street and in the village. The girls recently visited the Commission for the Disabled and outlined their plan. Read all about it on the front page of this week's Press.
The recent cold weather has officials talking about warming stations and other strategies to stay warm. Want one for free: Stay indoors. The other tips you'll have to read on page 2 of today's paper.
Speaking of the low temperatures: David Gelfman raced his ice yacht, "El Diablo" on Lake Naraneka over the weekend. It was the Ridgefield resident's first time using the iceboat — a cruiser that needs "perfect conditions" to reach 55 miles per hour. Read more about David and El Diablo on page 3.
Still haven't enough stories about the weather? Aquarion has reported several water line breaks already this winter, and things could be getting worse.
The Planning and Zoning Commission made three decisions at its first meeting of the new year Tuesday night. The denied the Boys and Girls Club's application for a proposed zone change, and approved to commission-based applications on accessory dwelling units and an affordable housing "overlay" zone.
In sports, boys hockey knocked off Xavier over the holiday break while Bassick bounced the boys basketball team. Meanwhile, the girls team picked up its second win of the season last Friday. Read more about all three games on pages 6 and 7.
The Ridgefield Press is on Facebook — become one of more than 5,258 friends and get news updates at Facebook.com/RidgefieldPress
More than 19,062 people have signed up for Ridgefield Press news bulletins via Twitter. You can, too, by stopping by twitter.com/RidgefieldPress
Don't forget to sign up for Press alerts on our latest social media platform: Instagram. Go to www.instagram.com/ridgefieldpress/ or search @ridgefieldpress on the app.