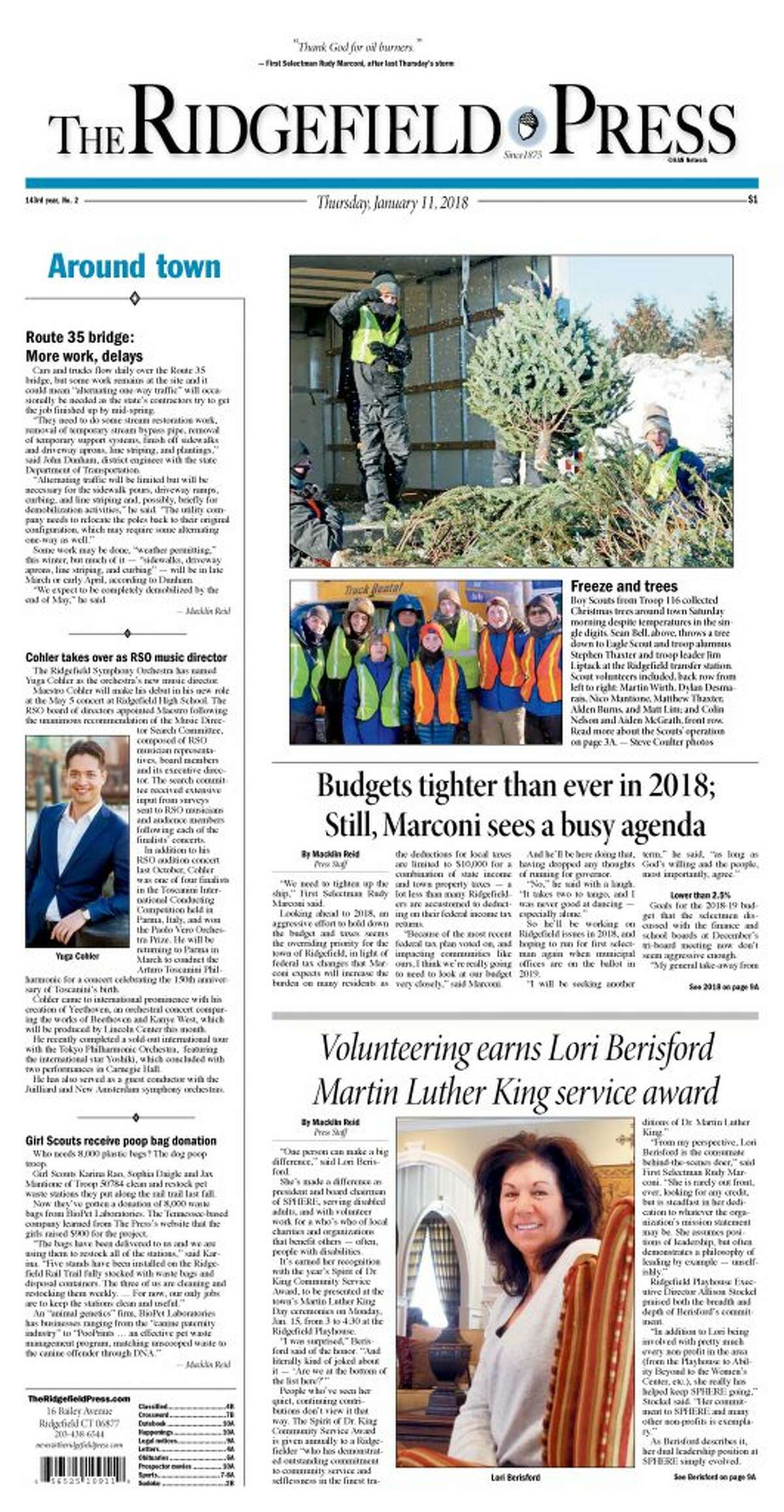 Here's a look at some of the headlines from this week's Ridgefield Press:
Lori Berisford will receive the Martin Luther King Jr. service award Monday at the Playhouse for her years of dedication to SPHERE and other local nonprofits.
In addition to the MLK award, the town's annual celebration will feature music and speeches. It runs from 3 to 4:30 p.m. Read more about it on page 9 this week.
Girl Scouts have received 8,000 plastic bags to help them scoop dog poop on the rail trail and elsewhere in town.
It's not all fun and games this week though. The school board is looking at a major deficit with no fix other than ask the town for a special appropriation. Are there savings somewhere? Not with the way this winter is going. The schools heat is running "full throttle," according to Superintendent Karen Baldwin. Read about the heat on page 3 and then flip over to page 5 to read about the appropriation request.
Busy week for the cops: They arrested a drunk driver on Lounsbury Lane Tuesday and had to investigate five case of counterfeit money over the weekend.
Medicare, yard setbacks, and a wetlands citation ordinance also made headlines on page 3.
In sports, the boys and girls basketball teams are rolling. Ditto for the boys and girls hockey teams. It's looking like a special winter for Ridgefield athletes.
Did you stay up and watch the college football National Championship Monday night? If you did, you may have noticed one of Ridgefield's own standing on the sideline. John Seter is waiting for his opportunity to play QB for the Georgia Bulldogs.
The Ridgefield Press is on Facebook — become one of more than 5,269 friends and get news updates at Facebook.com/RidgefieldPress
More than 19,108 people have signed up for Ridgefield Press news bulletins via Twitter. You can, too, by stopping by twitter.com/RidgefieldPress
Don't forget to sign up for Press alerts on our latest social media platform: Instagram. Go to www.instagram.com/ridgefieldpress/ or search @ridgefieldpress on the app.