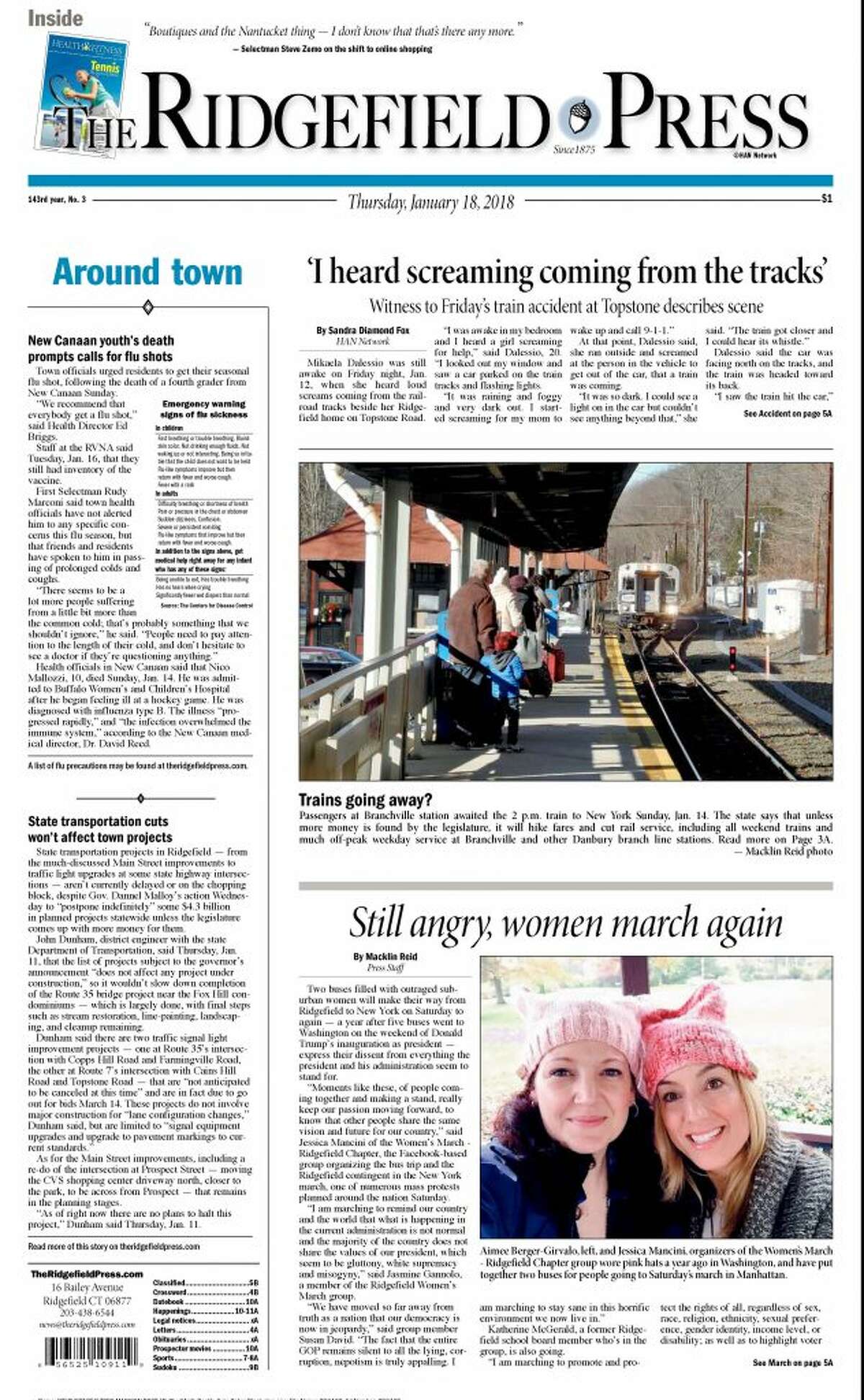 Here's a look at some of the headlines from this week's Ridgefield Press:
Ridgefield's Woman March contingency is plotting another January protest —this Saturday in New York City. The recent hateful comments from President Donald Trump have caused a last-second spike in attendees from town, the group's organizers say. Two buses will leave from the high school and return that night.
State transportation cuts will not alter plans in Ridgefield, but proposed cuts in rail service will present challenges to Branchville commuters.
Speaking of trains, an eye-witness recounts an accident on the tracks that happened on the Ridgefield-Redding border Friday night.
Tucker West is competing in the Winter Olympics again this year. William Pitt Sotheby is offering signs to community members who want to show their support.
Anti-semitism returned to Ridgefield last week. Police reported five swastikas were uncovered at the Aldrich Museum and the Masonic Lodge next to Town Hall. First Selectmen Rudy Marconi, who's office is nearby, condemned the acts and police believe them to be from a single perpetrator.
Marconi spoke about the marks of hate at Monday's Martin Luther King Jr. celebration at the Playhouse. SPHERE president Lori Berisford received the MLK community spirit award.
The Ridgefield Press is on Facebook — become one of more than 5,282 friends and get news updates at Facebook.com/RidgefieldPress
More than 19,118 people have signed up for Ridgefield Press news bulletins via Twitter. You can, too, by stopping by twitter.com/RidgefieldPress
Don't forget to sign up for Press alerts on our latest social media platform: Instagram. Go to www.instagram.com/ridgefieldpress/ or search @ridgefieldpress on the app.