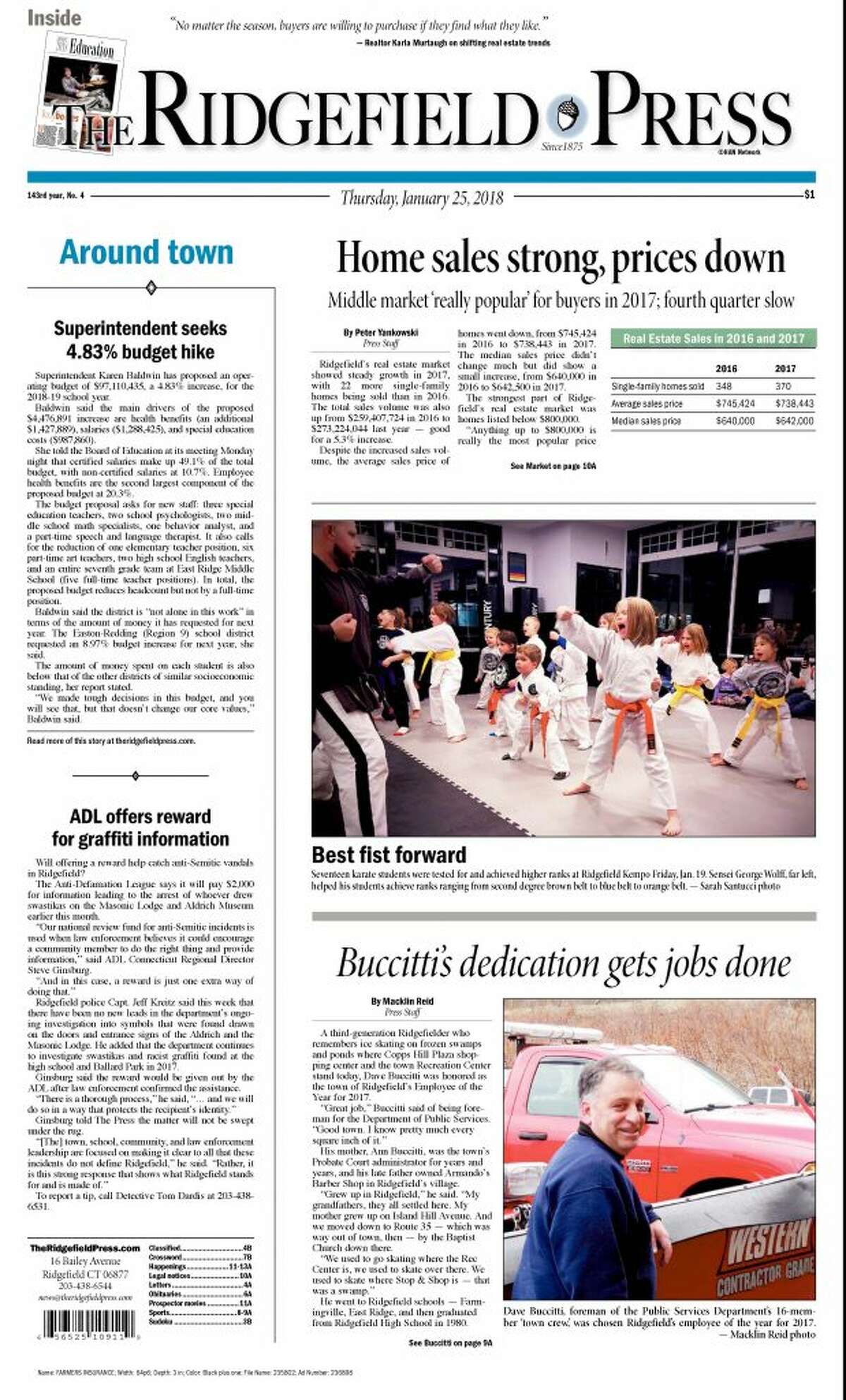 Here's a look at some of the headlines from this week's Ridgefield Press:
Thought 2017 was over? Think again. This week's Press features the town's employee of the year, goes over the year in real estate, and covers what a busy December it was in the tax collector's office. Next week it's all about 2018 — we promise.
Vandalism in Ridgefield continues to make headlines. This week The Press has pair of stories in reaction to swastikas that were found on Main Street earlier in the month. The first is about the ADL's $2,000 reward for anyone who comes forward with information that helps catch the graffiti drawer. The second is about Sen. Toni Boucher pressing for Holocaust education in Connecticut classrooms.
Racist markings weren't the only familiar headline this week — three vehicle larcenies at the rec center have police warning residents to lock their cars and take their valuables with them.
First Selectman Rudy Marconi is asking the question nobody in Connecticut seems to want to answer: 

Could the town or state restructure local taxes to circumvent federal tax code changes and preserve the deductions Ridgefielders have long used to hold down their payments to the IRS?

In sports, the boys and girls basketball teams continue to shine strong this season — the two teams haven't lost in three weeks.
In business, Ridgefield gets a new barbershop and a new hair salon — both on Main Street. Yes, Main Street already has one of each. Redundancy must be the flavor of the month.
In happenings, Ridgefield High School directors get ready for a night of one-act plays. The show runs both Friday and Saturday this weekend, and again next weekend.
The Ridgefield Press is on Facebook — become one of more than 5,289 friends and get news updates at Facebook.com/RidgefieldPress
More than 19,178 people have signed up for Ridgefield Press news bulletins via Twitter. You can, too, by stopping by twitter.com/RidgefieldPress
Don't forget to sign up for Press alerts on our latest social media platform: Instagram. Go to www.instagram.com/ridgefieldpress/ or search @ridgefieldpress on the app.