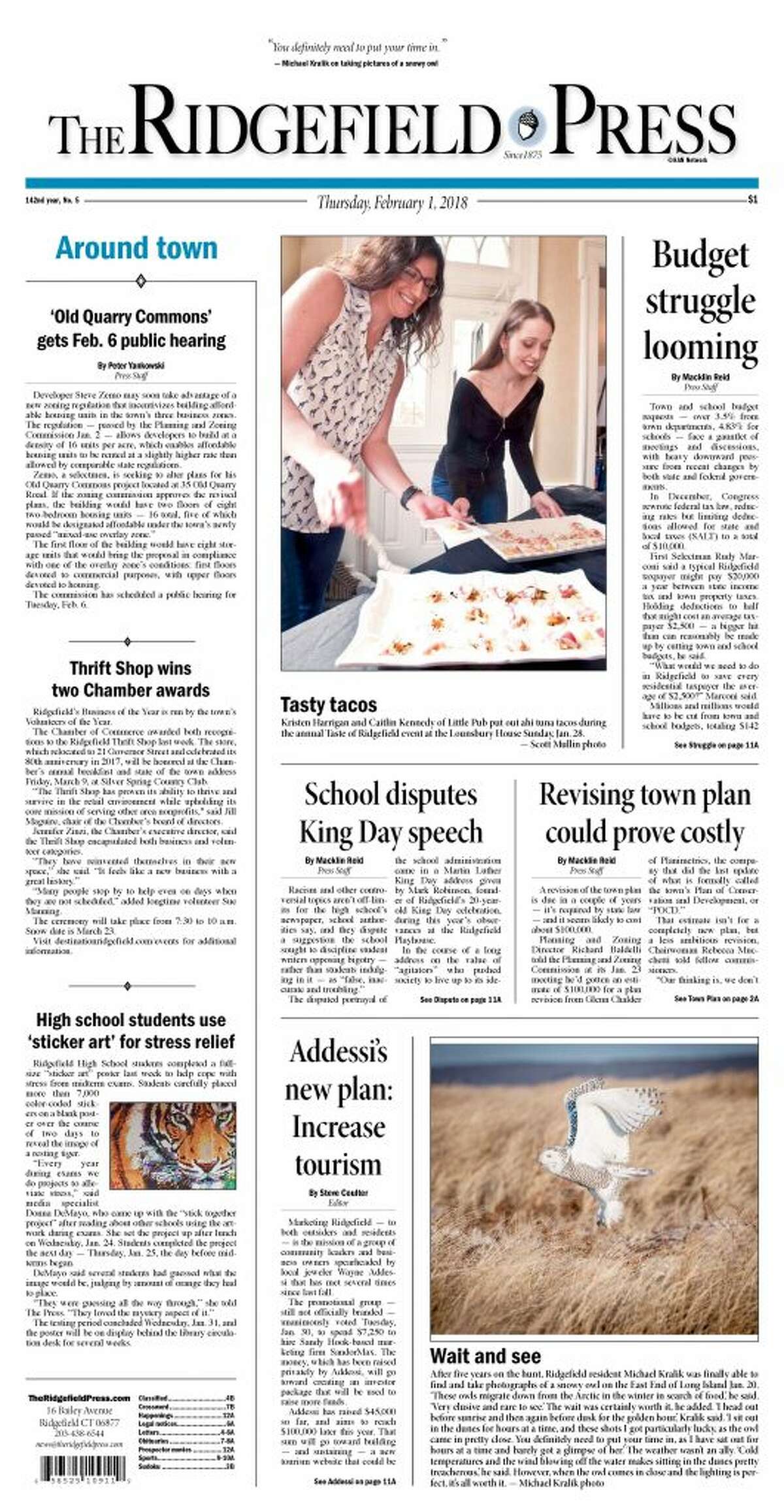 Here's a look at some of the headlines from this week's Ridgefield Press:
Lions and Tigers and...Owls? Two of three appear on the front page of this week's paper, and only one is made out of stickers.
Inside the paper, readers can see what the Planning and Zoning Commission has in store for 2018. They held their first of a series of talks last Tuesday.
Next Tuesday, the planners will receive an application from developer Steve Zemo who has altered plans for his Old Quarry Commons project. It will include five units of affordable housing, and it will try to go under the town's new mixed-income overlay zone.
The high school was in the headlines this week, and not just because of sticker Tigers. Two students writers spoke to The Press about their experience dealing with the administration following a pair of articles that ran earlier this year in the student magazine, The Ridgefielder, that criticized how the school handled incidents of racism.
Ridgefield High might also be seeing a reduction in the number of teachers in its English department. And students — both current and former — aren't pleased with the proposed budget cuts.
Speaking of the budget, the Board of Selectmen have four meetings planned next week to review the 2018-19 budget. Can the town reduce some of its proposed spending? You'll have to find out next week.
Oh and the selectmen were busy hearing from local business owner Wayne Addessi last night. Addessi has raised about $45,000 in hopes to better market Ridgefield to outsiders. What's the next step? Raise more money.
The Ridgefield Press is on Facebook — become one of more than 5,298 friends and get news updates at Facebook.com/RidgefieldPress
More than 19,211 people have signed up for Ridgefield Press news bulletins via Twitter. You can, too, by stopping by twitter.com/RidgefieldPress
Don't forget to sign up for Press alerts on our latest social media platform: Instagram. Go to www.instagram.com/ridgefieldpress/ or search @ridgefieldpress on the app.