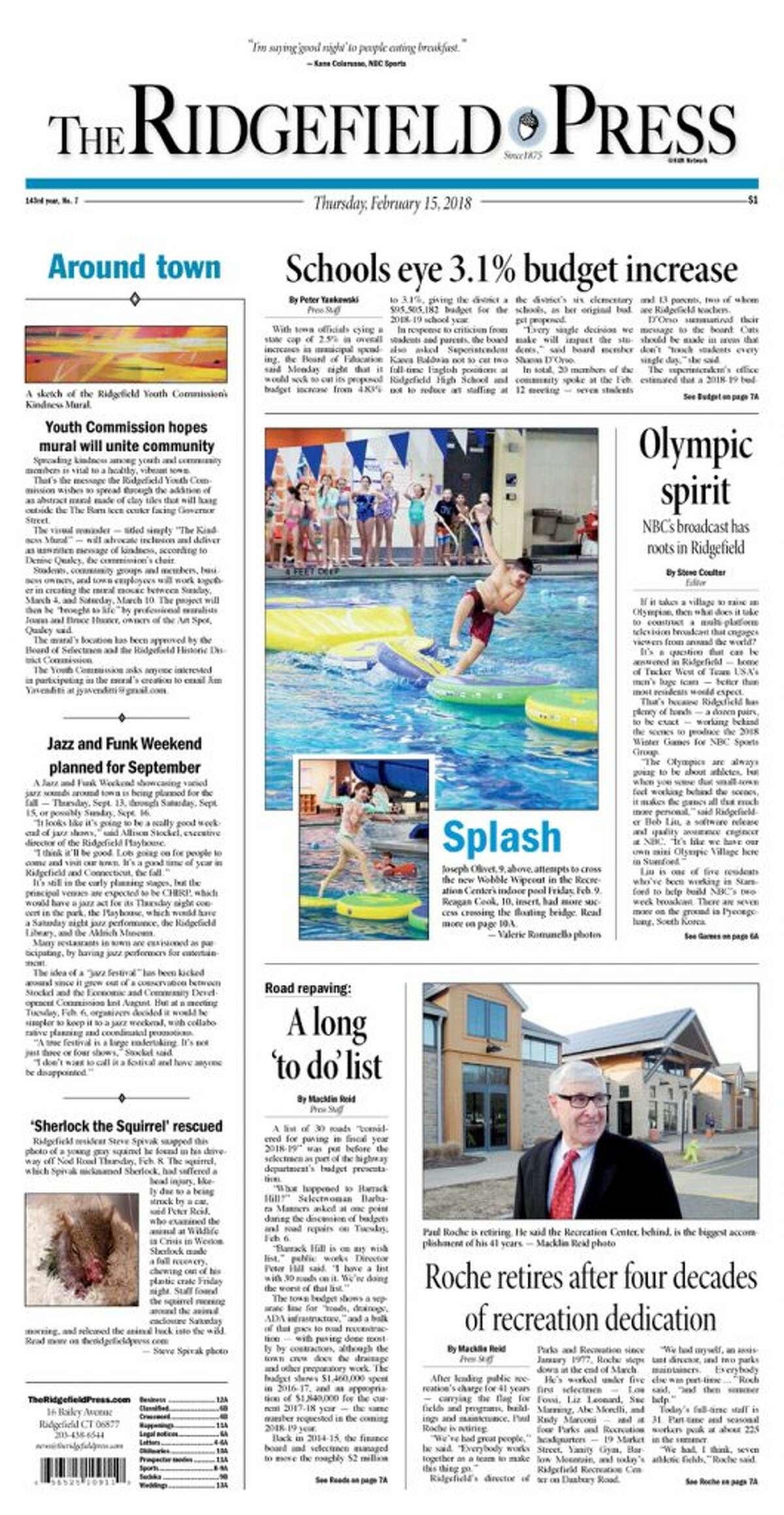 Here's a look at some of the headlines from this week's Ridgefield Press:
Paul Roche, the director of Ridgefield's Parks and Recreation Department, is stepping down at the end of March. He reflected on four decades of work in this week's paper, including the history behind the current Recreation Center on Danbury Road. If anyone's in the mood to take a trip down memory lane, then this your kind of feature!
Sherlock the Squirrel nearly lost his nose last week! Thankfully, he was rescued by a Nod Road man who nursed him back to health. The story had a positive conclusion this week, when Sherlock was released back into his habitat in Weston. 
The highway department made headlines this week — three of them, whoa Nelly! — after it's director sat down with the selectmen last week. The topics? More staff, a new paint job, and roads that are going to need repairing when the weather gets nice.
Speaking of headlines and the selectmen, the 2018-19 school budget continues to be the biggest topic of conversation in town. The Press received another half dozen letters this week about the proposed budget cuts. And more are expected to be coming in this week after Monday's meeting where the Board of Education vowed to get the proposed increased down from 4.83% to 3.1% after hearing from First Selectman Rudy Marconi.
Looking for some brighter news? OK, there's a town-wide mural that's going to be created in March. And there's a jazz and funk weekend planned in September.
In sports, the basketball teams and hockey teams had success — as did one senior wrestler at the FCIAC championships last weekend.
The Ridgefield Press is on Facebook — become one of more than 5,306 friends and get news updates at Facebook.com/RidgefieldPress
More than 19,219 people have signed up for Ridgefield Press news bulletins via Twitter. You can, too, by stopping by twitter.com/RidgefieldPress
Don't forget to sign up for Press alerts on our latest social media platform: Instagram. Go to www.instagram.com/ridgefieldpress/ or search @ridgefieldpress on the app.