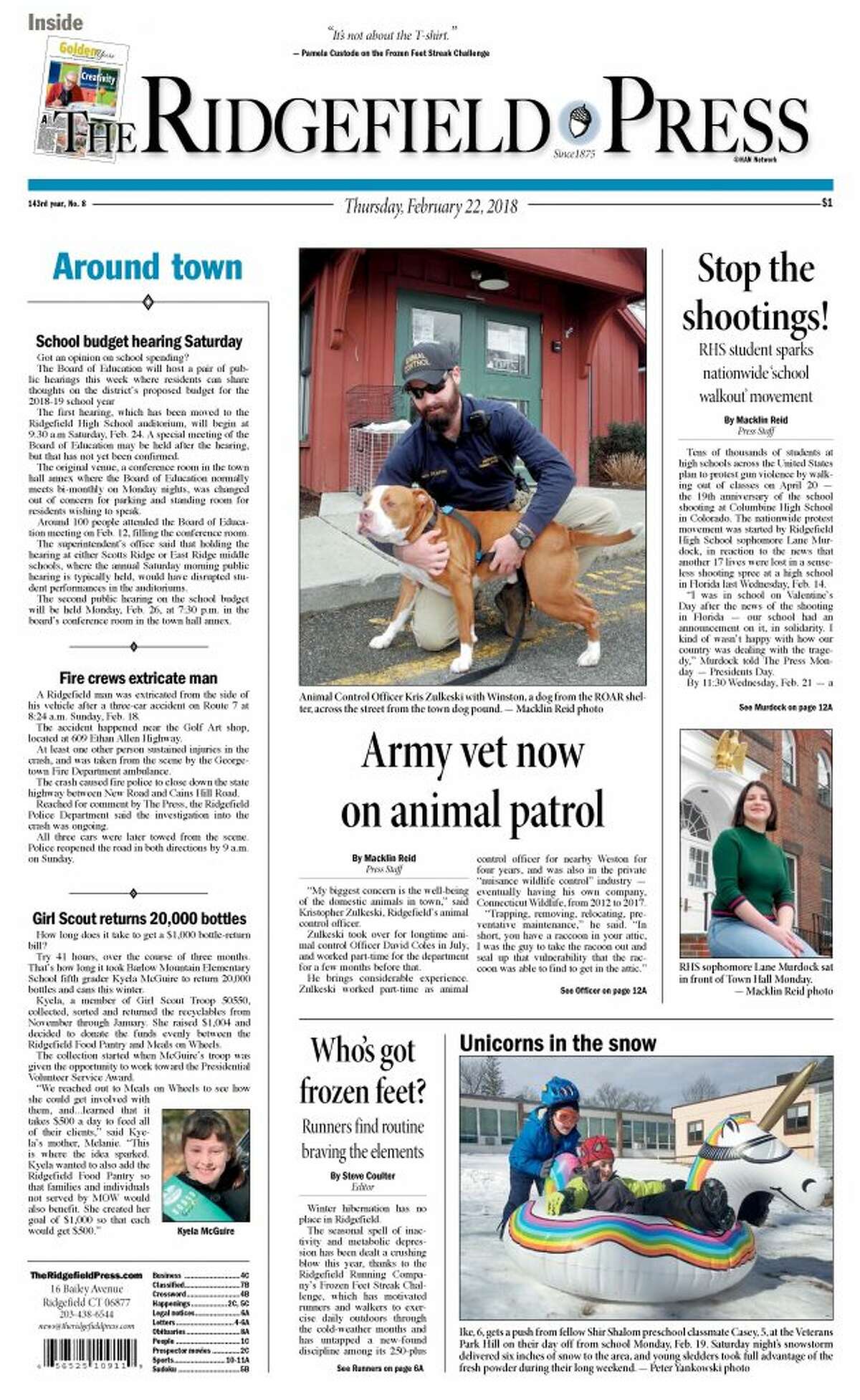 Here's a look at some of the headlines from this week's Ridgefield Press:
The high school shooting in Parkland, Florida has students around the country united. Ridgefielder Lane Murdock has played an integral role in that movement, and is planning a protest on April 20.
The schools are planning to upgrade some security items in their capital budget this year, but not as much as they originally planned in the fall. Found out why on page 12A this week.
One last story in regards to gun violence and school security: Ridgefield Police investigated a possible threat at the high school last Thursday morning but determined no threat. The incident stemmed from a Facebook post that was made on the RHS Class of 2018's group page.
The week was dominated by those stories but there was plenty else going in Ridgefield: The Board of Finance met Tuesday night and determined that any additional money (an appropriation) given to the school district to make up for its current 2017-18 budget deficit should go to a town vote.
On that very same night, the Board of Education met to discuss its own budget crisis — for the 2018-19 school year. Money is tight, to say the least, these days.
Ridgefield's other major board, the selectmen, met last night — to late for Press print deadline — but at their last meeting they discussed forming an Energy Task Force. "There would be an emphasis on strategies that save both energy and money," a mission statement presented to the selectmen said.
It wasn't all serious stuff though this week: The town has a new animal control officer, and he has a military background.
Also, 200-plus Ridgefielders have set out the last six weeks to run at least a mile every day — outside. They're calling it the Frozen Feet Challenge, although its participants say the most cold part of their body has been their hands. In total, the group has logged enough miles to go from Ridgefield to South Korea (and back!).
In the People section, Ridgefield High graduate Alex Fischetti talks about his new book, The Lonesome Boy and the Blue Eyed Angel. He hopes to sell a million copies, will you help him get there?
In sports, the boys basketball team clinched the No. 1 seed in the FCIAC playoffs. Congrats to the Tigers!
The Ridgefield Press is on Facebook — become one of more than 5,308 friends and get news updates at Facebook.com/RidgefieldPress
More than 19,231 people have signed up for Ridgefield Press news bulletins via Twitter. You can, too, by stopping by twitter.com/RidgefieldPress
Don't forget to sign up for Press alerts on our latest social media platform: Instagram. Go to www.instagram.com/ridgefieldpress/ or search @ridgefieldpress on the app.