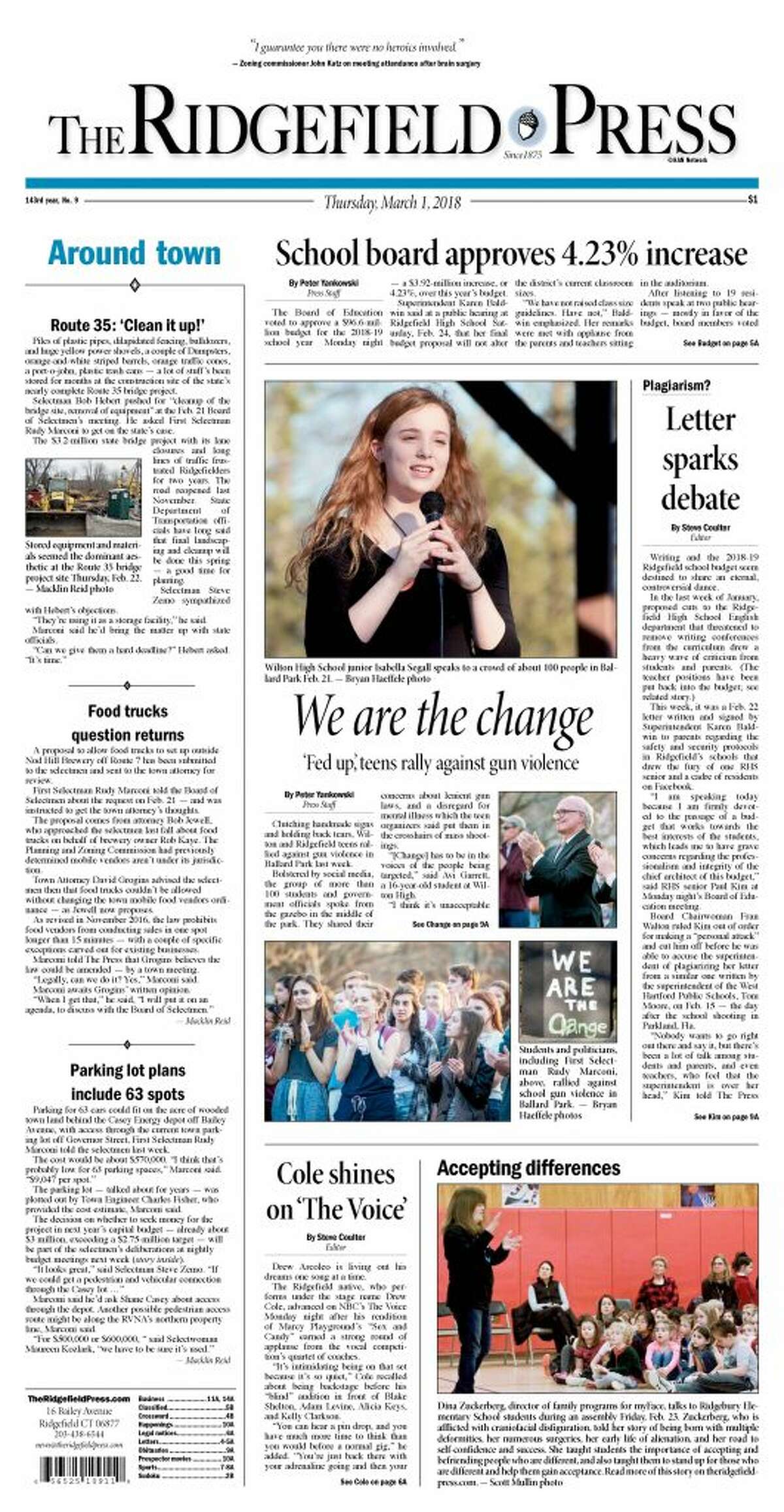 Here's a look at some of the headlines from this week's Ridgefield Press:
Plagiarism struck Ridgefield this week — or at least allegations of it. A Ridgefield High School senior spoke during the Board of Education's meeting Monday night about a letter that Superintendent Karen Baldwin wrote to parents on Feb. 22 but he was immediately cut off and ruled out of order. The student went on to reveal to The Press that several of his teachers believe this isn't the first time the superintendent has copied other people's words and signed them off as her own. The state's association of school superintendents told the newspaper that the document that Baldwin copied from was a template that one of her peers wrote for general use in response to the school shooting in Florida on Feb. 14.
On a lighter note, Ridgefield native Drew Arcoleo performed on NBC's The Voice Monday night and got an instant reaction from coach Adam Levine. Arcoleo, who performs under the stage name Drew Cole, advanced on the show and spoke to The Press Tuesday about what that moment was like for him.
Also on the front page this week: Food trucks at the brewery. They're back on the selectmen's agenda after an appeal from Nod Hill's attorney.
Speaking of the Board of Selectmen, they will be having four budget meetings next week.
That week-long process will include reviewing the school board's budget that was approved Monday night (after the fiery public comment period).
Also making a splash with the selectmen: The Route 35 bridge project which Selectman Bob Hebert wants to be cleaned up.
It wasn't all budget talk this week in The Press. With the weather turning nicer by the day, the skate park is preparing for its 20th season this spring.
The Ridgefield Press is on Facebook — become one of more than 5,311 friends and get news updates at Facebook.com/RidgefieldPress
More than 19,256 people have signed up for Ridgefield Press news bulletins via Twitter. You can, too, by stopping by twitter.com/RidgefieldPress
Don't forget to sign up for Press alerts on our latest social media platform: Instagram. Go to www.instagram.com/ridgefieldpress/ or search @ridgefieldpress on the app.