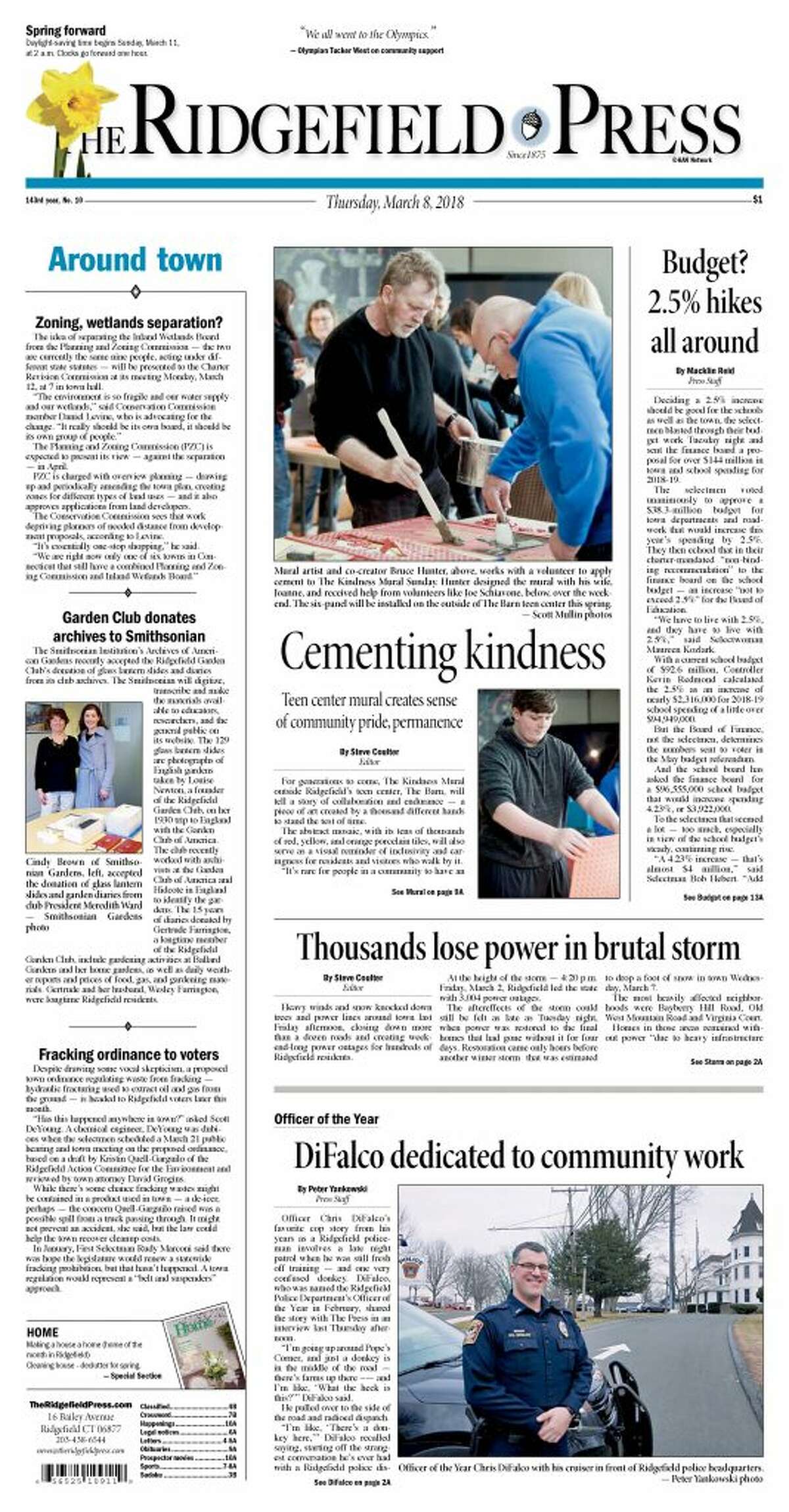 Here's a look at some of the headlines from this week's Ridgefield Press:
Ridgefield's Officer of the Year has mechanic roots.
The boys hockey team lifts a conference championship for the second consecutive year.
The Conservation Commission calls for a separation between the planning commission and wetlands boards.
Superintendent Karen Baldwin has a performance review scheduled.
The selectmen pass two budgets to the finance board.
Schlumberger site work comes with a price tag.
Storm leaves thousands powerless.
High school plans a memorial demonstration for Florida shooting victims.
Tucker West talks about his Olympic experience.
Route 35 bridge work returns.
A Kindness Mural unites the community.
The Garden Club gets some national recognition.
An ordinance to ban fracking waste gets a public hearing.
A Bronx teen is arrested for using fake money in Ridgefield.
Tigers go for a swim and bring home a medal.
Shabbat Across America (and Canada) is Friday night.
A Ridgefield native studies abroad in Germany.
Looking Back reviews the Vietnam War.
The Ridgefield Press is on Facebook — become one of more than 5,311 friends and get news updates at Facebook.com/RidgefieldPress
More than 19,311 people have signed up for Ridgefield Press news bulletins via Twitter. You can, too, by stopping by twitter.com/RidgefieldPress
Don't forget to sign up for Press alerts on our latest social media platform: Instagram. Go to www.instagram.com/ridgefieldpress/ or search @ridgefieldpress on the app.