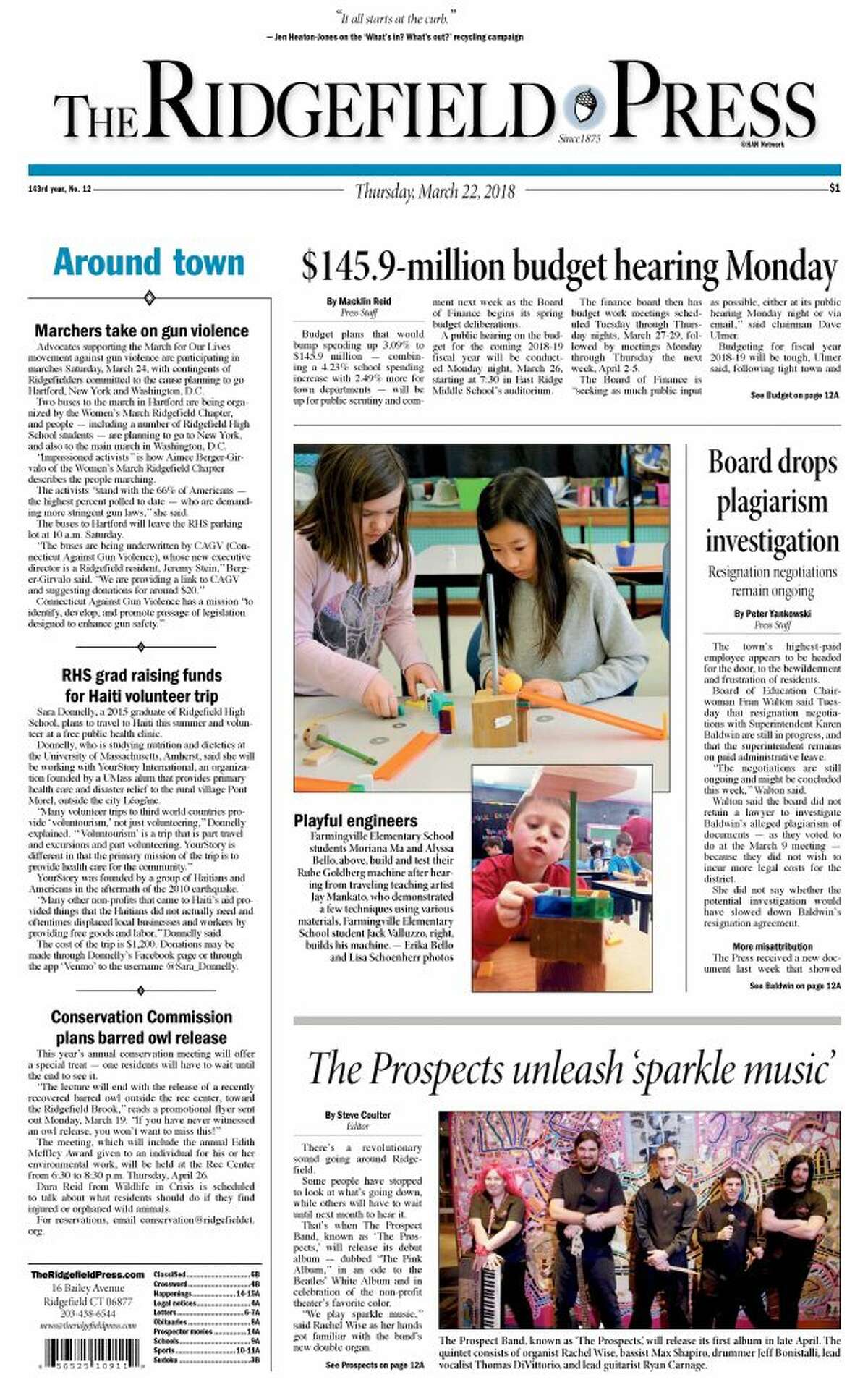 Here's a look at some of the headlines from this week's Ridgefield Press:
The ongoing situation with Superintendent Karen Baldwin drew varying reactions from former Board of Education members and parents this week as a resignation agreement with the town's top paid official remains in progress.
The Prospect Band is looking forward to performing a new genre of music — one that listeners have never heard before — at its album release party in April. The Pink Album will be available for music lovers starting April 28.
First Selectman Rudy Marconi spoke at the Chamber of Commerce's annual breakfast earlier this month, delivering a state of the town speech that focused on the Trump administration's new federal tax plan and how it affects residents here in Ridgefield.
Speaking of taxes and Ridgefield, the Board of Finance will hold its annual budget public meeting Monday, March 26. They will then meet three nights before sending the final tax increase to voters for the 2018-19 fiscal year.
In the people section, the Boys and Girls Club named its Youth of the Year earlier this month.
In the school section, a pair of RHS sophomores have qualified for the national "History Bowl."
In sports, Kiernan Smith and AJ Bornstein shined in their final races as Ridgefield swimmers.
In the police log, an elderly woman was arrested over the weekend for keying multiple cars in September 2017.
In the editorial section, the opinions vary: School spending, Main Street plans, Karen Baldwin, and an argument for keeping teachers and spending less on machines.
The Ridgefield Press is on Facebook — become one of more than 5,372 friends and get news updates at Facebook.com/RidgefieldPress
More than 19,411 people have signed up for Ridgefield Press news bulletins via Twitter. You can, too, by stopping by twitter.com/RidgefieldPress
Don't forget to sign up for Press alerts on our latest social media platform: Instagram. Go to www.instagram.com/ridgefieldpress/ or search @ridgefieldpress on the app.