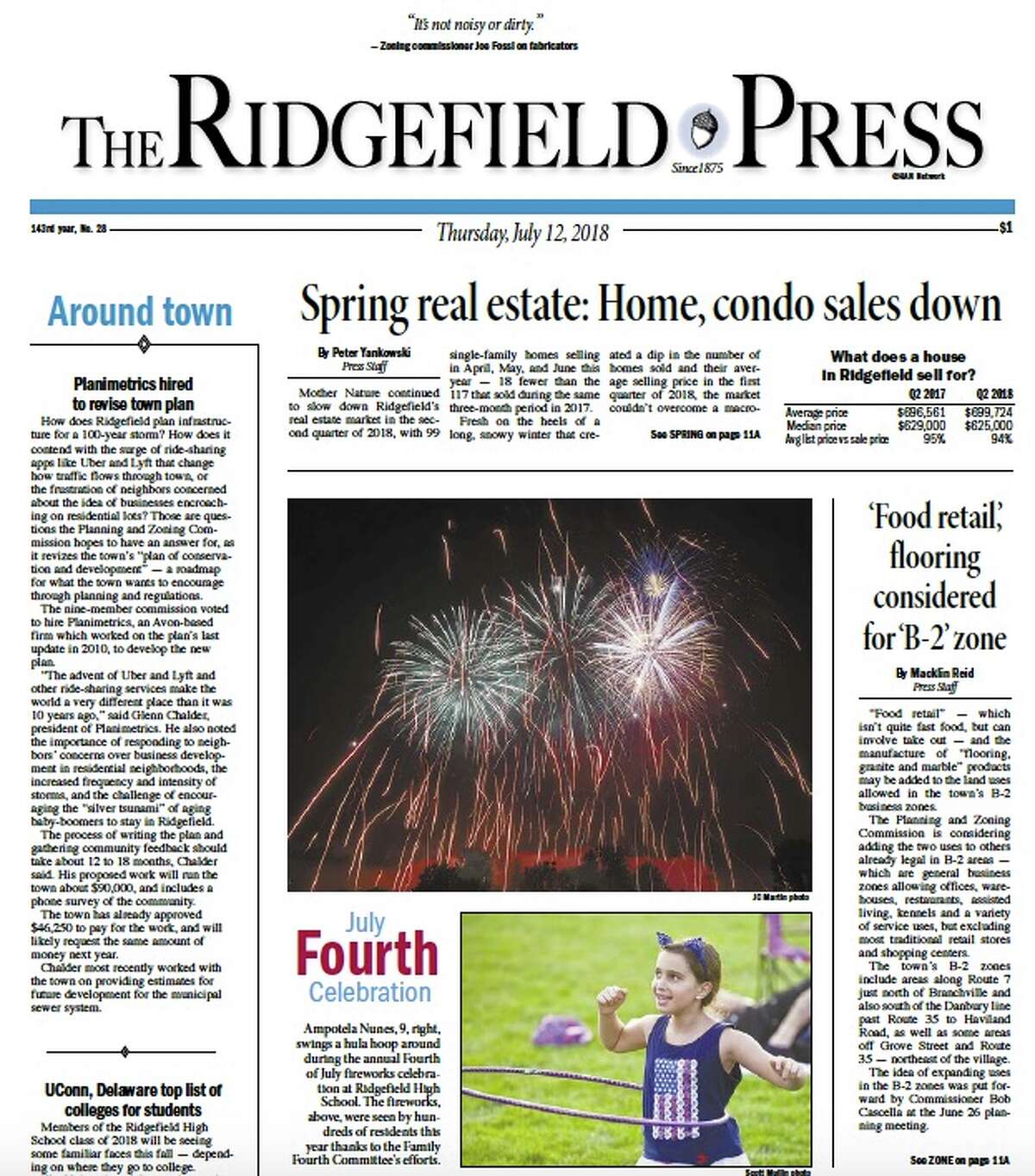 Here's a look at some of the headlines from this week's Ridgefield Press:
Real estate in Ridgefield continues to feels the wrath of Mother Nature. Snowstorms had the market sluggish after three months in 2018. Half-way through the year and home sales are still down. In the second quarter, May's macroburst was the biggest culprit. The town brought in half the conveyance tax in May 2018 compared to the same month last year.
The summer road repaving schedule has been updated. Will your road get repaired? Pick up a copy of this week's Press to find out.
Town Clerk Barbara Serfilippi is retiring at the end of the summer. Her journey began 39 years ago with a part time gig. While she's stepping down from serving the community, she plans to stay in town — and travel to see grandkids.
Food retail is being discussed in the B2 zone. What exactly is food retail? Quick service food — not to be confused with fast food.
In sports, Anthony Alfredo will be racing in a NASCAR event in his home state of Connecticut this summer. The Ridgefield native has been making a lot of waves on the car racing circuit.
The town will be interviewing three candidates for assistant fire chief on July 25. They're all currently employees of the department.
Speaking of the fire department, Chief Jerry Myers will speaks to the Commission on Aging Monday.
Also next week in town hall: The selectmen will review the Charter Revision Commission's proposals. This is the first step in a back-and-forth between the selectmen and the charter folks before voters look at the changes on November's ballot. The public is welcome to attend next Wednesday's meeting and give their own feedback.
The Ridgefield Press is on Facebook — become one of more than 5,520 friends and get news updates at Facebook.com/RidgefieldPress
More than 19,761 people have signed up for Ridgefield Press news bulletins via Twitter. You can, too, by stopping by twitter.com/RidgefieldPress
Don't forget to sign up for Press alerts on our latest social media platform: Instagram. Go to www.instagram.com/ridgefieldpress/ or search @ridgefieldpress on the app.