This is a carousel. Use Next and Previous buttons to navigate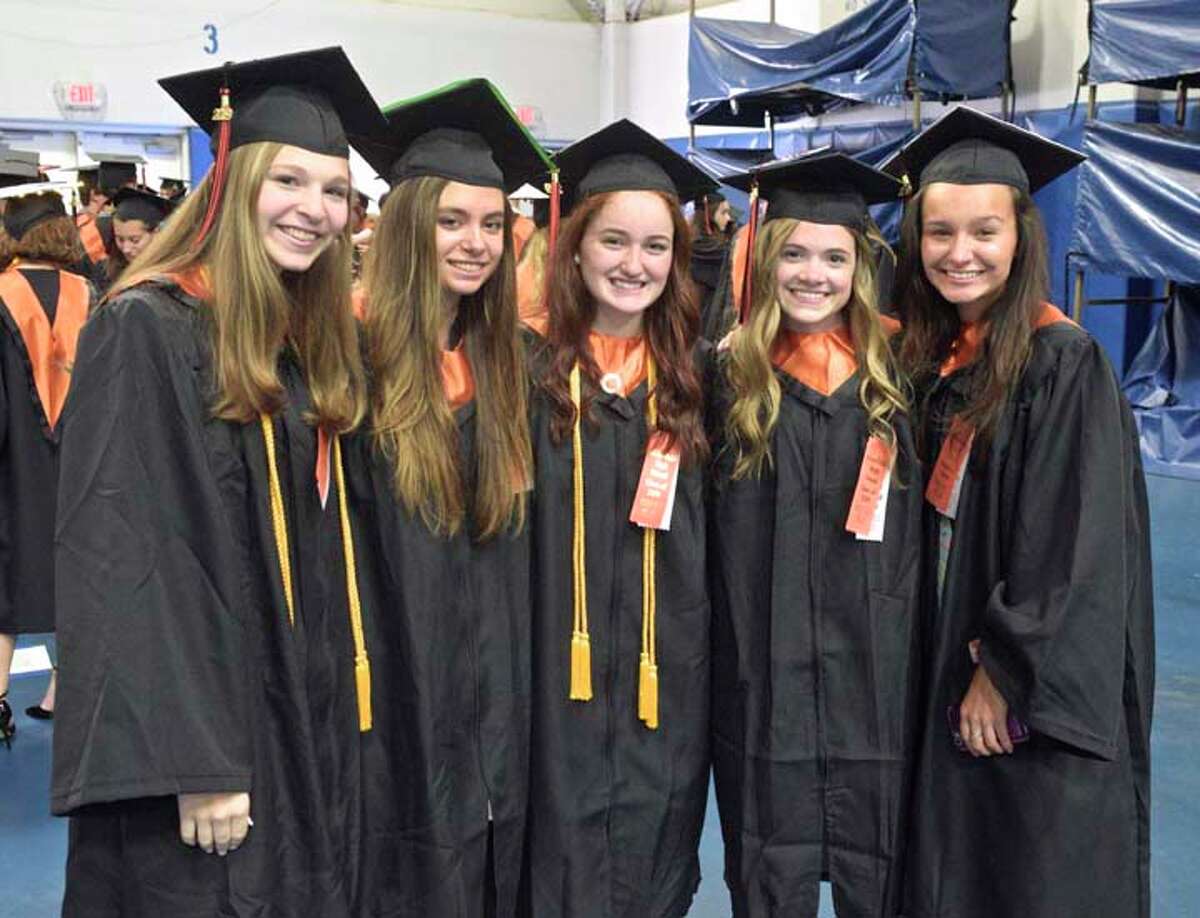 They faced victory and defeat on the sports field, performed in plays and in community service efforts, and even danced on school tables and lip-synched to "Can't Stop The Feeling."
And on Friday, the 401 members of the class of 2019 graduated from Ridgefield High School.
Principal Stacey Gross opened the 103rd high school graduation, noting that students experienced: "The highs and lows of exams and SATs; the athletic championships and the losses in the final seconds of a game; the roles you auditioned for in the school plays; the student government elections; the worthy community service causes you supported; and the time you danced on tables in the Student Center demonstrating the you 'Can't Stop the Feeling' in a school lip sync video," she said.
"However, these memories while valuable are not as important as your sense of 'who you are'," She added, closing with a quote from Dr. Suess: "Today you are you that is truer than true. There is no one alive who is you're than you."
As in years past, many of the graduating students decorated to tops of their mortarboards. Most included the logo or mascot for the student's college done up in glitter and the year of graduation — "USC 2023," read one.
One student, Army-bound, included his name patch and unit insignia; nother sported a picture of the mystery bus from Scooby-Doo with the words, "All right, let's split up gang!" printed on top.
Class president
Class President Alex Holder was the first student speaker.
He recalled on walking through Ridgefield High School for the first time.
"We all nervously stumbled around in the auditorium looking for a seat," Holder said. "We all wore our new name tags and the teachers stared down at us from the stage all while we were instantly bombarded with advice from the older class presidents."
Holder offered praise for his classmates successes as they slowly moved toward the "glass wall" in the student center where graduating seniors paste their college acceptance letters.
"During our time here at Ridgefield High School, we brought home 11 FCIAC championships and 8 State Championships," Holder said. "...During junior year, members of our class helped to organize the National School Walkout, which sparked a movement that motivated half a million students across the country. Beyond political activism, our theater and music departments have produced amazing shows including Cinderella and the Addams Family."
There were whoops and cheers from the crowd as he mentioned the school's triumphs on the sports field.
Class speaker
Holder introduced Class Speaker Gracie Girvalo.
"We've come so far and have learned so much. It seems as though we should know everything by now," said Girvalo. "But we don't. We don't have to know everything in order to step into this next part of our lives."
She recalled a familiar fixture at Ridgefield High — the "stairway to nowhere."
"For anyone unfamiliar with this staircase, it leads you from the second floor A Wing to the outside of the building, not the first floor classrooms," she said, adding that she only forgot and went down the stairway once this year.
Sometimes her classmates might feel like they're stuck on that stairway to nowhere, she said; "but these are your own set of stairs now — you can rebuild them, or add a doorway that leads to a place that challenges you and allows for growth," she told her classmates.
Students began bopping beach balls — three of them smuggled in — during her speech. When one fell near the seated school faculty, history teacher Jenn DeJulio snatched it away.
"Please refrain from throwing things," Holder asked his fellow classmates, to boos and whoops
Valedictorians
Valedictorian Aras Dapkus took the mic next. He thanked his parents and siblings for helping him, and praised the school's teachers, through whose tireless efforts "you have instilled in us the values of leadership, resilience, and hard work.
He asked his fellow students to take a moment to appreciate the present, after so many years of looking forward to the next chapter.
"As we sit here in this large arena, anticipating the next chapter of our lives, I say to you, 'Stop!'" he told the class of 2019. "Look around. Take in this moment... In life, we will always find ourselves looking forward to the future. It's time we start looking forward to now."
His co-valedictorian, Matthew Vivian, reflected on how his application to Brown University was rejected.
"It hurt when one of the best universities in the country told me that that wasn't enough and it has been difficult to regain the feeling of security in my academic choices," he told his classmates.
"Regardless of how high school went for you, I hope that in the next phase of your life, whether you go to college or not, you find activities and classes that challenge you, force you out of your comfort zone, and most importantly are meaningful to you," Vivian added.
Parental sacrifice
This year's faculty speaker was high school social studies teacher Stephen Dillane, who touched on his experiences working with a New York mobster and a murderer while working for the state's Department of Corrections.
"Almost working for Frankie Cigars taught me to never accept things at face value, working for the New York Department of Corrections taught me to always abide by the law," he advised the class.
To the parents, he offered some advice as they watch their children go on to the next chapter in their lives.
"I acknowledge the focus, hard work, and sacrifice you made to that put them on the road to success and no one would be more pleased than I if get they there with the least amount of adversity," he said. "... Remember that we gave them the knowledge, resourcefulness and resilience to chart their own course and deal with the consequences of their own actions."
Time to graduate
The school then awarded two honorary diplomas to retiring staff members — one to mechanic and maintenance worker Lawrence Sixbey, and the other to library aide Donna Amato, who received a round of applause.
With that, Gross handed the class over to Board of Education Chairwoman Margaret Stamatis to certify they had met the requirements to graduate.
"Are you ready to graduate?" Gross asked her students.
She was met with a round of applause and cheers as students filed up on stage and received their diplomas.