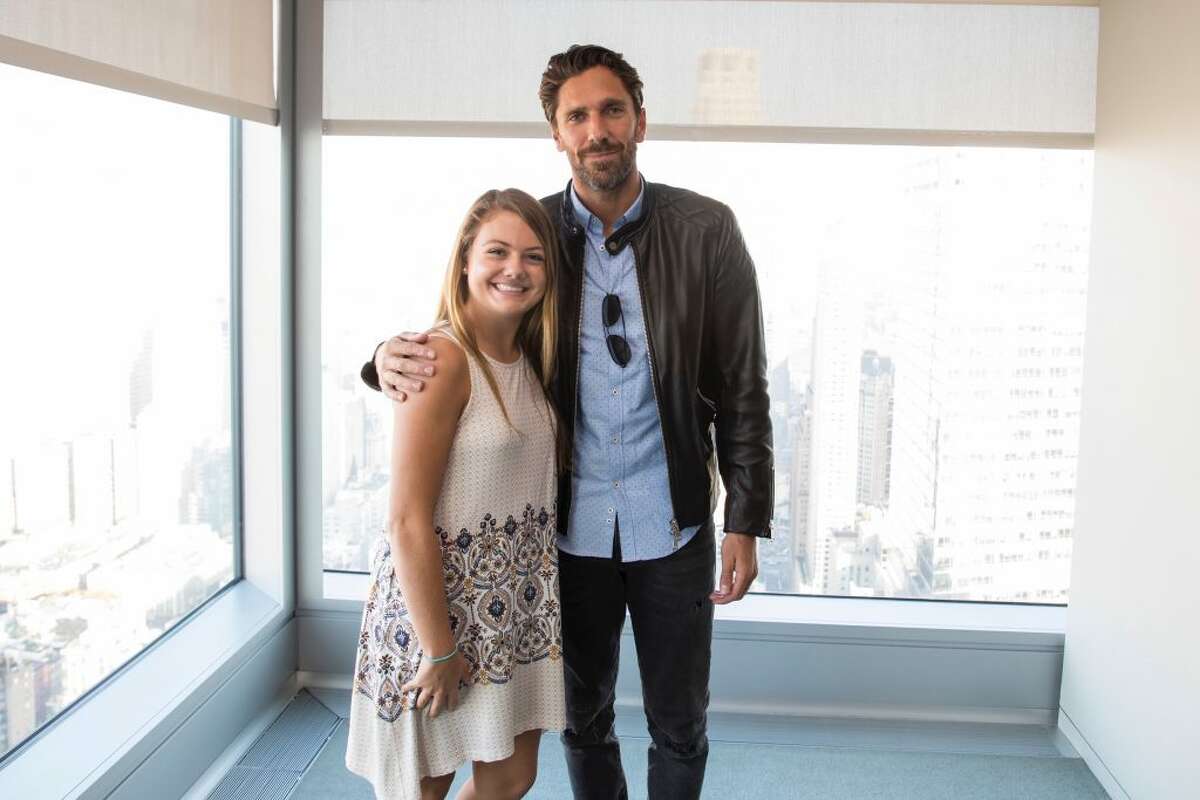 Natalie Kennedy is here for a reason.
The Immaculate High senior and Ridgefield resident will attend Sacred Heart in the fall where she will study pediatric oncology in the school's honors nursing program — a degree she knows will allow her to impact the lives of others.
A survivor of acute lymphoblastic leukemia, Kennedy said she's always wanted to be a nurse thanks to her positive experiences at Maria Fareri Children's Hospital in Valhalla, N.Y.
"I was first diagnosed when I was five years old," she said, "it was a week before my sixth birthday. ...
"I never felt more loved than by my nurses and my doctors during my two-plus years of treatment," she added. "They gave me attention, they made me feel warm, they gave me hugs and told me not to be scared. I always knew in my heart that I wanted to go into the medical field so I could give back. I want to be that loving presence in a kid's life."
Kennedy's collegiate journey will be made easier thanks the Garden of Dreams Foundation, which awarded her its Inspire Scholarship on April 22. The scholarship will give her $25,000 a year for all four years.
She received the good news from an old friend — New York Rangers goalie Henrik Lundqvist, who sent her a video message.
"I was absolutely floored, I didn't think it was real," said Kennedy, who will also play for Sacred Heart's women's hockey team in the fall. "I had to watch it several times — I couldn't believe it was really happening. ...
"I've met Henrik six or seven times over the years so to get that personalized message from him meant the world to me," she added. "He's got such a warm personality and makes you feel immediately comfortable. He's very open and wants to talk to you and get to know you. ... When I first met him I just couldn't get over how very conversational he was and how comfortable I was being around him even though he was this famous personality."
Kennedy has been a youth ambassador for the Henrik Lundqvist Foundation for several years, hosting local community skating events and promoting health and education. She came to the Garden of Dreams through the Henrik Lundqvist Foundation, which partners with Maria Fareri Children's Hospital.
"It's honestly hard to put it into words ... Henrik's foundation and the Garden of Dreams were my rocks when I was sick and they've supported me throughout my life," she said. "The fact they're still supportive of me even now, even though I've been in remission for years, really shows me that they love me and that they want to help me with my future and be part of it. ... They didn't have to do this for me but it goes to show they believe in what I'm capable of."
On the ice
Kennedy says watching the Rangers helped her get through the long days of treatment when she was a kid.
"I've been skating since I was four and my dad and brother played hockey when I was growing up but I didn't fall in love with the sport until I started watching the Rangers," she said. "I fell in love with them when I was sick. I used to wait around for those 7 p.m. games...
"The speed, the talent — it was just so amazing to me. It became must watch."
The more and more she watched, the more she wanted to play herself.
"I started playing at the Winter Garden in town when I was 10 years old," she said. "And now I play at the Brewster Ice Arena on the girls team there....
"What I like most about it is that it's not just about one person," she added. "You have to work together and if you don't it just falls apart."
Prior to lacing up the skates, an 8-year-old Kennedy got to drop the puck at Madison Square Garden in 2010.
"That's one of those things you can just never forget," she said. "Being on the ice and looking up at how big MSG is and you're all of a sudden the center of attention on this great huge stage — it was humbling. ... It was unreal and absolutely the best experience of my life."
In addition to the ceremonial dropping of the puck, she got to attend Lundqvist's camp and meet other Rangers.
"The Garden of Dreams kept me going — they kept me pushing forward," Kennedy said. "They built up excitement and gave me a lot of joy. They wanted me to stay focused, to stay striving toward something."
In the hallways
At Immaculate, Kennedy is part of the school's campus ministry. She's also a peer mentor and a member of the Key Club, the nation's oldest service program for high school students.
If that weren't enough, she's the secretary of the school's National Honor Society program and is a member of the Science National Honor Society.
"This is where I want to be," she said about entering the nursing field. "It's something I've known I wanted to do."
A graduate of Ridgebury Elementary School and Scotts Ridge Middle School in Ridgefield, Kennedy elected to enroll at Immaculate after hearing about her brother's positive experiences.
"It's a smaller school, it's very close-knit and I really like that," she said. "It's nice knowing everyone. ...Growing up and being sick, I'm used to close-knit, small communities and Immaculate definitely fit that for me."
When her brother, Christopher, began looking at colleges a few years ago, Kennedy discovered Sacred Heart and was immediately enchanted by the school.
"I wanted a school that was in a three-hour radius and I just fell in love with it on that visit — the school's gorgeous and they have an outstanding nursing program," she said. "I began speaking to the hockey coach and everything just clicked...
"The fact I get to play hockey is just icing on the cake," she added.