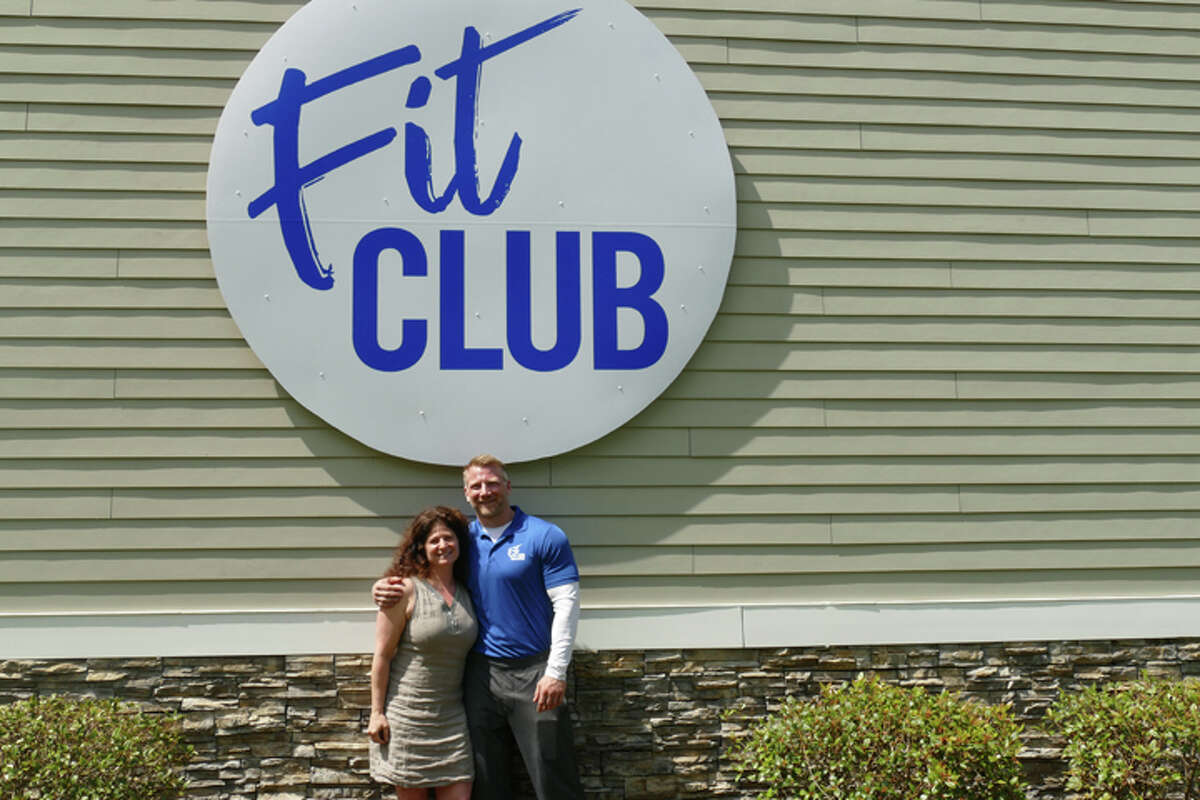 Jenny Conciatore and Mike Subach are fortunate. The co-owners of Fit Club recently got to experience something most people never will — Christmas morning in May.
"That's honestly what it felt like the day we reopened — like Christmas morning," said Conciatore, Fit Club's general manager. "We couldn't wait to see all the familiar faces of people we hadn't seen in months. The community was put out, and so were we. This was our home and that's what made that day so special."
Conciatore said she was hugging people as she walked them through the new facility on May 15 — the grand opening of Fit Club at 66 Grove Street, the former location of The Gym.
"I was crying all day out of sheer joy that we were back," she said. "It was like a reunion ... It was people wanting to see us, and we felt the same way."
As happy as Conciatore and Subach are to be seeing familiar faces in their newly renovated space, it has been a long journey for the former two employees of The Gym.
Subach, Fit Club's head trainer, has been working at 66 Grove Street since 2003 when it was Ridgefield Fitness Club. Conciatore started three years later in 2006.
The Gym took over in 2013 under the ownership of Seth Hirschel, and closed abruptly five years later in the fall of 2018.
"The same thing happened three years ago, when they were bouncing our checks," said Conciatore. "They did recover and they didn't bounce anymore but it started again in June of last year. Our logic was, 'This happened before and it resolved itself.' When it was still happening by the end of July, we decided we didn't want to work for these people any more and that they couldn't be trusted."
They began implementing a plan to buy the business but it turned out they had to wait for Hirschel's eviction before they could negotiate a new lease with the landlord.
"He wasn't paying state sales tax, it was pretty crazy," Conciatore said. "When all the employees tried to go file unemployment, we found out there was no federal tax filing, no Social Security. He never filed our taxes. They canceled our health insurance policies even though they were taking it out of our paychecks. This is the truth, this is what happened."
Rather than leave, Conciatore and Subach decided to wait it out.
They finally were able to move back on March 4, 2019, and that's when they began renovating the building for the reopening last month.
"We stayed because we had these great members," said Subach. "Logically, we should have gone somewhere else but we love these people. We've been working with them every day for years, and we wanted to give them a great place to work out."
Patience pays off
The new owners' patience has been rewarded.
"If we had taken over in the fall, it probably would have been very similar and we wouldn't have been able to plan out what we've built here," Subach said. "We wanted to do it right, and that's why we ordered the new floor, completely tore out every inch of carpeting and built new saunas. It was the right time to do a build-out. We didn't want to slap rug over rug."
Conciatore agreed.
"In that time off waiting for him to be evicted, we thought about how we can improve it and how it can benefit Ridgefield," she said. "... Members came here before because of the people, not the building. The building needed a lot of repair and we're very happy we did wait it out and build this place back up. ... The parking and the central location can't be beaten. Somebody else would have certainly put a gym in here."
Here to stay
Conciatore and Subach, together with partners Sue Johnstone and Cathy and Tom Migliaccio, have signed a 10-year lease at 66 Grove Street that includes two five-year renewals.
"This is not going anywhere," said Subach. "We have roots here and that's important. We always wanted to stay in this place. We want to be here, and all of our clients have told us they want to be here. It makes the most sense. If we had opened a business on Route 7, it wouldn't be the same."
Personalized touch
Fit Club represents more than a physical and emotional payoff for its owners who have spent hundreds of hours overhauling everything in the building.
The business is a way of life.
"We know every member's name," said Conciatore who lives in town. "During that time that we were closed, when people saw me in town they kept asking, 'Are you opening? Are you opening?' It was devastating to me. This was their home. Some had been coming here since 1999."
Clients seemed to be missing part of themselves.
"We were motivated and driven by that," Conciatore said.
What's new?
Open from 5:45 in the morning to 9 at night, Fit Club offers 43 classes — all included in the gym's membership fee.
Those classes range from Zumba to yoga to hip-hop to spinning to boxing
"Boxing is a new 45-minute class for us," Conciatore said. "Our clients work on bag and do foot work agility. People leave absolutely drenched, it's a real great cardio workout."
Also included in the membership fee is an assessment with a trainer.
"The idea is to give someone the knowledge of their body and how it moves," said Subach. "That way they know the best entry level exercises they can perform and get up to speed on other ranges of motion. ... I'd rather give someone the opportunity with a trainer then walk around and figure it out themselves."
Fit Club currently has five full-time trainers on staff with the goal of having eight.
Subach said The Gym's model was to pay trainers based on number of sessions.
"What is the quality there? You lose it because the trainers are trying to max the number of people they see in a given day," he said. "Mentally, you don't have time to prepare for nine back-to-back sessions. You have to give time to look at what you've done with the person and what their goals are. One of my favorite phrases is, 'any idiot can make another idiot tired.' I can make you really tried and sore quickly but that's not our goal. Our trainers are paid based on the quality of their education and I think somebody who comes in here will see they are immediately."
'Alert, awake, engaged'
James, a longtime member of Ridgefield Fitness Club and The Gym, was happy to be back lifting dumbbells on May 22.
"I've been to a lot of gyms in the area," he said, "the size, the variety you have here you can't find anywhere else."
He was impressed by the unlimited class schedule included in his membership.
"Everywhere else you go you have to pay extra," he said. "You just don't get that in any other gym."
He continued with his praise of Fit Club's new stretching area and wide-range of cardio machines. But his biggest compliment was for weight-lifting equipment's safety.
"The equipment here has my back," he said. "If you're serious about it, it makes a huge difference."
James said he was at another facility that was "very clean and had very nice people" during the interim between The Gym's closing and Fit Club's opening.
"I'd recommend it to anybody but if you can come here, why would you go any place else?" he said. "Best hours of my week are spent here. I feel alert, awake, engaged."
A third place
Subach recognizes it's a difficult transition for people to go from one gym to another and then back again to their former gym.
"One of the people who came in during the tours last week said everyone has three places were they spend almost all their time," he said. "The first two are the same for everybody — home and work, and then there's a third place. For the people here, the gym is their third place. For some other people, they have a favorite bar. It's a scripted place that you always go, and it's impossibly tough to figure out what to do with yourself when it's gone. Where do you go? What do you?"
Conciatore said she's happy Fit Club has already taken that role in people's lives in the two short weeks it has been open.
"This is much healthier than going to a bar," she laughed.