This is a carousel. Use Next and Previous buttons to navigate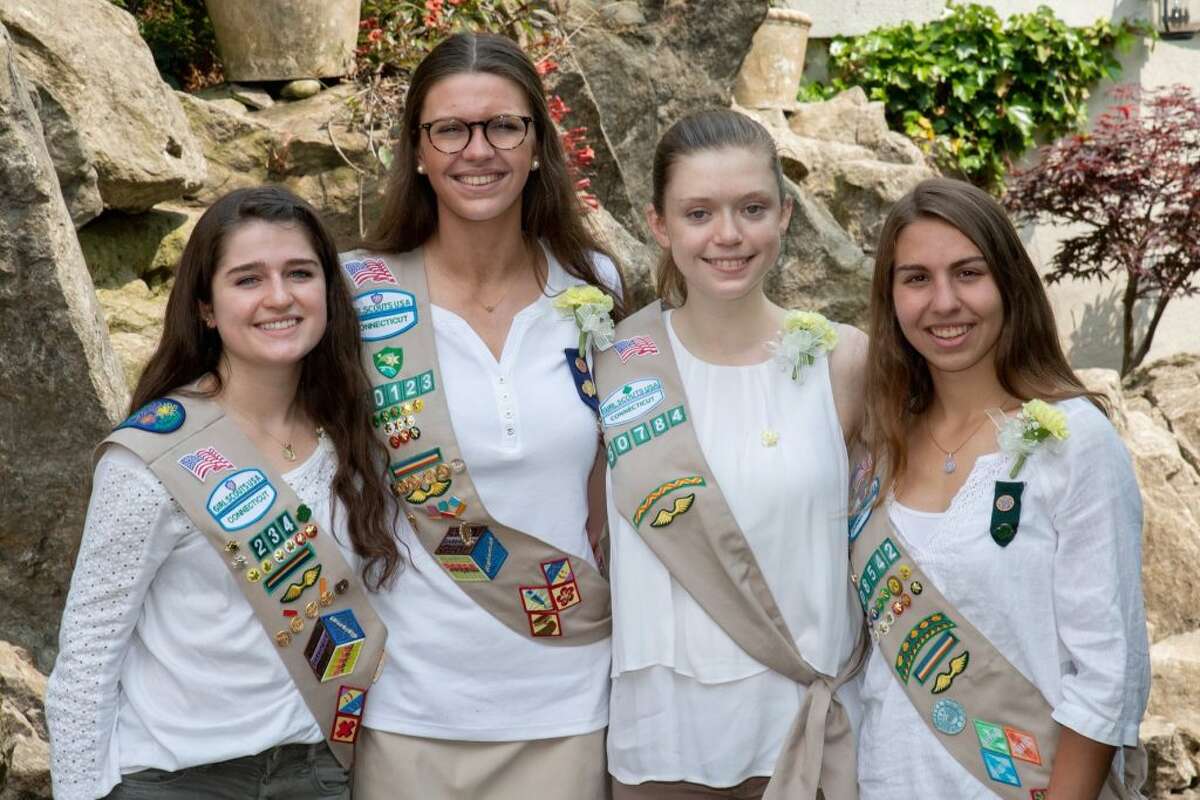 Ridgefield Girl Scouts — Charlotte Anglade, Lauren Castle, Megan Del Giudice, Erin Hanlon, Elizabeth Jasminksi, Bridget Kager, Abigail Morris, and Keleigh Zuckert — have earned the Gold Award, the highest award in girl scouting. 
They were recognized at the organization's Gold Award Celebration on June 2 at Cascades in Hamden.
The Girl Scout Gold Award requires Girl Scouts in grades 9-12 to spend at least 80 hours researching issues, assessing community needs and resources, building a team, and making a sustainable impact in the community. A Gold Award Girl Scout's accomplishments reflect leadership and citizenship skills that set her apart as a community leader. Nationally, only six percent of older Girl Scouts earn the Gold Award.
To address issues of mental health in teen girls, Charlotte Anglade renovated a room in Danbury's Family and Children's Aid group home, creating a relaxation space replete with yoga mats, a miniature library, journals, an essential-oils diffuser, and an outdoor garden. Her room and website (girlsdestress.com) serves the community to this day. She will graduate from Ridgefield High School in 2020.
Lauren Castle attended to kindergarten-age children who had not gone to preschool. Her literacy project, "The Right Start," included read-aloud circles and book-related activities, and the culminating book drive enabled her to send each child home with 19 kindergarten-level books. The host school, located in Danbury, will sustain the program in future years, enabling students to enter school armed with literacy and social skills. After graduating from Ridgefield High School this spring, she envisions herself pursuing a career in STEM.
Megan Del Giudice wanted to encourage sustainability and waste reduction in her community. She worked with the Boys and Girls Club of Ridgefield to create a compost bin for the club's garden, and she designed after-school programs on the benefits of composting and caring for the environment. The community continues to compost for their own gardens as a result and has already produced a healthy crop of fruits and vegetables.
In pursuing her Gold Award, she appreciated the opportunity to follow a big project through to the end. She graduates from Ridgefield High School this year and is considering a college major in marine biology, environmental studies, or law.