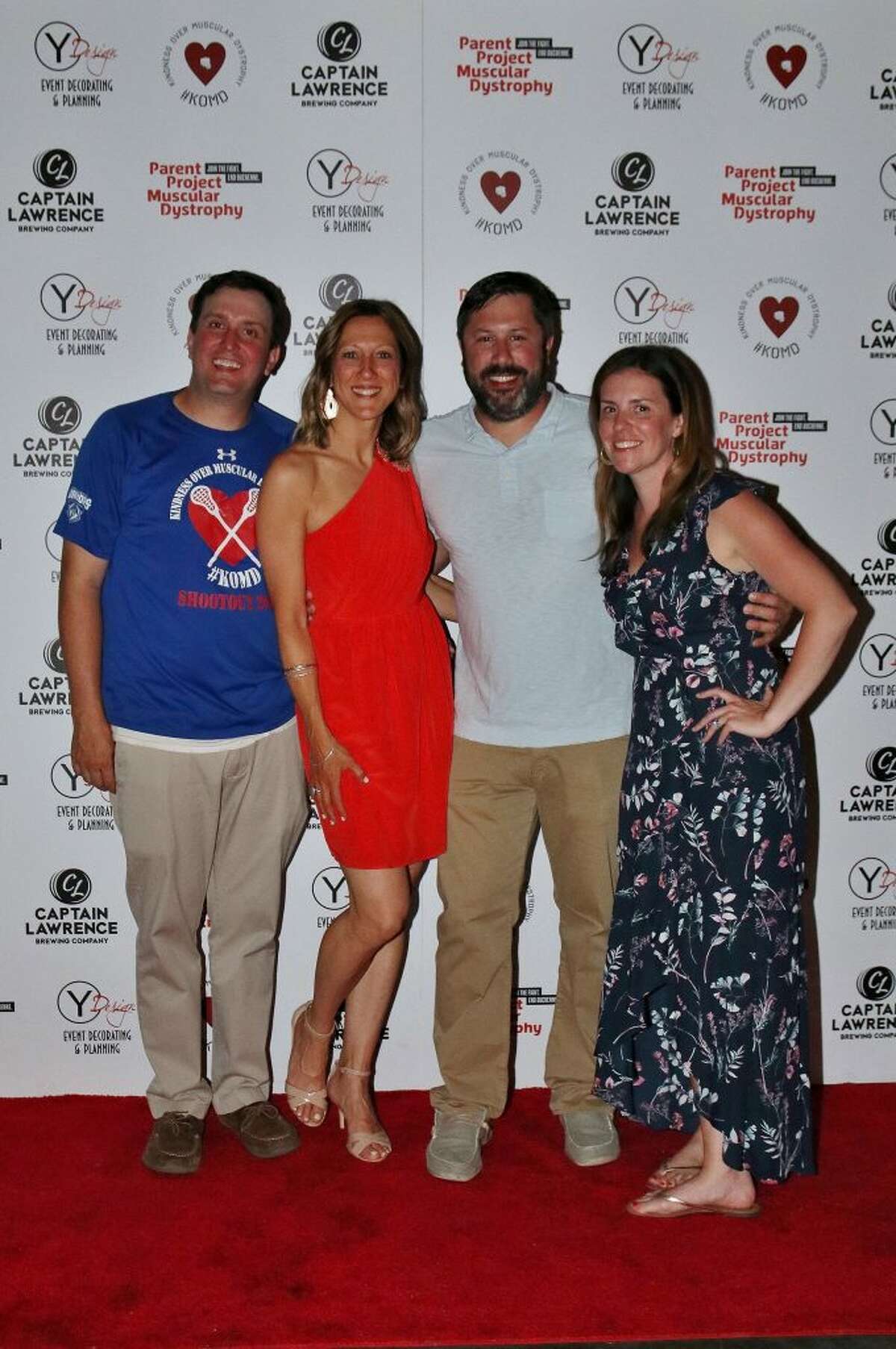 With a crowd of approximately 600 attendees and a theme of fighting for a cure, Ridgefielders Jessica and Christopher Curran raised more than $200,000 at the fourth annual Kindness Over Muscular Dystrophy (KOMD) event to advance research toward a cure for Duchenne Muscular Dystrophy.
The Currans have raised $800,000 since their son, Conner, was diagnosed with Duchenne Muscular Dystrophy. This year's fundraiser was held on June 8 at Captain Lawrence Brewery in Elmsford, N.Y.
"We are extremely grateful to Scott Vaccaro of Captain Lawrence Brewing Co. for generously providing his venue again for the fourth annual KOMD benefit," said Christopher Curran.
This event was also gold-sponsored by Saudi Petroleum International out of New York and bronze-sponsored by Fortis Lux Financial, Sports Tech Construction, Ack Beverage, Amy Mosley and Partners, LMS Entertainment, and Melissa Barca's First Smiles Photos and Y Design.
This was Conner's first appearance at the annual event, and he and his two brothers were greeted with emotional enthusiasm to the song "Don't Give Up On Me."
"Although Conner struggles daily with Duchenne, he has a positive attitude and shows tremendous courage in the face of many medical interventions," his father said. "He is an inspiration to his parents and family.
Duchenne Muscular Dystrophy is a progressive muscle wasting disease that primarily affects boys. Currently, most do not survive past early adulthood.
"As devastating as this diagnosis is, we are full of hope for Conner and so many other DMD children," Christopher Curran said. "Scientists are on the cusp of actually finding a cure. Exciting new research and gene therapy clinical trials are currently being conducted that may change the course of this disease forever.
The Currans are committed to fighting for Conner with research dollars and advocacy. They are in a race against time and are extremely grateful for the support they have received from the Ridgefield and Westchester communities who have gathered together to help them achieve their advocacy and fund raising goals.
To date, Kindness Over Muscular Dystrophy has raised approximately $800,000 and all proceeds have gone to fund research and clinical trials. The Currans have partnered with Parent Project Muscular Dystrophy (PPMD), a 501(c)(3) that is described as the largest and most comprehensive charity organization focusing on ending Duchenne. The mission, culture and advocacy of Parent Project Muscular Dystrophy resonated with the Currans from their very first contact with them at the PPMD Annual Conference in 2015. PPMD is dedicated to funding research; advocacy and establishing optimal care practices for all DMD patients.
All donations flow directly to Parent Project Muscular Dystrophy and are tax deductible.
The Currans have established a goal of raising $1 million. They hope others will consider helping them achieve their goal. To learn more about Duchenne and to contact them, visit www.KindnessOverMD.org.