This is a carousel. Use Next and Previous buttons to navigate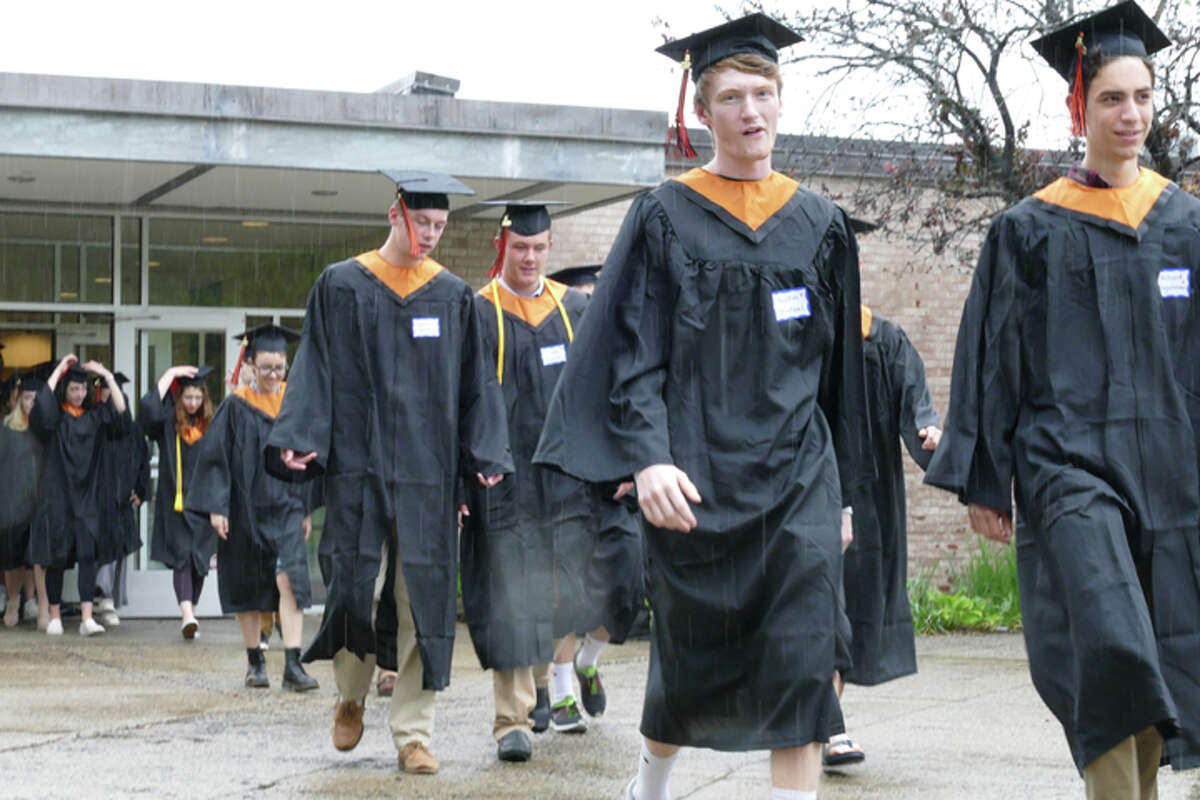 They were a class marked by community service, participation in school clubs, and triumphs on the sports field.
The 401 members of the Ridgefield High Class of 2019 will walk across the stage at the O'Neil Center at Western Connecticut State University's westside campus Friday, June 21, wearing their caps and gowns.
They will leave clutching diplomas.
But for a few more hours, the class described as full of "quiet compassionate leaders" by Student Government President Vidur Hareesh, are still students of the school.
"There's a lot of maturity in terms of our willingness to give back to the community," Hareesh said, who characterized his fellow classmates by their high engagement and high level of commitment to the community, as well as to themselves."
Some of the class pranks — including one student who dropped a watermelon on the floor — didn't go as planned. Class President Alex Holder said he made plans to hold a luncheon for the school custodians. "The prank didn't quite go as smooth sailing as we thought it would. So as a little gesture we decided to throw them a little luncheon," Holder said.
Hareesh noted his class's success in "mock trials, debate, science olympiad" and in winning at lacrosse and basketball.
Where the class that preceded them was noted for its occasionally loud antics, Hareesh admitted his class has been "quieter."
"We didn't necessarily have these figurehead characters … it was a lot of smaller leaders and a much more collaborative," he said.
"Nobody felt like they were above anyone else," Holder agreed. "We had a couple class clowns, besides that, not really."
Holder said that while his class usually receives less credit for the April 20 national school walkout protesting gun violence, two members of the class of 2019, Josh Burns and Grant Yuan were instrumental in organizing the event.
Class Speaker Gracie Girvalo said she's been surprised to learn about her classmates hidden interests — like athletes who make music on Soundcloud, or theater students with other academic interests.
"I think we're all at a place where we're ready… but I'm going to miss a lot of what this town has to offer," she said.
'Stairway to nowhere'
Valedictorian Matthew Vivian described the classmates as passionate about what they do "whether that is athletics, music, theater, community service, academics…"
"A lot of my classmates constantly strive for excellence in whatever activity or class they care deeply about. I also think that we collaborate well in the classroom and are always looking to help fellow students rather than tear them down," he added.
Class advisers Krystina Occhicone and Ashley Vidmar said the class was marked by "ambition and perseverance."
"They are leaders who are concerned with bettering our society, and we have truly enjoyed working with them," they said in a joint email.
Girvalo wrote her speech around the high school's "stairway to nowhere," which leads from the upper floor down to a door that exits out of the building, rather than the first-floor classrooms. Every year, students get lost on the stairway trying to find their classroom on the ground floor.
"It might feel like you're on a stairway to nowhere… but you need to realize that you have the tools to change where you're going..." she said. "We all have the potential to do something meaningful, we just have to take that first step on the stairs."