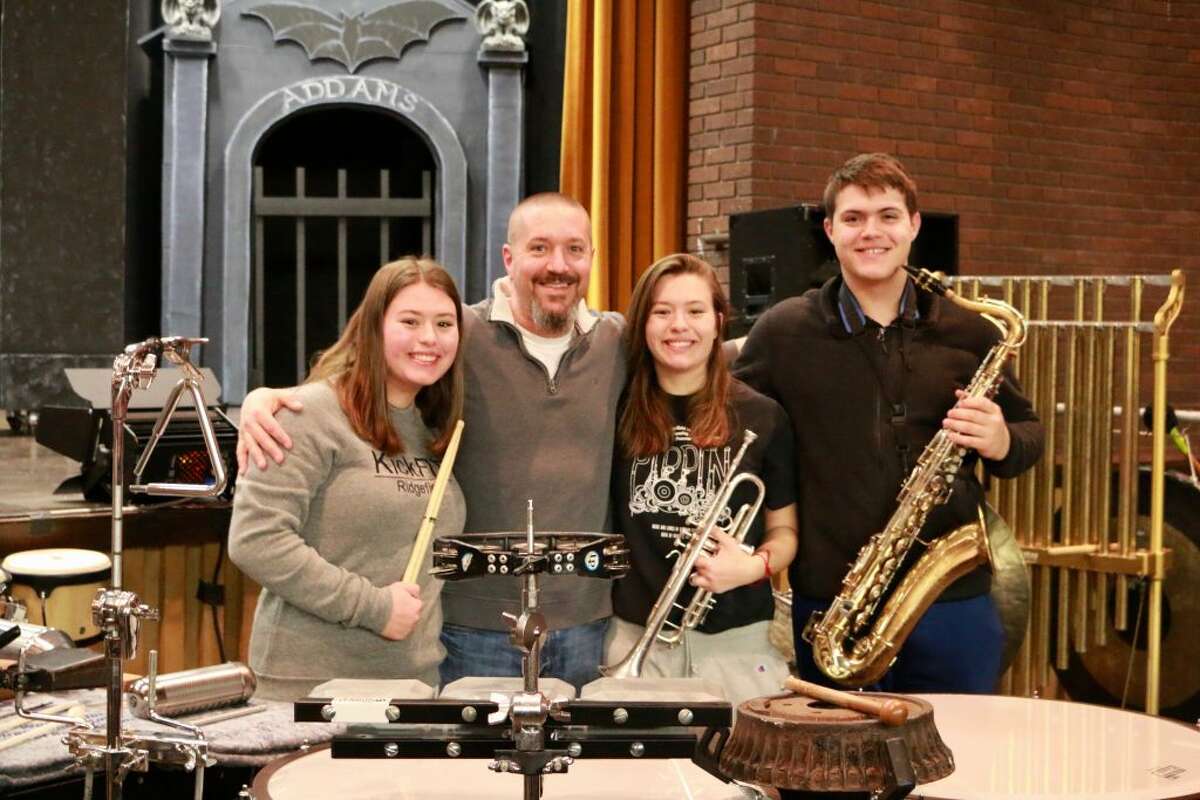 The eccentric, spooky and altogether fun Addams family is currently haunting the stage of Ridgefield High School. The musical comedy The Addams Family plays its final performances on March 22 and 23.
Reflecting The Addams Family theme of family fun and togetherness is the musical's orchestra which features several sibling pairs as well as a father and his three children.
Percussionist Greg DiMiceli is sharing the pit with his twin daughters, Emma (trumpet) and Sarah (drums), both seniors, and his son, Brendan (tenor saxophone), a freshman. The family has performed together before, and Greg says he is, "beyond thrilled. It's the perfect time, with Sarah and Emma being seniors." Sarah says of the experience, "It's cool. When I heard we needed a percussionist, I thought of my Dad first. I invited him to do it." Other sibling pairs in the orchestra are Ian and Reed Koh, Ryan and Sarah Pratt, and Elisa and Michael Kovacs.
Greg DiMiceli, a music teacher, says The Addams Family music is complex and, "It's a credit to the school that the kids are playing this. It shows that they're doing something right in the music department because it isn't easy music to play." The influences of jazz, pop, vaudeville, world music, and Golden Age Broadway showtunes can be heard in Emmy Award winner and Tony nominee Andrew Lippa's score.
Other students in the orchestra are Andi Chakraborty, Ryan Francis, Coleman Hoffner, Celine Lee, Angela Lin, Sammi McLemore, Quinton Miller, Abigail Morris, Ryan Sierakowski, Hunter Sims, and Matthew Vivian. The orchestra is conducted by Kevin Haines.
The Addams Family is directed by RHS performing arts teacher Sherry Cox and the student cast includes Evan Smolin as Gomez Addams, Emily Parker as Morticia Addams, Thomas Mitchell as Uncle Fester, Kyra Linekin as Wednesday Addams, Harrison Cluney as Pugsley Addams, Lucy Basile as Grandma, Matthew Carpenter as Lurch, Owen Gaydos as Lucas Beineke, Liam Huff as Mal Beineke, and Sophia Smith as Alice Beineke. Shane Jaeger is the production stage manager.
The Addams Family has evening performances, March 22 and 23 at 7:30 p.m. The snow date is March 24 at 2 p.m. Tickets are $15 for adults, $10 for students with school ID and for seniors age 60+. Ridgefield seniors who have a Gold Card may enjoy one show for free but must have the Gold Card with them for admission. Tickets will be sold at the door beginning one hour before the performance. Online ticket sales are at www.rhsperformingarts.info. Online ticket sales close at least six hours before the performance. RHS telephone: 203-894-5750.
Submitted to The Ridgefield Press by the Ridgefield High School Theatre Boosters Club.