This is a carousel. Use Next and Previous buttons to navigate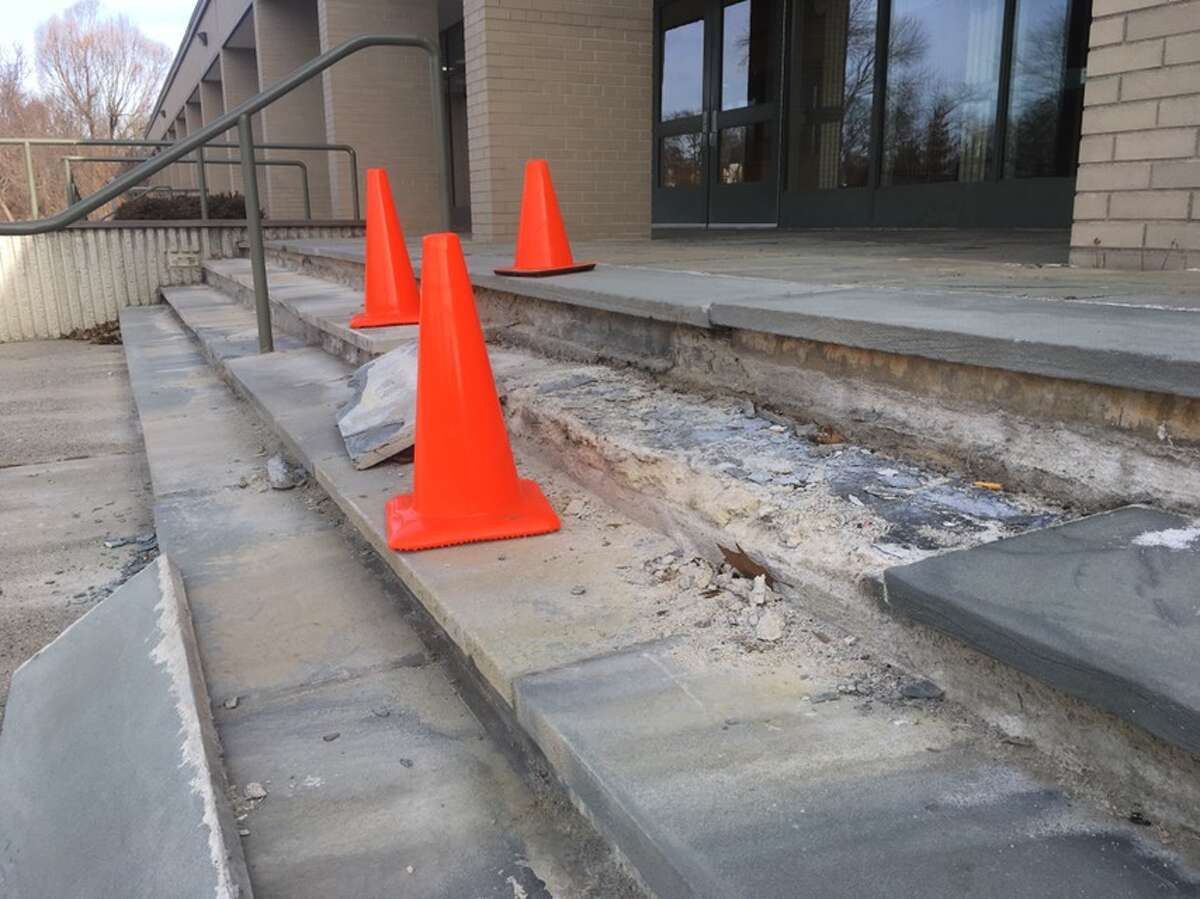 Sometimes snippy exchanges gave way to a more collaborative mood as the selectmen and a trio of school board members talked their way through a long and costly-looking list of needed repairs to school buildings and grounds.
"Coleytown Middle School in Westport is a good warning to us here," said Doug Silver, referring to a mold-plagued building that's been making headlines. "Coleytown School in Westport is closed."
"I don't believe we have any mold in our schools, Doug," said First Selectman Rudy Marconi. "The press is here. You'll put the fear of God in parents."
Silver was soon listing off schools where a recent tour by a committee of selectmen, school officials, and finance board members had found evidence of leaks — which, unaddressed, can lead to mold.
"Ridgebury, Farmingville, East Ridge, V.P. [Veterans Parks] ..." Silver said.
There is no official estimate of what all the repairs will cost, or when they'll be tackled. But they prompted lively discussion at the Jan. 23 selectmen's meeting.
"Where does the money come from?" asked school board member Tracey O'Connor.
"All of it comes from the taxpayers," replied Selectwoman Maureen Kozlark.
It was then that quietly expressed skepticism among the school contingent got to Marconi.
"I really don't like you sitting there making faces," he said. "We're all adults here. We do the best we can."
He also challenged descriptions Silver had given at previous school and finance board meetings on problems with schools buildings.
"I don't think they're crumbling," Marconi said. "And I don't think they're falling apart."
Inside out
Some projects discussed — like gutting and renovating all Ridgefield High School's restrooms — are already in the schools' five-year capital improvement plan, where the RHS restroom renovations form a three-year $435,000, program costing $145,000 a year from 2020 to 2023.
Other projects on the to-do list have no cost estimates.
There's a sharing of responsibility: the school system handles maintenance and repairs inside the school buildings; the town cares for the outside of the buildings.
With the inside-outside division of responsibilities, there's some confusion about courtyards in some schools — are they inside or outside?
"Figure it out," said Selectman Steve Zemo.
Routine outside maintenance — snowplowing, cutting grass — is handled by Parks and Recreation Department. Driveway paving, filling potholes, fall to the Highway Department.
Big projects like roof replacements go through the Board of Selectmen. Patching of minor roof leaks is overseen by the town engineer's office.
"It there are active leaks, they've got to be patched and fixed right away," Marconi said. "...If I can get a list of where the active leaks are…"
Communication structure
This focused discussion on the need to improve the flow of information from onsite school staff to the school administration, and perhaps relevant town officials.
"I think we need to look at the communication and the process," Marconi said. "Formalize it."
"There should be one person that's responsible," said selectman Bob Hebert.
"It's me," said Joe Morits, the school facilities director.
Tiger Hollow
Tiger Hollow was another concern, complicated by the fact school and town officials were joined by a third interested group: the RHS athletics boosters who fundraised for the original Tiger Hollow construction and some upgrades.
The town has been putting $43,000 a year into a sinking fund for replacement of the artificial turf field — something the town agreed to when at accept the original gift of all-weather field.
But there's more to Tiger Hollow than artificial grass.
"The issue coming up is the track. The number we hear coming up is $450,000 to $500,000," Silver said. "...We have to have a strategy for replacement of the track."
Marconi offered to approach Tiger Hollow boosters about renovating the track.
"I know that that is something that has to be done," he said.