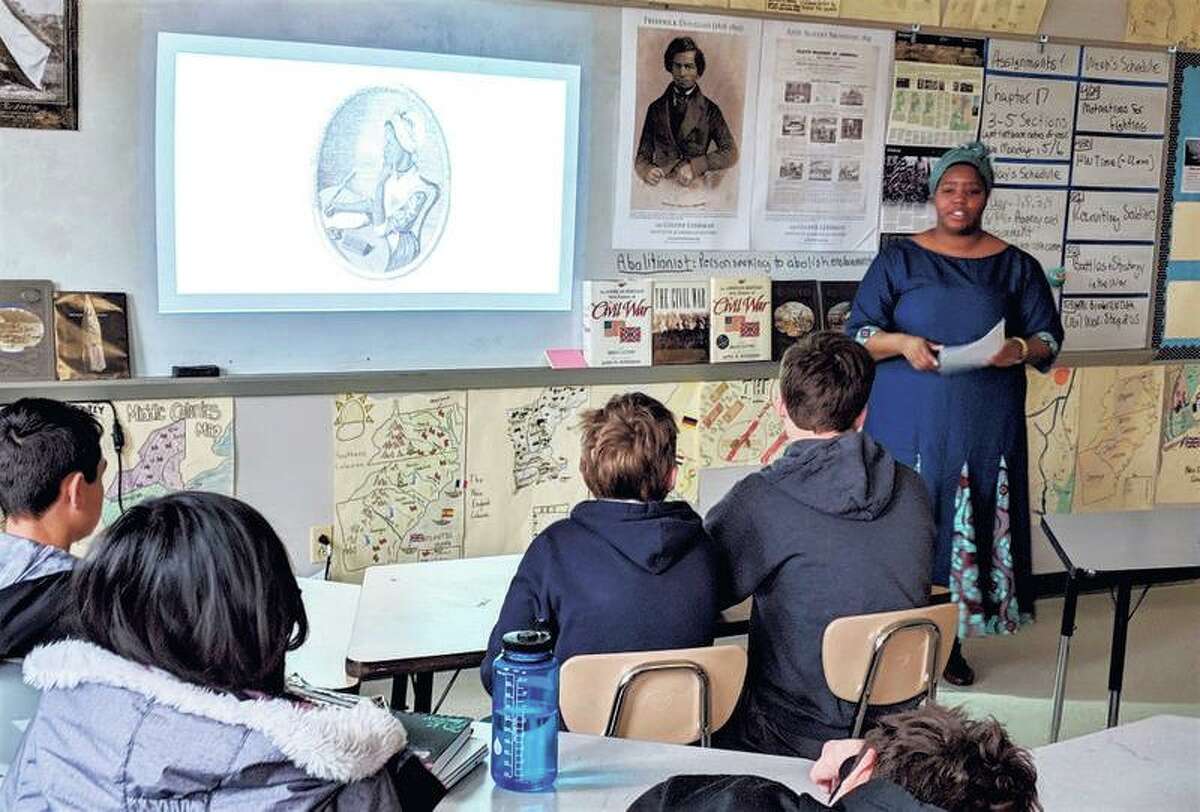 For centuries, the written word has been used to move people to action on issues that an author deems important. Words can connect the reader to the humanity of the subject and prompt them to action.
That's what Scotts Ridge Middle School eighth graders learned when historical interpreter Cheyney McKnight spoke to them about the work of 18th century enslaved African American poet, Phillis Wheatley, who wrote her poem, "On Being Brought from Africa to America," to advocate for other enslaved persons.
Brought to America as a child on a slave ship from her native Ghana, Wheatley grew up to become a powerful voice against slavery. She corresponded with political figures and dignitaries, including George Washington and Lord Dartmouth. "By examining the life of Phillis Wheatly, an enslaved black woman with no rights, students are challenged to examine their own privilege and agency, and how they can effect change," said McKnight who consults with Keeler Tavern Museum to interpret slavery in 18th and 19th century America.
According to Tom Broderick, SRMS social studies teacher who collaborated with the museum to bring this program to his eighth grade classrooms, the experience of enslaved individuals and their attempts to assert agency amidst trauma is central to understanding America, past and present. "I'm thrilled to be working with Keeler Tavern Museum & History Center to deepen our students' understanding of these important topics."
Developed by the museum for a youth audience, this program is part of a new series called First Principles: Revisiting the Founding Era launched earlier this year by several town partners to explore the themes of the Founding Era and their relevance to contemporary society.
Additional town partners are Ridgefield Library, Ridgefield Historical Society, Drum Hill Chapter of the DAR, Books on the Common, Ridgefield League of Women Voters, the Connecticut Project for the Constitution, with special support by the Ridgefield Thrift Shop and Wadsworth Russell Lewis Trust Fund.
Revisiting the Founding Era is a three-year national initiative of the Gilder Lehrman Institute of American History, presented in partnership with the American Library Association and the National Constitution Center, with support from the National Endowment for the Humanities. The grant provides 100 public libraries across the country the opportunity to use historical documents to create conversations about the Founding Era.