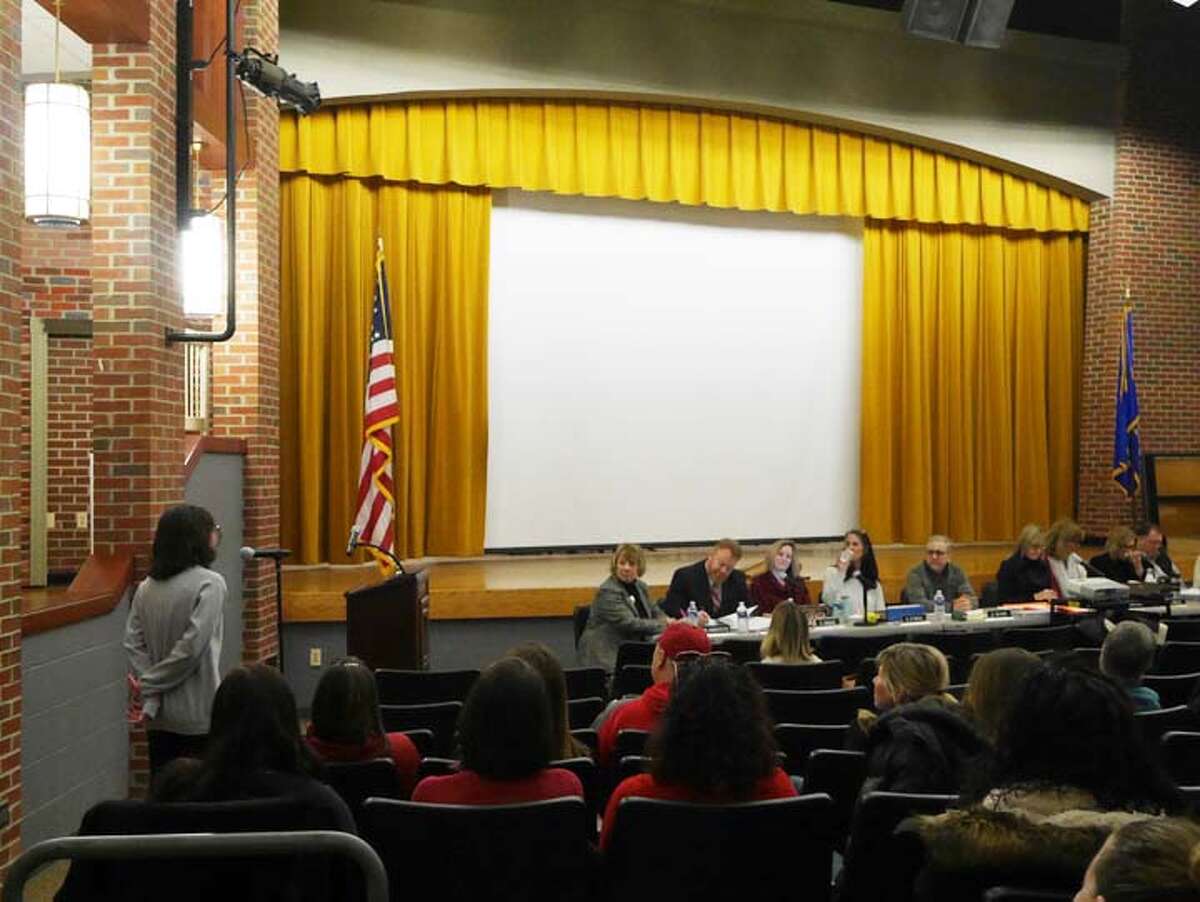 Don't cut elementary art teachers.
That was the resounding message from parents, teachers, and at least one Ridgefield High School senior during the Board of Education's budget hearing Saturday, Feb. 9, at Scotts Ridge Middle School.
"The proposed budget looks to cut this rich learning environment," said Jennifer Zeyer, an art teacher at Scotland Elementary.
She claimed the cuts, which would reduce art teacher positions at the district's six elementary schools by about 20%, would mean teachers would be unable to do the two annual student art shows at the Aldrich Museum and Parks and Rec Center. 
"I believe we need to add more art time to the elementary schools in our district," rather than cutting teachers, Zeyer said.
Anna Lourenso, a senior at RHS, said the district's art program helped her process the death of her father — a subject she wrote about in her college essay to Pratt, which she will attend in the fall. 
"I understand that we need to differentiate between nice to haves and need to haves, but I firmly believe that art is a need to have," said Mimosa Circle resident Tamal Mathial, paraphrasing a statement by Interim Superintendent JeanAnn Paddyfote.
Other parents said they were opposed to cuts to school office staff. The proposed budget would reduce elementary office paraeducators by the equivalent of one full-time position, and would eliminate assistant principal and secretary positions at East Ridge Middle School.
"Office paras ensure children are safe every day," said Carolie Olkoski of Arrowhead Place.
Tax increase
While several parents asked the board to find an additional $100,000 in the budget to avoid cuts to art, two townspeople said they want a lower school budget increase.
"I don't want to be driven out of Ridgefield because of high taxes," said Rich Fasanelli, of Gay Road. He noted that neighboring Wilton had proposed a budget increase of 1.3%, compared to the 3.43% increase Ridgefield is asking for.
"In Ridgefield's case, if this rate continues over the years, the school budget will double in 21 years. Wilton's doubling scenario is much more reasonable at 53 years," said Fasanelli, reading from a letter he sent to the editor of The Press.
"I will still be alive in Ridgefield in 21 years, God willing," he added, suggesting that the schools should plan 10-year budgets, so that taxpayers know what to expect year-to-year.
"I've been here 48 years … the budget has never been cut," said Linda Lavelle, of Aspen Mill Road. She said she protested budget cuts to German in 2016, when raises were also being given to school administrators. 
"I was outraged that raises were given on the backs of students, and now I see the same thing happening," she said. 
She said the schools should look at the cost of transportation, infrastructure, and health-savings accounts to lower the budget.
"You're all educated people … try to find a way to get the budget down maybe to a 0%, but not on the backs of children," Lavelle said.
Previous meeting
Plans to reduce the positions of elementary art teachers in the fall of 2019 sparked protest from parents and the head of the public school teachers union at the Monday, Jan. 28, school board meeting.
"We urge the Board of Education to reject this cut out of hand," said Jeane Deming, president of National Education Association-Ridgefield, the union that represents the town's certified teachers. "Art is not a nice to have, but a need to have."
Her words paraphrase a statement by Interim Superintendent Dr. JeanAnn Paddyfote, who said the district should make cuts in areas that are "nice to have," during her first presentation on the proposed $98.3 million budget for the 2019-20 school year.
The proposed cuts would reduce the art teacher position at each of the district's six elementary schools by about 20%, reducing the department by the equivalent of a little more than one full-time teacher.
The move would save about $109,000, Paddyfote said in her presentation.
The cuts do not reduce the teachers benefits, she told The Press.
"I'm not a financial expert," said Olcott Way resident Martin Smith, but "a 20% pay reduction to me seems comical."
He said the schools need to pay the teachers enough to live and work in town. "I could not take a 20% pay cut and continue to live in Ridgefield," Smith said.
Similar cuts were proposed last year during the 2018 school budget season by then-superintendent Dr. Karen Baldwin. Then, as with today, the move inspired opposition from parents.
"Last year, when this issue was brought to the board, the community was clear in their opposition to the cuts," said Stebbins Close resident Kerry Knop. "With the increased rates of school-related anxiety among students, art class is a creative outlet for our children," she said.
Cutting back on art will only compound the problem of student stress, Knopp said.
"Our youngest children are rushed around to class parties, hurried through field trips — and our smallest treasures are stressed," she added.
Smith pointed out that when his elementary-aged son developed an issue with his handwriting, his art teacher noticed it first.
"It was the art teacher, it wasn't any of the other teachers, who picked up the phone and called," he said.