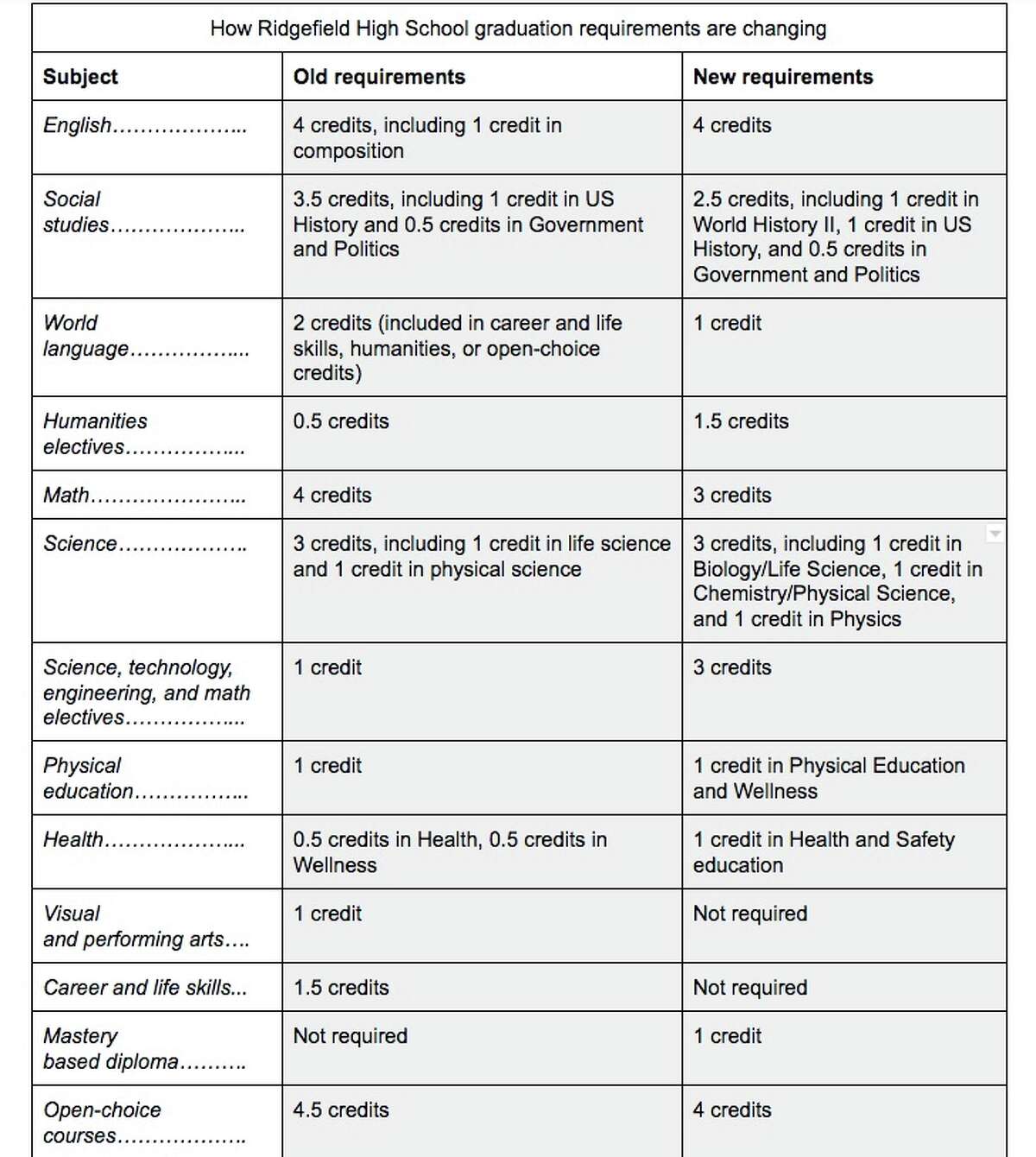 The Board of Education is hoping its new graduation requirements for Ridgefield High School will mean freshmen have more class options to choose from when they start school this fall — even as the change in requirements has sparked protest from some students.
"English and science and social studies opened more of their electives to ninth graders," said Dr. Stacey Gross, principal of RHS. "But even prior to that, there were about 30 or 35 electives that freshmen and sophomores could take. The issue was that there really was only one open period in freshmen's schedules, so even though those existed, there wasn't the time to do it, whereas now there would be."
The new graduation requirements will take effect starting with the class of 2023, current eighth graders.
Under both the new and old graduation requirements, Ridgefield students have to complete 25 credits in order to earn their diploma.
The changes eliminate a requirement that students take a full credit in visual and performing arts — a credit is equal to one full-year course, a half-credit equates to one semester-long course. The credit was not something required by the state.
"Every year I sit here and you tell me to get rid of it, every year I sit here and defend it," said Gross.
"It would remain as an option for students," she added.
Career and life skills courses are also cut out of the requirements.
"That really covers the business classes, and the family and consumer science classes," said Gross.
The state has also added one required credit in a "mastery based diploma" system, through which students have to demonstrate they fully understand material in a given subject.
"It is not a test-out and it is not a capstone project," said Gross. "We're looking at how we would show what shows mastery at each grade-level, and maybe students would get a quarter of a credit."
English, social studies, humanities
Students will still be required to take four credits of English.
"We feel that reading and writing are skills that are useful in every career," including students who pursue careers in science, technology, math, or engineering, said Gross.
The requirement for social studies will be reduced from 3.5 credits to 2.5 credits. Within those credits, students will have to take World History II, a year-long course which includes state-mandated curriculum on the holocaust and other genocides; a year of U.S. History; and Government and Politics, a half-year civics course.
That change has sparked some backlash from current high school students; who are concerned by the administration's plan to change Global 1, a world history course, from a full-year course to a semester-long elective. The course is not currently a requirement, but is typically taken by freshmen to help fulfill the 3.5-credit requirement for social studies.
The requirements for world languages have been reduced from two credits, which are included in a student's career and life skills, humanities, or open-choice credits, to one credit under the new requirements.
Gross said the school decided to take that reduction because most colleges require three to four years of world languages, and the "vast majority" of Ridgefield graduates go on to college. Students who decide they want to take a world language also typically go over the number of credits required to graduate, Gross said.
"For the students who decide this is not the path they want to take, we would open opportunities for them," she said.
The required number of credits in humanities electives — which can include world languages, and other English and social studies courses — has increased from one half credit to 1.5 credits. Gross said that change would give students more flexibility in their course choices.
Math and science
The math requirement was reduced from four credits to three. "That department feels that if it's a student who's interested in STEM, they're going to take a fourth year of math anyway," said Gross, using an acronym for science, technology, engineering, and math.
Students will still have to take three credits in science, which now include one credit in biology or life science, one credit in either chemistry or physical science, and one credit in physics. The requirement for STEM electives has increased from one credit to three.
Gym class — physical education — will still have a one credit requirement. The state has mandated a "wellness component" be added, said Gross, but Ridgefield has already included that in its curriculum.
Student Body President Vidur Hareesh indicated students are happy with the changes.
"As far as the new curriculum changes, I know students are more than happy with them, and are always telling me they approve of more choices and more options," Hareesh said at the Feb. 13 Board of Education meeting.