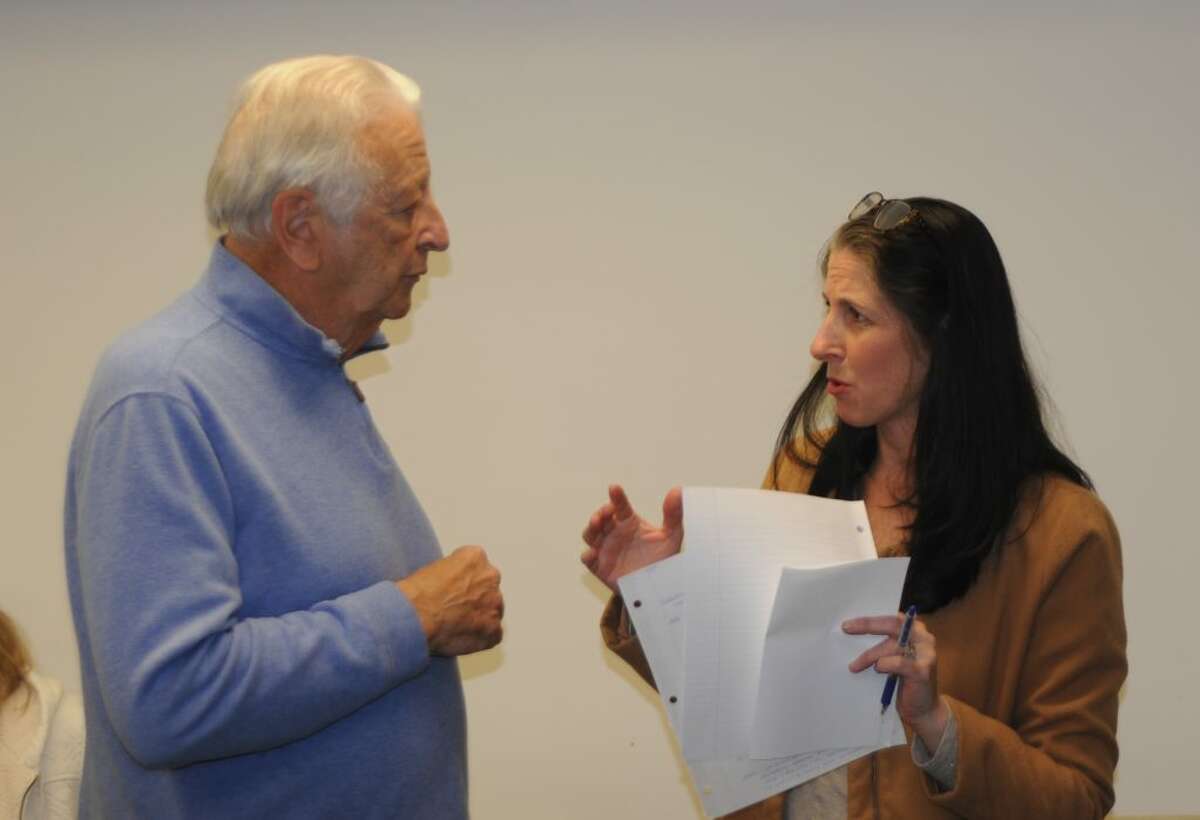 A 1.24 percent tax hike crowns a nearly $148-million budget package that would boost school spending by over $3 million — but $230,000 less than the school board requested — while approving the selectmen's plans for no increase in town departments' budget next year.
Approved on a series of unanimous Board of Finance votes last week, the 2019-20 budget, and an accompanying $4.5 million capital spending plan, will come before Ridgefield voters for approval or rejection at the May 6 Annual Town Meeting and May 14 budget referendum.
"That's only $200 on the average house," finance board Chairman Dave Ulmer said of the proposed tax increase.
"But it's not the only," he added. "Other taxes are going up."
The larger tax environment colored town officials' thinking as they went through this year's budget process — with the selectmen cutting seven jobs with a retirement incentive and reorganization to achieve their no-increase budget for town departments. Town officials figured many Ridgefielders could be paying more in federal income taxes, due to the new $10,000 limit on the "SALT deductions" for state and local taxes that was part of the federal "tax cut and job act" approved in Washington back in December 2017, and affecting 2018 federal taxes due this April.
Although fashioned as a tax cut, the federal tax bill offset some its rate reductions with other changes — including the cap on SALT deductions, expected to hit hard in areas with high costs of living, high real estate values and high state and local taxes. Ridgefield fits that bill.
"The SALT deal is going to have a big impact," Ulmer said.
He later explained the math behind his calculation that the 1.24 percent property tax increase would amount to roughly $200 more on a typical Ridgefield homeowners' tax bill.
"That assumes about an $800,000 assessed home, taxed at 70 percent of assessment, and 27.78 mill rate for around $15,500 tax bill — maybe a little higher than average," Ulmer said.
"Now you can only deduct a piece of that — and none of the state tax," he added. "It's going to be a big hit."
The numbers
The budget approved by the finance board for 2019-20 totals $147,827,683.
It would allocate $98,193,760 for school operations, a 3.36 percent spending increase, and $38,318,807 for town departments and road repaving, reflecting the "zero increase" town budget passed along by the Board of Selectmen that is actually a slight reduction — the proposed town budget is $4,907 less than the current year's allocation.
The roads and infrastructure line in the selectmen's budget totals $1,840,000 — the same as the current year — with $1,765,000 allocated for annual road repairs and repaving, and $75,000 set aside for "ADA" accessibility projects to meet goals of the Americans with Disability Act.
The budget includes $11,315,116 to pay debt service.
"Overall, I get a spending increase of 2.4 percent," Ulmer said near the end of the finance board's deliberations. "That's with roads and debt service."
The $4,468,620 capital spending plan approved by the finance board, after being passed on from the school board and selectmen, consists of projects and purchases to be financed with borrowing, so they don't affect next year's taxes.
In discussion Wednesday night, April 3, the selectmen agreed that the town and school operating budget approved by the finance board will go to the May 14 referendum, along with largest of the capital spending proposals while capital projects and purchases under $100,000 will be put before voters at the May 6 Annual Town Meeting.
School budget
The $98,193,760 school budget approved by the finance board is an increase of $3,193,760 over the current school budget, which is an even $95 million. But it's a $230,000 reduction from $98,423,760 budget request previously approved by the Board of Education.
The cut trimmed the school spending from a 3.60 percent increase sought by the school board to a 3.36 percent increase approved by the finance board. The $230,000 school cut is exactly half the $460,000 school reduction proposed by the Board of Selectmen in its charter-mandated "non-binding recommendation" to the finance board on school spending. The selectmen's suggested cut would have meant a 3.1 percent increase in school spending.
After the finance board's April 2 vote, Board of Education Chairwoman Margaret Stamatis was philosophical about the cut to the school board's initial budget request.
"I think we can move the district forward. We're pleased both boards were thoughtful and listened to what we've identified as the needs of our district," she said.
"We respect their process," she added.
"It's still $3.1 million more than this year," Chairman Ulmer said of the proposed school budget.
Ulmer also told the school board that their 3.36 percent increase would inevitably be compared with the selectmen's zero increase budget.
"That's not fair, but it's what people are going to do," he said.
The motion for the $98,193,760 school budget was made by Amy Freidenrich and seconded by Jessica Mancini.
"When the budget comes out, all those papers, it's exhaustive," Freidenrich said, brandishing budget books and spreadsheets she'd done on her own "We take it very, very seriously."
Freidenrich was impressed with the school board's argument to add an administrator who would oversee curriculum rewriting and instructional improvement in the "STEM" fields — science, technology, engineering and mathematics.
"The STEM, that's very credible. I feel that needs to get done," she said.
"I think this is a small reduction to the requested increase," Mancini said.
Finance board member Dick Moccia wanted to take a bigger bite out of the school board's request, comparing the reduction from a 3.6 to a 3.36 percent increase to a state law saying municipal budget increases should be held to 2.5 percent.
"I don't agree with that large an increase. I'd prefer to stay at 2.5 percent," Moccia said. "... I'll vote with the majority of the board to allow the people to make the decision."
With the school increase balanced by the selectmen's no increase for town departments, the proposed budget would just make that goal.
"Overall, I get a spending increase of 2.4 percent," Chairman Ulmer said near the end of the finance board's April 2 meeting. "That's with roads and debt service."
Town jobs
During the previous meetings Marconi had pleaded with the finance board, at one point, not to let the selectmen's hard work getting down to a zero increase be absorbed into increases elsewhere. Between incentivized retirements, job cuts, and changing some full-time positions to part-time, the reorganization that the selectmen worked months on reduced the town workforce by 7.34 positions.
"I understand it," Marconi said after the finance board's April 2 voting. "The Board of Finance has made its decision and I'll go with it, obviously."
Finance board members seemed a little uneasy with the slight decrease in the town departments' budget.
"It's never easy to cut personnel, never easy to make those decisions," Moccia said.
"I hope we're not reducing too much," said Mancini.
"I think we've achieved it without cutting any town services," Ulmer said of the selectmen's no-increase budget.
"Obviously, you can't do this two years in a row," he added. "...Restructuring is something every organization ought to do every four or five years."
Public support
The idea of letting the people vote on the budget as requested had been a theme for school supporters, who outnumbered tax critics 10-to-3 at the finance board's March 25 public hearing — and also expressed themselves in a barrage of letters and emails to the finance board.
"Far more letters this year than any other year, supporting the budget," said board member Sean Connelly.
"Sixty," agreed Freidenrich.
School board Chairwoman Stamatis had emphasized letting the voters decide in her closing pitch to the finance board.
"Ridgefield values a high quality education system, the economic driver of our town," Stamatis said. "As elected officials speak about real estate deals falling through upon fears of regionalization and townspeople rally on the steps of town hall for local control, let's allow our voters the opportunity to show their support of this budget that meets the needs of our local school district and youngest citizens."
Ulmer told the school board that, despite taxpayers facing the loss of federal deductions, he was reluctant to trim the school increase beyond the $230,000 reduction that took the increase from 3.60 to the 3.36 percent.
"To cut deeper than this I'd be concerned you'd have to cut programs — programs you need," he told the school board.
"...You're putting it where it's needed," he added, "Special ed, repairs, psychologists, the STEM job."
Fund balance
To get the projected tax rate down to 1.24 percent the finance board also voted to pull $1,675,000 out of the town's roughly $14 million surplus fund balance, and allocated that money as non-tax revenue.
The board uses some money from the fund balance as revenue most years, and has a goal of keeping the fund balance at between eight and nine percent of the total annual budget. Part of the logic, Ulmer explained, is that to have the town keep enlarging its fund balance amounted to keeping more and more of the taxpayers' money.
With a surplus of about $1.3 million projected for the current fiscal year, which ends June 30, the fund balance — which serves as a financial cushion for the town — is projected to be $15.4 million at the end of the fiscal year, and that would be reduced to $13.7 million by the $1,675,000 "use of fund balance" allocation built into the proposed 2019-20 budget.
The proposed use of $1,675,000 from fund balance next year compares to this year's budgeted use of $1.6 million from the fund balance. However, with the surplus projected for the current fiscal year, it's likely that not all of the $1.3 million currently allocated from the fund balance will actually have to be drawn out.
Ulmer reminded the board that in a fiscal reality where town and school budgets aren't supposed to run in the red — and therefore shouldn't be cut too close — the finance board has long regarded the "use of fund balance" to boost non-tax revenue as an sensible way of returning the taxpayers' money to them.
In making the motion to use $1,675,000 from fund balance, Ulmer said the move would reduce the rate hike needed to support the nearly $148 million in town and school spending from a 1.3 to 1.24 percent tax increase.
"I'm concerned that's maybe using too much," Mancini told Ulmer. "But your comment about not holding taxpayers' money is important."
"It's a good balance," said Connelly.
Supporting the motion, Moccia said he wanted to "keep the tax rate down for — I hate the word 'senior' citizens, I like 'seasoned' citizens."