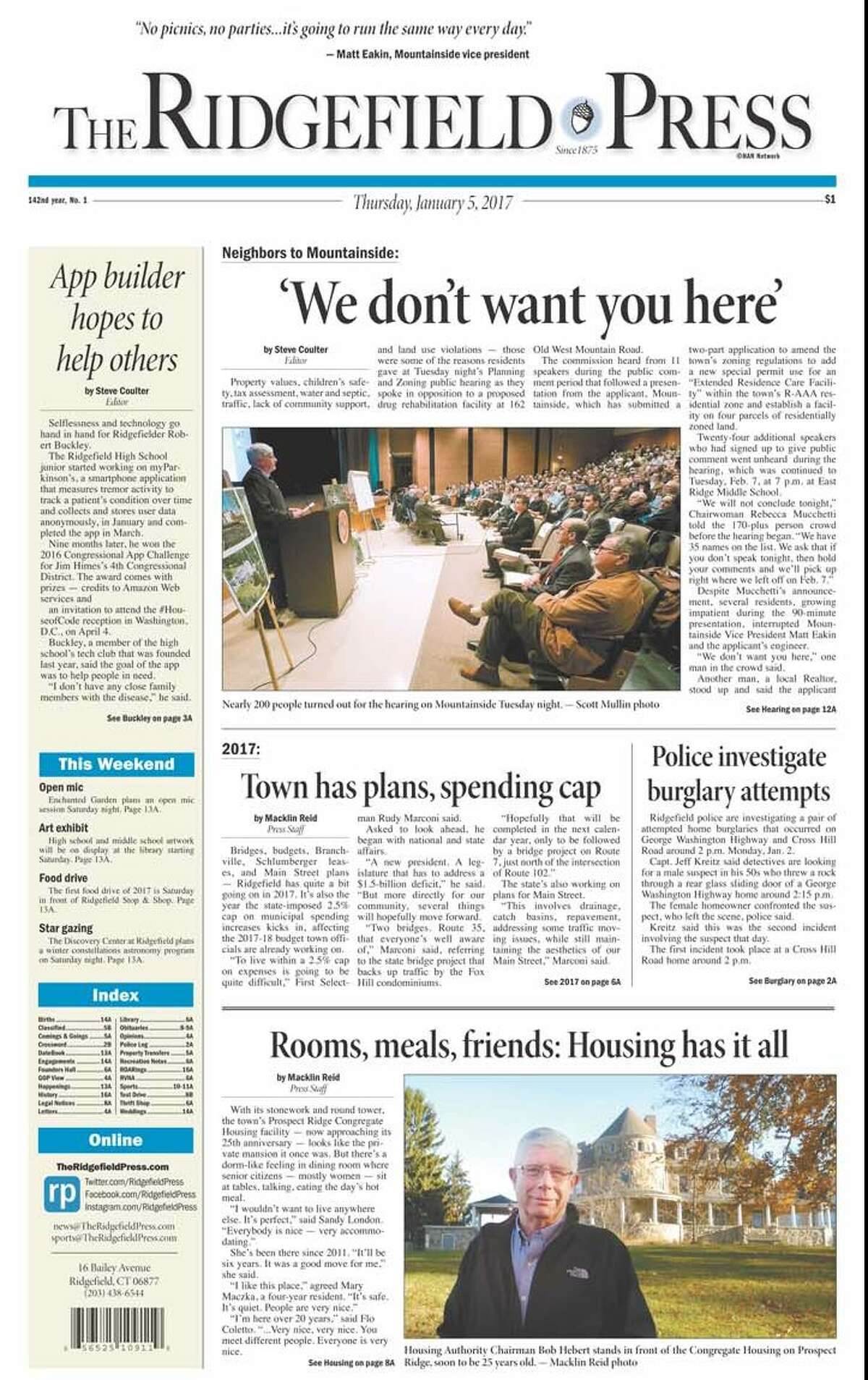 Here's a look at some of the headlines in this week's Ridgefield Press:
Crime, crime and more crime: The cops have their hands full to start of the new year. Between attempted home burglaries in northern Ridgefield Monday to a pair of stolen cars to 13 ongoing investigations into vehicle larcenies, the Ridgefield Police Department is as busy as ever.
Bored with crime? How about some fire? A bedroom on Pelham Lane was totally destroyed Wednesday morning from a blaze that started with a burning cigarette that was left unattended.
It's not all bad news though: Congregate Housing on Prospect Ridge turns 25 years old this year, and its residence are as happy as ever.
Speaking of residence and happiness: Neighbors in the Old West Mountain Road area of town will start to breath a lot easier once the Planning and Zoning Commission gets done with an application for a proposed drug rehabilitation facility at Sunset Hall (162 Old West Mountain Road). Eleven spoke against the application Tuesday night at East Ridge Middle School and 24 more will have to wait until the next public hearing scheduled for Tuesday, Feb. 7.
It's finally 2017 and the town has a lot on its plate, including plans to reinvigorate Branchville and a state-imposed spending cap. First Selectman Rudy Marconi sat down with The Press this week to look ahead.
The selectmen aren't the only board affected by the spending cap: the school board will reconvene Monday night and try to select one of five options to deal with the ongoing enrollment decline the district has been seeing over the last five years.
To make matter more difficult for educators, budget season is rearing its ugly head — and they will have $400,000 to spend thanks to state grant cuts.
Accessibility for the disabled is the theme of this week's editorial — and there's a story highlighting the town's efforts on page 12.
In the People section (OK, fine, it's just page 7 this week), a former RHS grad talks about his experience at Harvard.
In sports, Ridgefielder Barry Gibbons ends the year right where he started it: on the golf course.
The Ridgefield Press is on Facebook — become one of more than 4,348 friends and get news updates at Facebook.com/RidgefieldPress
More than 16,714 people have signed up for Ridgefield Press news bulletins via Twitter. You can, too, by stopping by twitter.com/RidgefieldPress
Don't forget to sign up for Press alerts on our latest social media platform: Instagram. Go to www.instagram.com/ridgefieldpress/ or search @ridgefieldpress on the app.