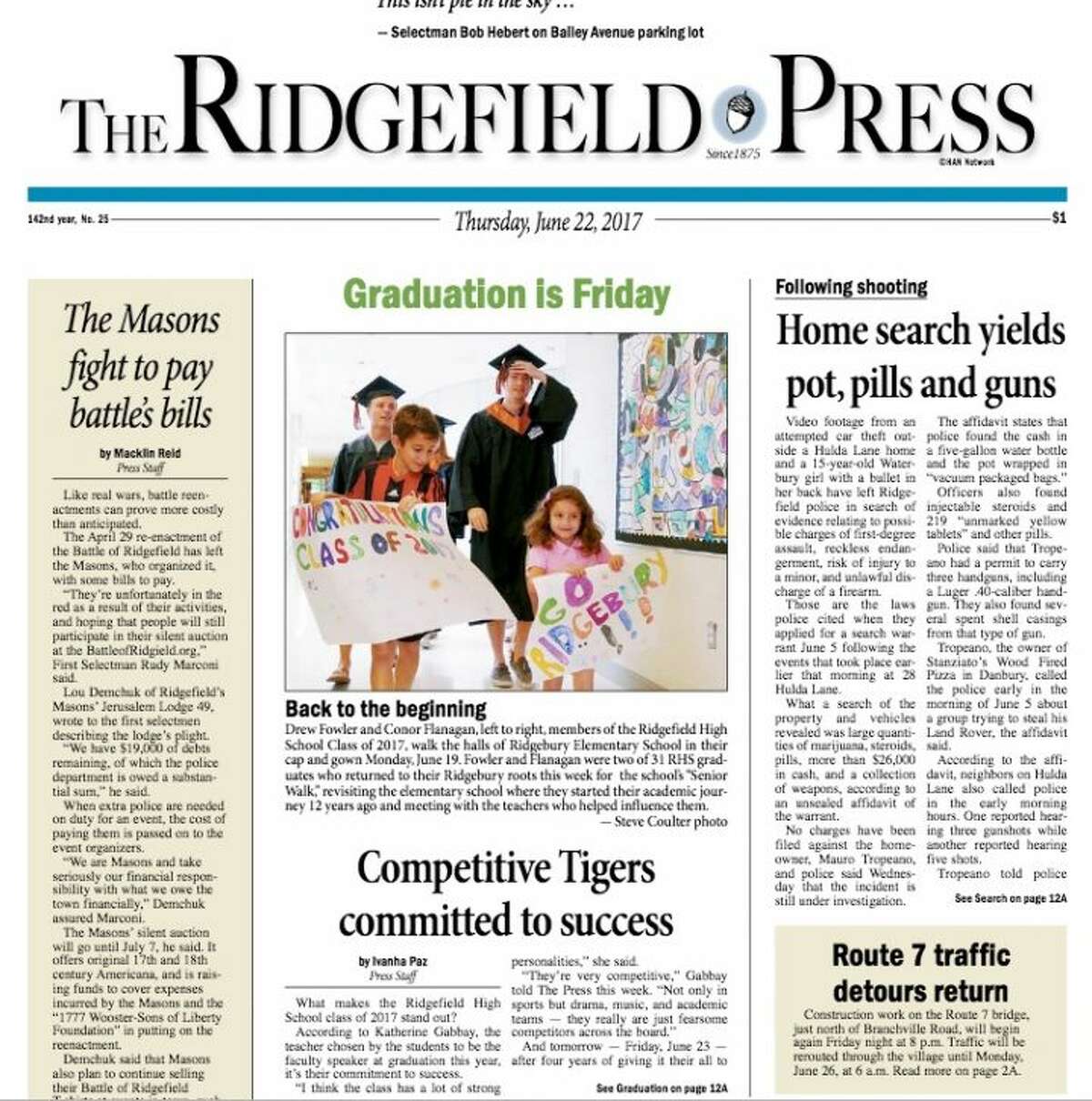 Here's a look at some of the headlines in this week's Ridgefield Press:
The Ridgefield High School Class of 2017 graduates Friday. What made this group of Tigers so special? Their faculty speaker believes its their competitive spirit.
Route 7 traffic returns to the village Friday night through Monday morning. What has the state learned from the last go around? To bring more signs with them from Hartford!
The Battle of Ridgefield's 240th anniversary received a classy reenactment this spring but organizers are in the red. How much? Glad you asked, it's just shy of $20,000. What, somebody's gotta pay for police overtime.
Speaking of the cops, an unsealed affidavit revealed that they found a lot of drugs and some weapons over on Hulda Lane where an attempted vehicle theft on June 5 left a Waterbury girl shot in the back. The homeowner hasn't been charged for anything and the investigation remains open.
It's not all bad news: East Ridge student Grace Matz is raising money for a memorial swing in Ballard Park. It will honor Ridgefield youth who have passed away at a young age.
Ballard Park was the site of some hateful words that were found graffiti'd on the CHIRP concert stage last Wednesday morning. The police don't have any leads but the selectmen might have a solution: surveillance cameras.
CHIRP brings in two acts next week to officially start the summer music season: Ministers of Sound are up Tuesday night, followed by Hot Club of Cowtown Thursday.
Somehow those three stories aren't the only ones involving the park and CHIRP. Calls for additional parking spaces in the village have the selectmen thinking about a lot at the bottom of Bailey Avenue. And no, it won't be a garage.
The Ridgefield Press is on Facebook — become one of more than 4,878 friends and get news updates at Facebook.com/RidgefieldPress
More than 18,963 people have signed up for Ridgefield Press news bulletins via Twitter. You can, too, by stopping by twitter.com/RidgefieldPress
Don't forget to sign up for Press alerts on our latest social media platform: Instagram. Go to www.instagram.com/ridgefieldpress/ or search @ridgefieldpress on the app.