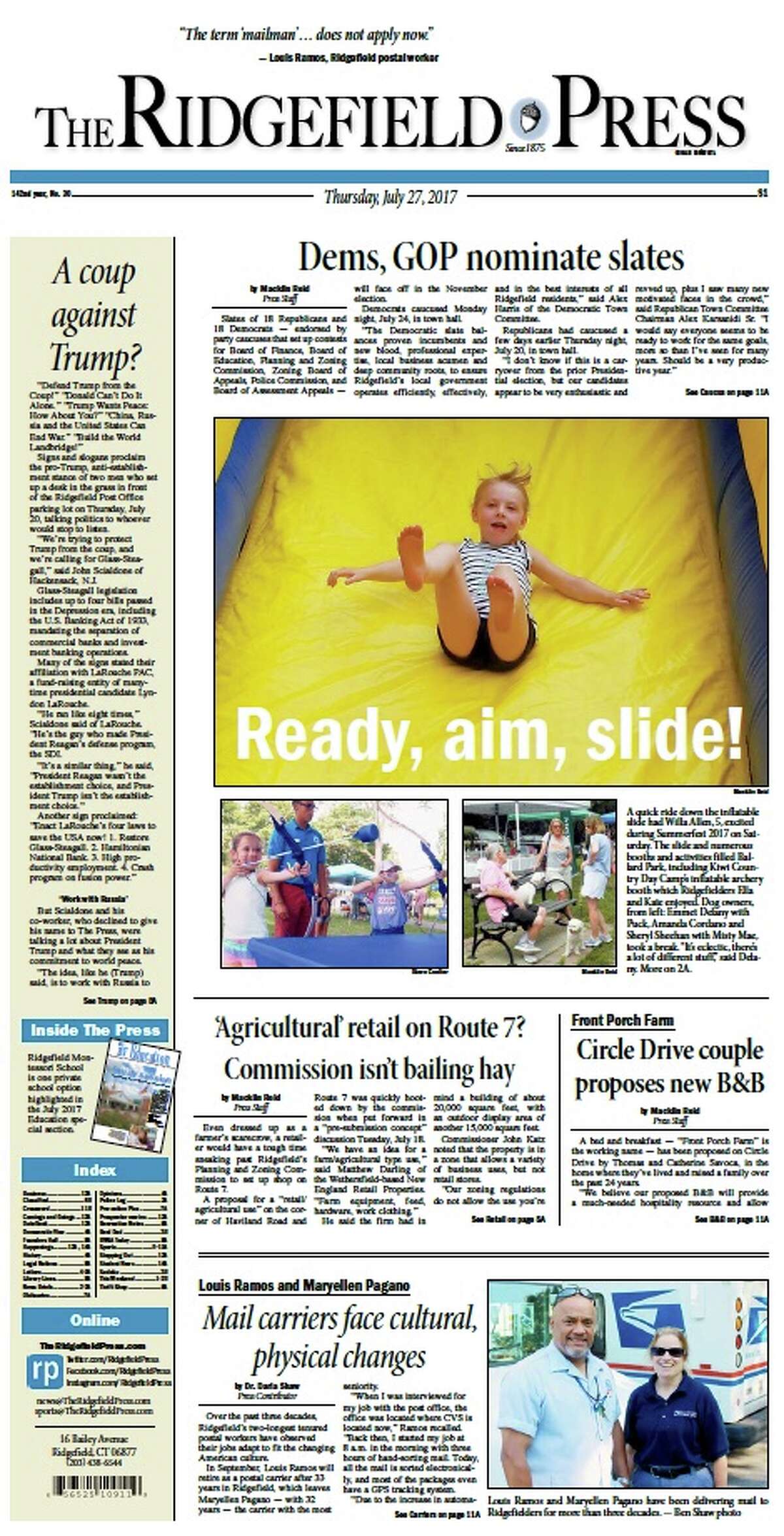 Here's a look at some of the headlines in this week's Ridgefield Press:
SummerFest left all of its visitors with big, bright summer smiles on their face, but a few shopkeepers were less than pleased with the fair moving to Ballard Park.
The golf course could be getting a snack shack between the ninth and tenth hole. Feeding hungry golfers is never a bad idea.
The Norwalk River Valley Trail keeps gaining support in the community. Last week it was from the Rotary Club; this week, it's Ridgefield Bicycle Club. Keep up the good work, trail heads!
There's a blood shortage this summer, and The Press' editorial reminds you to donate.
Beefing up wetlands enforcement was punted around at last weekend's inlands wetlands board. What will stricter regulations do to homeowners?
Doubling as the wetlands board, town zoners listen to a pair of intriguing concepts before taking a summer break: one for an agriculture store on Route 7 and the other about a bed and breakfast on Circle Drive. The former got panned, while the later will be coming back. Stay tuned.
The Chamber of Commerce helped launched the Young Entrepreneurs Academy last week in Danbury. Students should have everything they need to be successful business people.
Eight obituaries filled page 7 this week. Amongst those lost: A 32 year old car mechanic, a Korean War veteran, and an aerospace engineer who helped us land on the moon in 1969.
In sports the biggest headline belonged to the under-17 baseball team which ended its season last week.
The Ridgefield Press is on Facebook — become one of more than 4,948 friends and get news updates at Facebook.com/RidgefieldPress
More than 18,255 people have signed up for Ridgefield Press news bulletins via Twitter. You can, too, by stopping by twitter.com/RidgefieldPress
Don't forget to sign up for Press alerts on our latest social media platform: Instagram. Go to www.instagram.com/ridgefieldpress/ or search @ridgefieldpress on the app.