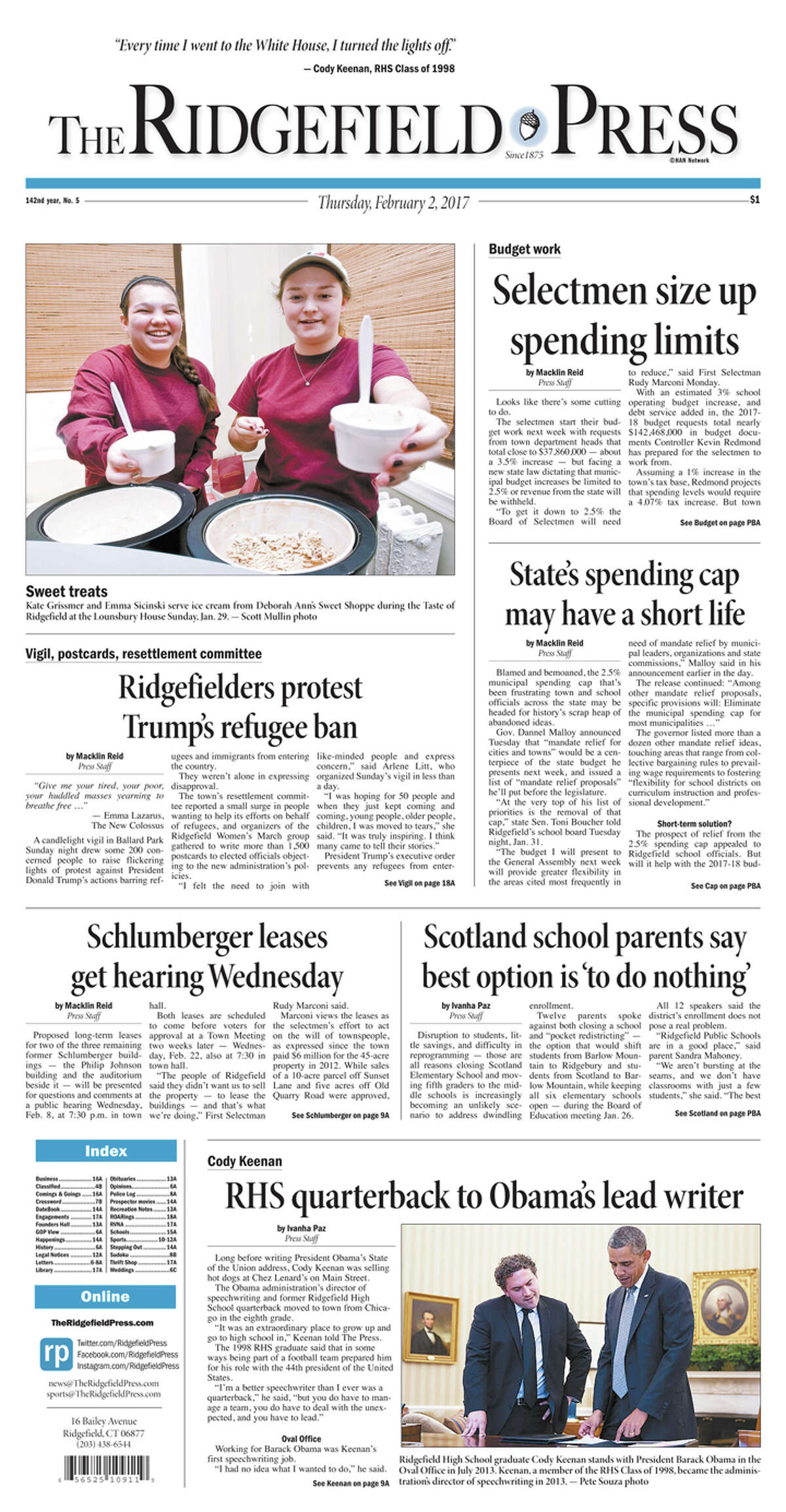 Here's a look at some of the headlines in this week's Ridgefield Press:
A candlelight vigil in Ballard Park drew 197 residents Sunday night. And that's not the only local effort shaping up in resistance to President Donald Trump's refugee ban.
Speaking of presidents, Barack Obama's director of speechwriting has ties to Ridgefield. He played quarterback in high school and sold hot dogs on Main Street at Chez Lenard's.
At the local level, the political wheel is spinning. Sen. Toni Boucher dropped by the Board of Education special meeting Tuesday night to celebrate the short life of Gov. Dannel Malloy's 2.5% municipal spending cap.
That wasn't the only news coming out of the school district this week: Scotland Elementary School parents are calling for the end of the board's capacity study that has been discussed for three months, but hasn't received any decisive action.
Taking decisive action is what the Board of Selectmen will do next week when they work through the town's budget. Eight new town positions are being requested, but will any get through for voters to approve in May?
The selectmen will also be busy with a pair of leases for the former Schlumberger property. That's on the docket next Wednesday.
In the editorial section, there are a whopping 15 letters that range from disgust with President Trump to opposition of medical marijuana.
Alternating one-way traffic continues on Route 35 today and tomorrow.
Police complaints have been flagged by the ACLU — not the number of them, but how difficult it is to file on in Ridgefield. Maybe that's why the police major says so few are reported.
In the police log, the cops arrest three people for drunk driving and another for evading a crash. They also arrested a 22-year-old New York man Wednesday near Ridgefield High School.
Speaking of RHS, Stronger Voices continues this weekend. The cast includes freshman voices who are signing to combat violence.
In sports, basketball tops Darien and the RHS girls hockey team searches for a new goalie.
The Ridgefield Press is on Facebook — become one of more than 4,455 friends and get news updates at Facebook.com/RidgefieldPress
More than 16,939 people have signed up for Ridgefield Press news bulletins via Twitter. You can, too, by stopping by twitter.com/RidgefieldPress
Don't forget to sign up for Press alerts on our latest social media platform: Instagram. Go to www.instagram.com/ridgefieldpress/ or search @ridgefieldpress on the app.