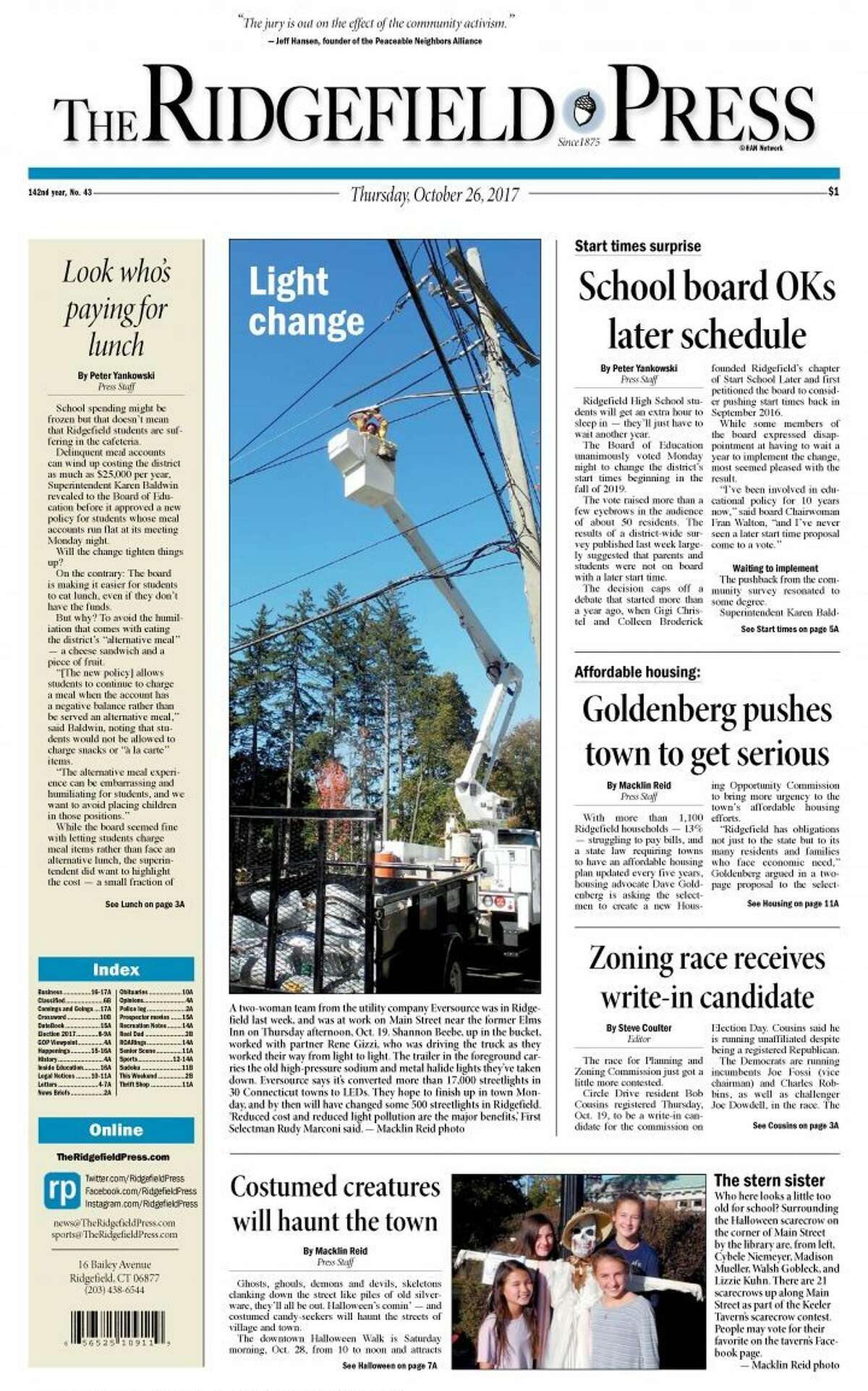 Here's a look at some of the headlines from this week's Ridgefield Press:
The Election train keeps roaming along: A new candidate for Planning and Zoning Commission, an opioid forum sponsored by the Democrats Saturday, and a meet-and-greet with Republicans Wednesday. And that's all before you get through page two!
In this week's election preview section, The Press hears from candidates from the Board of Finance and Board of Education.
Speaking of the school folks, they made a big decision Monday night opting to go head with later school start times. Projected savings are $90,000 and the change won't be happening until the 2019-20 school year.
Halloween is also in vogue this week. The town is bracing itself for the annual Halloween Walk Saturday morning and then for thousands of trick-or-treaters three nights later.
In sports, the boys soccer team is the toast of Ridgefield High School after securing the No. 1 seed in the FCIAC playoffs earlier this week.
In opinion, letter writers are mostly talking about the election. (Fair warning: It'll be like this next week, too).
In the police blotter, a Maryland man was arrested for his role in a hockey fight at Winter Garden Arena.
In business, Wild Ginger closes after two decades while Nod Hill Brewery opens this weekend.
The Ridgefield Press is on Facebook — become one of more than 5,159 friends and get news updates at Facebook.com/RidgefieldPress
More than 18,723 people have signed up for Ridgefield Press news bulletins via Twitter. You can, too, by stopping by twitter.com/RidgefieldPress
Don't forget to sign up for Press alerts on our latest social media platform: Instagram. Go to www.instagram.com/ridgefieldpress/ or search @ridgefieldpress on the app.