This is a carousel. Use Next and Previous buttons to navigate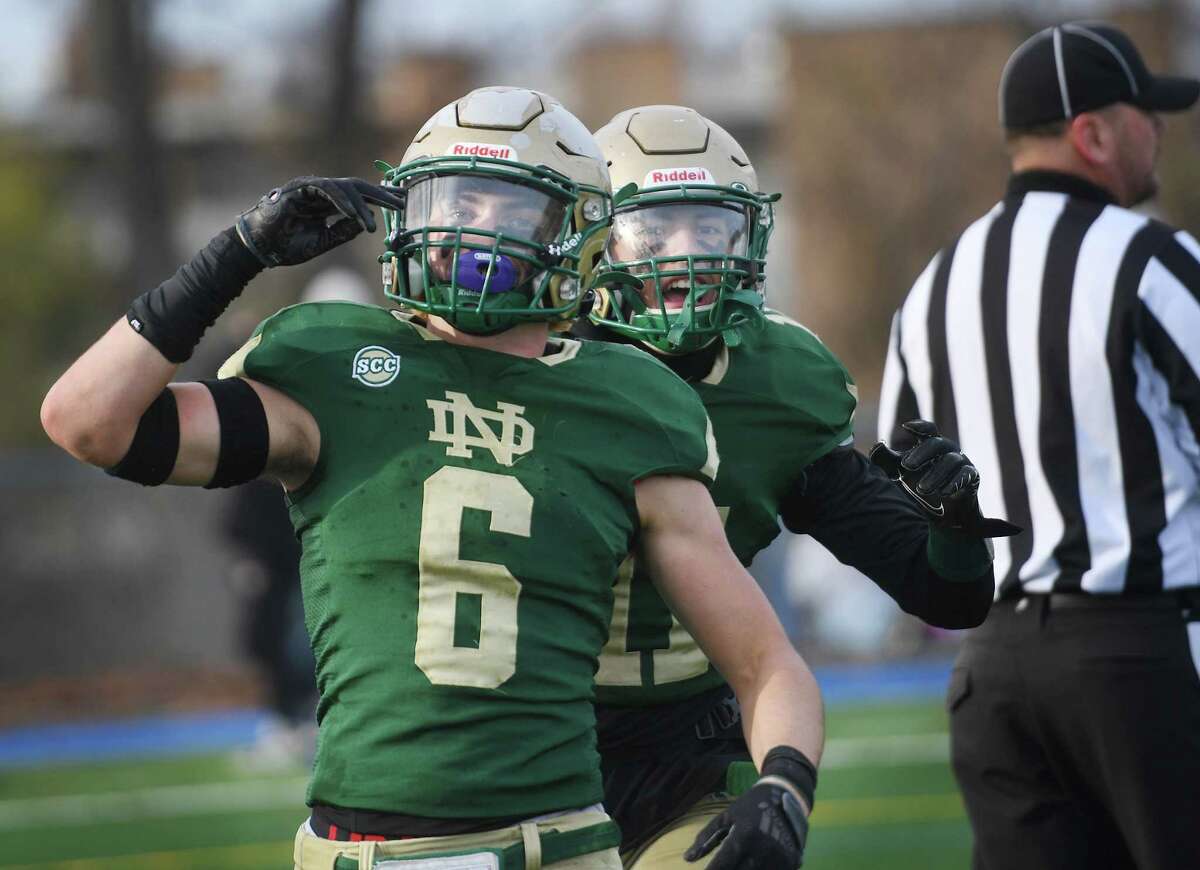 WEST HAVEN – Looking to protect a one touchdown lead with just over two minutes to play in regulation, Notre Dame senior Cooper Torrey was locked in on Law quarterback John Neider's eyes. Torrey's read proved to be the biggest play of the year for the Green Knights.

Dropping into coverage during what appeared to be a Neider run, Torrey intercepted Neider in the endzone with 1 minute, 56 seconds remaining as second-seeded Notre Dame held on for a 28-14 victory over third-seeded Jonathan Law in the Class M semifinals at Veterans Field in West Haven Sunday afternoon.

"I saw him (Neider) run, then hesitate, and I saw his friend go towards a touchdown, so I knew it was going to be a pop play," Torrey said. "I just knew I had to pick it. He kind of underthrew it, so I had to make the play."

With the victory, Notre Dame will play top-seeded Berlin, a 42-7 winner over Rockville, on Saturday at either Rentschler Field or Central Connecticut. Times and sites for each class will be released this week.
"We have heard about their offense, 49 points a game, and nobody said anything about our defense," Notre Dame coach Joe DeCaprio said after his team improved to 9-3. "Our defense has been playing tremendous the whole entire season. We feel like we are overlooked on defense. The kid (Neider) is unbelievable.

"He is unreal. We corralled him the best we could, and the defense came up big. Cooper Torrey with the interception, and we have in my opinion, the best player (Jacob Staton) in the state that plays for us. He proved it in the fourth quarter."  

Torrey's play came after Notre Dame quarterback Matthew Piechota found Jacob Staton for a 73-yard touchdown reception to give the Green Knights a 21-14 lead with 4:19 remaining in the fourth quarter.